March 2013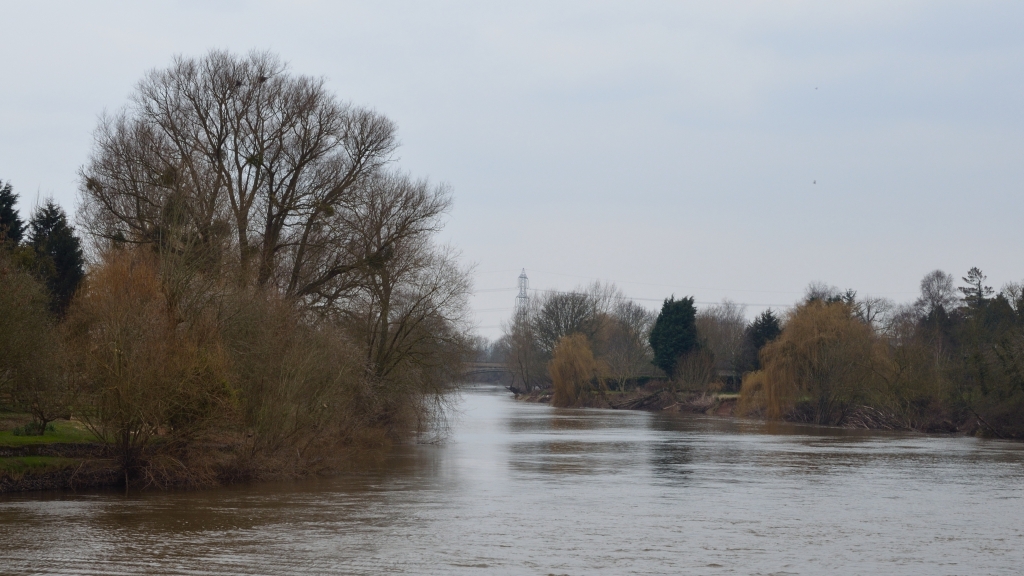 There were only 14 days of the river season left, and I had already booked the time off work, I was going to spend each day in search of some monster zander, now is the time to get a specimen one, but I am chasing the record on a couple of stretches. For the last two seasons I have expected the record to go, and hopefully it will be on the end of my lure!
Unfortunately the last week of the season always coincides with big tides, which mean that the bottom end of the river becomes un-fishable. Well yes, you can fish it, but, when the bore pushes up, it can flatten the river out for three hours, and I find it tends to put them off, at least until it rushes out again.
This year the tides were big as well, as a rule of thumb anything around 8 meters (measured at Sharpness Docks) you are ok down to Gloucester, over that and it will push up over Maismore weir, at 9 meters it will push up to Tewkesbury, at 10 + it will push over Tewkesbury and can get up as far as Upton and you certainly don't want to be bobbing around on the below Tewkesbury in a 10 meter + tide.
There are always margins of error though, the amount of water in the river will affect how far the tide will ingress, as will things like wind speed and direction on the estuary, so it takes a bit of interpretation of the tide table book (which aren't always accurate) to get it right.
Due to the large tides predicted later in the week I decided to spend a couple of trips right down the river where the big fish lurk. It's tough down here in the Uluru, but at least it's quiet, as no one really fishes it, and everyone knows that the large zander love tidal waters for some reason. In Europe, where they have more rivers with zander then we do, the really big "Meter Fish" always come from tidal fisheries. So it makes sense to start there while it's still safe to fish there.
I'd had a few good fish from further up river in the last couple of days, whilst doing a review for some new Fox rods, we had also had some serious pike- including a brace of twenties to the boat, but I'd got the feeling that the fish were in a shutting- down phase, certainly the zander were, with reducing catches each day.
Zander can switch off, I don't know why this happens, but it is a phenomenon that happens all the time, and it usually happens for a week or more. It can often be as if there are no zander left in the area, but I am sure they just sit there not feeding. Yes, you can tempt them on jigs fished ultra slow, but they won't readily take things.
The switch- off usually happens after a big feeding spell, a bit like bout feeding in catfish, and what usually happens is that you will catch large fish one day, and come back the next and only catch smaller fish, then the next day catch nothing at all, it's all very strange.
So, Ed Matthews and I decided to fish the real "Lower River" while the tides were still small enough for us to fish it! As usual the end of the fishing season always coincides with some big spring tides, which make fishing this far down a bit dodgy, so we had to fish there while we could, So we made the long trip down river to some of our known areas. Deadbaits were to be our first line of attack, with lures and jigs the second.
It was the first time I'd had the side scan logging on this area of the river, and the river bed was very peculiar, it looked almost like sand waves that you see on the beach in some places, but it couldn't be -as when you dropped you're jig down, it hit the bottom with a crack that could be felt all the way up the rod. Hard areas like this are like magnets for zander. But not this time, all we had were pike.
We had some friends fishing further up, but still on the tidal side, and it seemed that it was a pike day on this trip, with no zander putting in an appearance at all.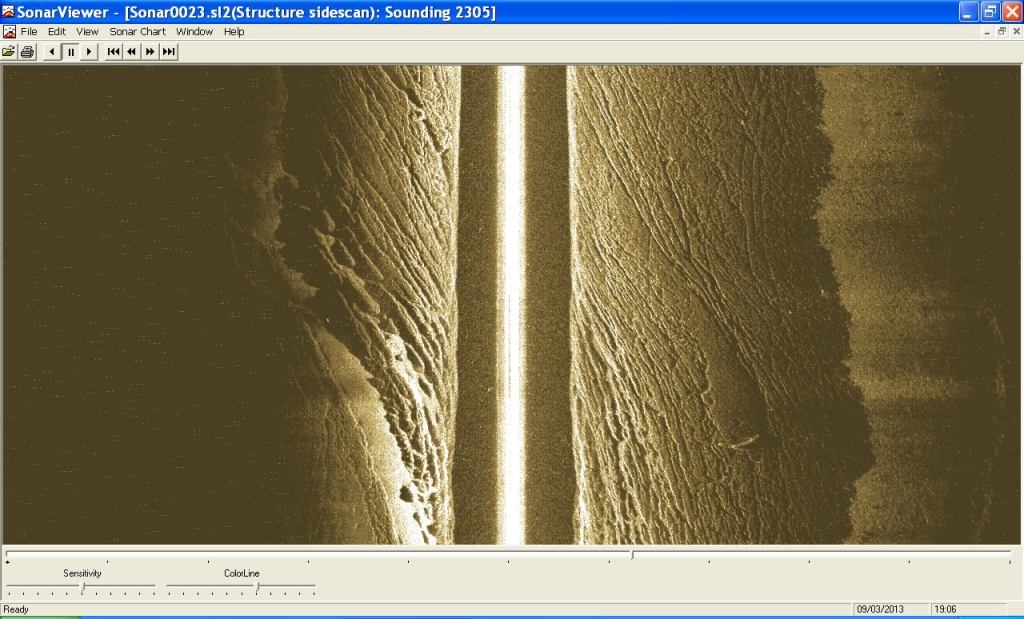 When I reviewed the side imaging footage when I got back, I now think the area we were fishing must have been a large area of bedrock, with grooves worn in by decades of floods and tides.
I'd just done three days on the river, and I was sure the zander were in a shutting- down phase, but with only a few of the season remaining I had promised to go out with" Zander Jonah" Paul Garner to see if he could eventually get one on my boat. Having fished the previous day around Gloucester for little other than pike, we decided to fish further up river, it was going to be a horrible rainy day, but, with this change in conditions, we were hopeful to pull out a few fish, so we arrived early and got the boat into position in a good swim, while we tidied the boat up and got everything ship shape, Paul had a couple of hits on a Baitbox roach, but he messed it up and missed it. There were quite a few other boats out as well, all trying various areas, and not catching very much by the looks of things. The rain was persistent and even with our Mary Poppins umbrellas up it was thoroughly miserable, it is at times like this I wish I had a cuddy on my boat.
We had managed a few small fish fishing deadbaits, all small, nothing over 7lbs, but it was just one hit every time we moved, leading us to think that, yes the fish were feeding, but you had to put your bait right on their heads, as they weren't prepared to move much to pick anything up. In situations like this it's always worth fishing jigs, it's a good way to search the river and hopefully induce a take. So that's what we did.
I chose to cast and retrieve (also known as "spin jigging" for some bizarre reason) Basically, I like to cast sidewise into the current, let the jig drop and then wind in a few feet and let it drop again, all the time the current is pushing against the jig, so the retrieve comes back in a wide arc to the boat. You cover a lot of water this way, and it's a great way to catch zander, as they usually give solid takes in the current as the jig drops on a tight line.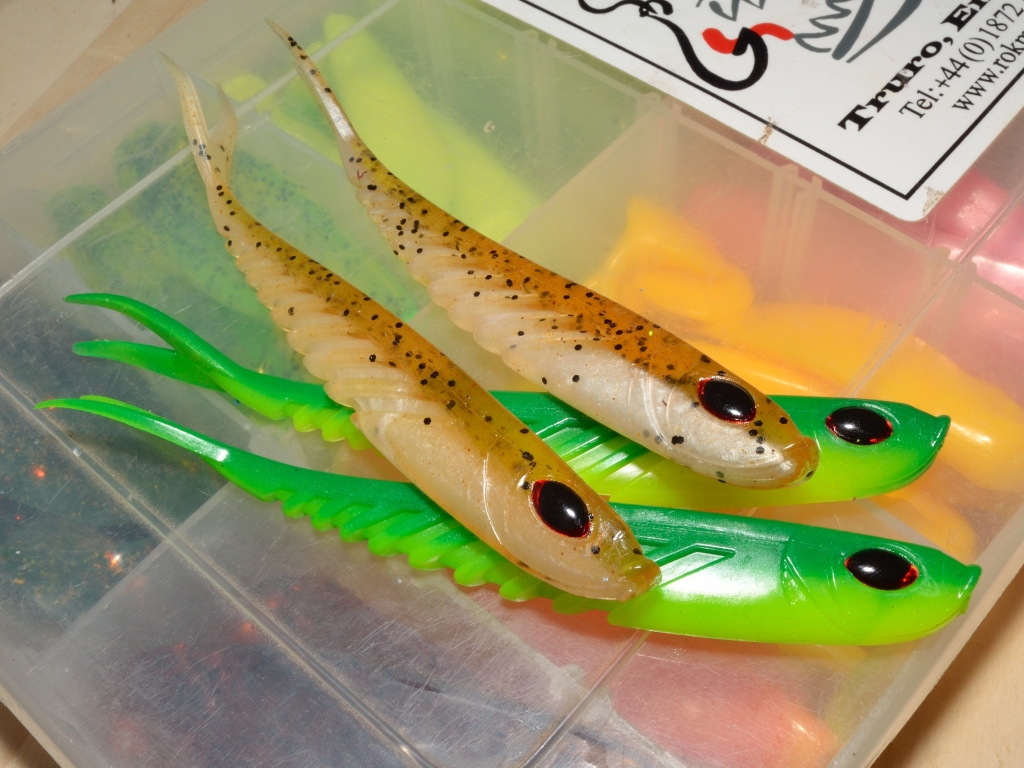 Paul was put on the electric and we slowly manoeuvred down river. Paul had decided to vertically jig, a move that was proved to the right choice as after only about 30 minutes he struck into the largest zander I have ever seen! It was truly monstrous, and there were rods flung everywhere in the boat to make netting easier. Luckily I aced it first time and when it was in the boat both of us were left speechless, this was a monster. I estimated it at 18+ but secretly I thought it may even go 20lbs, on the scales it weighed in at 19lb 2oz- a truly epic fish, and I think Paul was as shocked as I was! We took a few photos, and got the fish back quickly and she powered off back into the depths. Incidentally that fish measured 96cm for all the European anglers out there. I have been lucky enough to see some very big fish during my fishing career, not least three zander over 18lbs but I reckon that fish was the most spectacular I have ever seen, it was just a brute, it looked more like a coelacanth than a zander from the top- when it flared its gills out, If that fish had a bit more weight on it I am sure we would both be looking at a record fish!
Just think what that fish had to go through to become that size, these are truly wild fish in this system, it must have survived all the biblical floods in recent years, travelled around and fed in vast tidal ranges, dodged all the set lines, probably even survived a few captures in its youth. What a fish!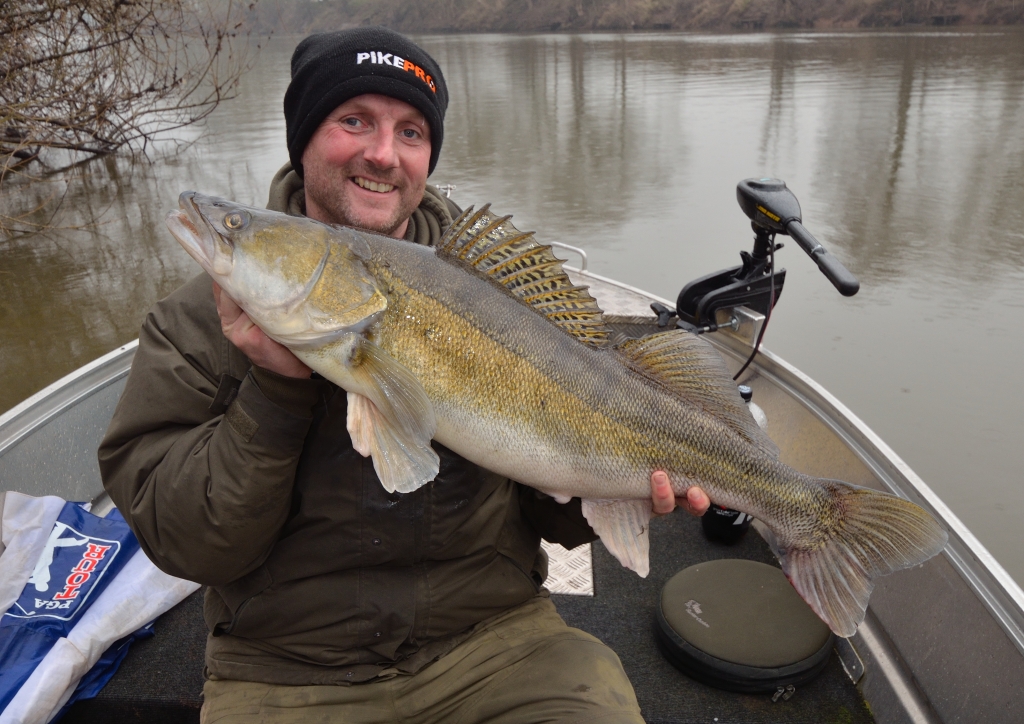 After a fish like that, what can you do?
Well the first thing I did was nick one of his lures – a Berkley ripple shad, and started vertical jigging! But alas I didn't catch anything else.
The countdown had started only 4 days left to go.
I had been looking forward to giving the Prowla 11ft 2.5lb bait rod a go, and I gave them a few good outings over the of the end of season, and I must say I am very impressed with them for bait fishing for zander, the way I do using the rod tip for indication, any little knock is shown up. They are nice and through- actioned once a fish is on, which again is ideal for zander that tend to have a lunging- type fight, which can cause hook pulls. In fact I have only lost one fish on the rods, and that was because I managed to straight rod a big one when the line got caught on something!
These four days passed in a bit of blur really, I always take some time off work at the end of the season, to hopefully capitalise on some big zander, but it was as if the whole river didn't have any zander left in it! Of course they were still there, they don't move off like some people were speculating, they were just sat there not feeding, which I think is mainly due to the cold water temperatures. Conversely the pike fishing had picked up, but not many people fish for the pike on the Severn, well not correctly anyway, more of that later. Now in conditions like this when you are after zander, there are a range of approaches you can take, switch to very slow lure fishing, as Paul did so well on, sit it out in some favourite swims with dead baits and hope at some point one of the big ones wants to feed, which is what a lot of the other boats on the river were doing, including Ed Matthews and Gary Knowles, or you can do what I did and try and find some warmer water and feeding fish.Each day I travelled a long way down river fishing some of the deeper areas, I caught a few zander, but nothing spectacular, fishing vertical in 20ft of water, again V- tailed shads were the ones to use when fishing this slowly.
I also managed a few good pike, including a lovely fat 21lber, which made struggling in the cold worthwhile.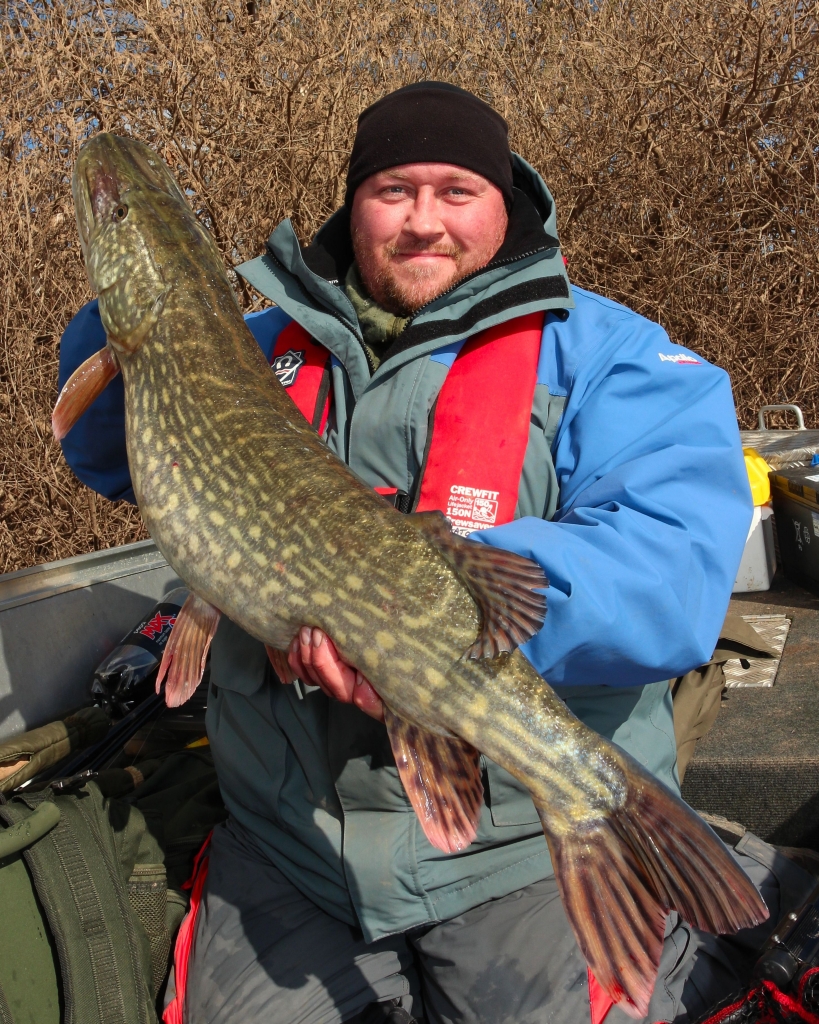 Articles this month.
 Anglers Mail – 19th March 2013 – Pike Scene – Piking Tech.
 Pike and Predators – March 2013 – Tactical Pike Fly Fishing.