January 2012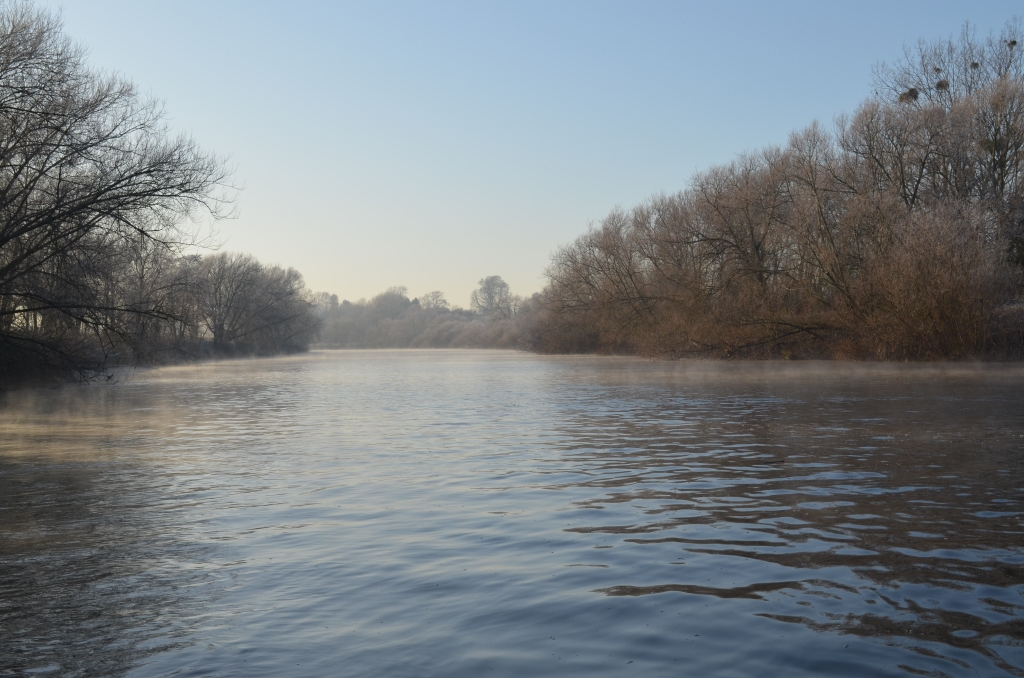 January started off wet, with rain still pouring down, compounding the flooding problems over Christmas.
The 2nd of January was spent on the phone trying to get through to Chew for the year's tickets. I did get through and got a few, but it took a day off work and a while on the phone to do so! I hate to think how many times I dialled up, and apparently I was like a sulking bear with a sore head until I managed to get through. The warden on the other end of the phone even told me there were people outside the window waiting for him to put the phone down, before trying to get through on their mobiles! Crazy!
I do feel sorry for all the anglers who, like myself, have fished it for years who couldn't get through, and the phone system while it may have been easy for the staff at the lodge, was very frustrating for its customers.
I can't understand it, if supply outstrips demand why don't they hike the price up? I personally would like to see it go syndicate, or season ticket. I know a lot of pike anglers who would be prepared to pay £1000 a year to fish. That way you would only get serious pike anglers applying – who would look after the pike, because we all know there have been some right "numpties" on there in the past.
Then again, if it fishes as terribly as last year, there might be a lot of surplus tickets next year.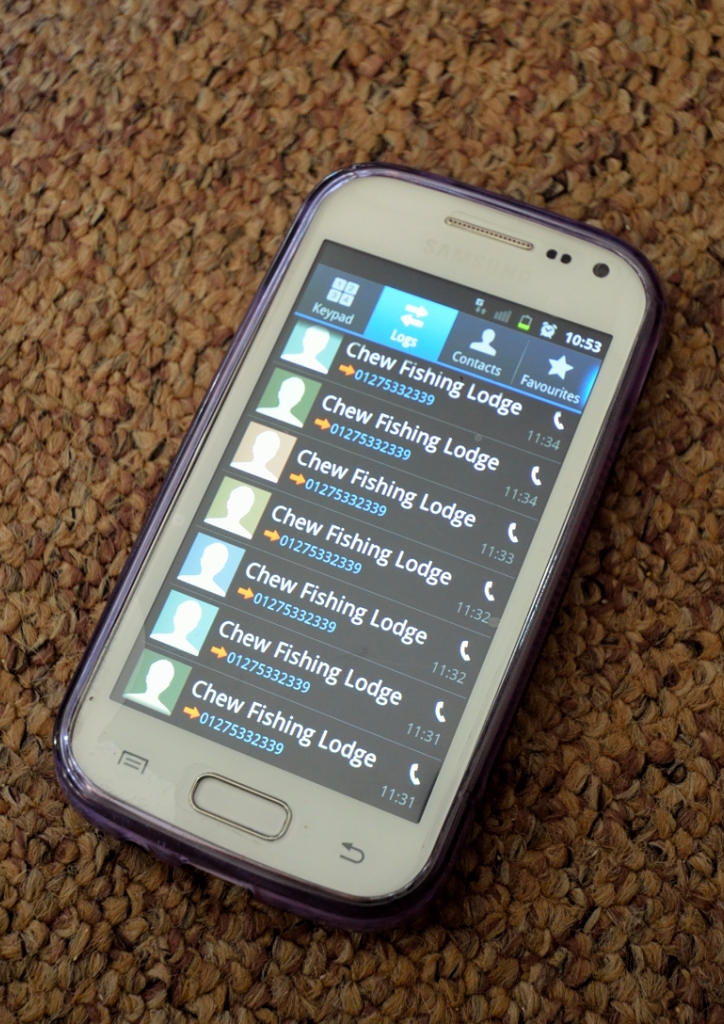 Anyway, January is normally the time I like to target some really big zander on the tidal rivers, but, with everywhere in flood, there was nowhere to go!
Paul Garner persuaded me that we should go up to the Lake District, as at least these waters would not be flooded, and who was I to argue?
So a trip was planned for Esthwaite fishery, not because of the ridiculous report of a 46lb pike from there… obviously caught while no one was around, and by two anglers who, in the information age, neither had cameras or a mobile phone to take a photo .. but it's obviously true as they are honest anglers etc. Yawn.
Really, you catch a 46lb pike and just put it back without a photo, as if you catch them all the time? What a load of rubbish, and people get sucked in by it!
So one dark Sunday night saw us in a very packed car bombing up the M6 towards the Lake District. A few hours later and we were in our B&B, which we chose because of the advertised adequate parking, which turned out to be "park on the street outside"- if we could get a parking place.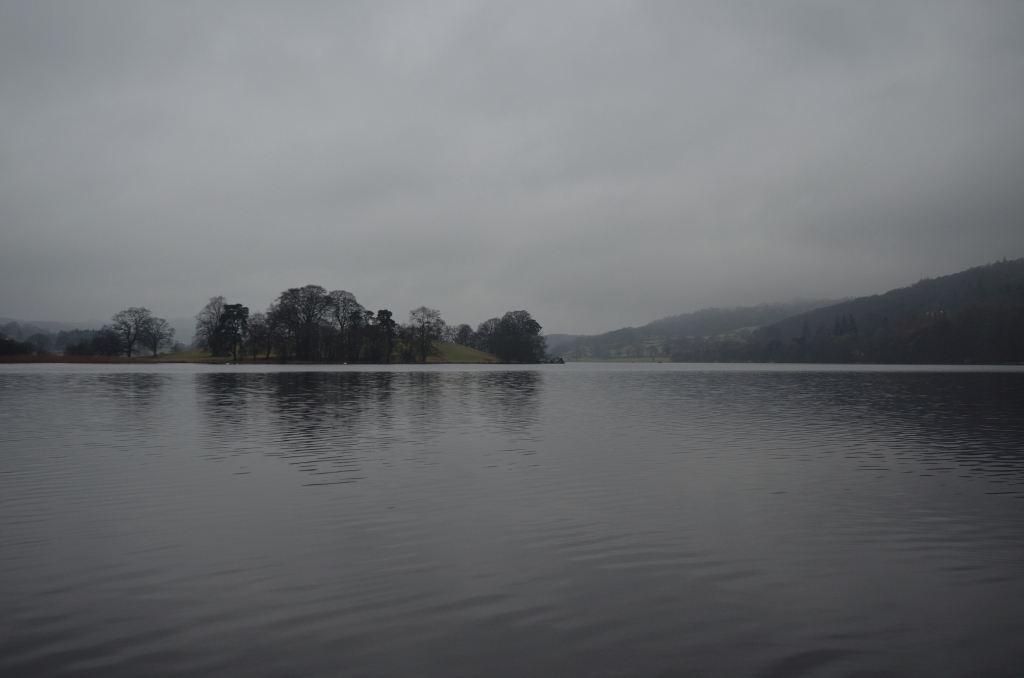 After setting the alarm clock for silly o'clock in the morning, as we had arranged to take a boat out early, it was quickly to bed in my "compact and bijou" room.
A quick breakfast of sweaty croissants, and warm cornflakes and we were off down the narrow Lake District roads towards the lake, it was very foggy, and some of the new tarmac on the hill climbs, made it look like you were driving off the end of the world!
When we got to the gate we were surprised to see it chained and locked! Being there a good few hours before the site officially opened, had me a bit worried, we gave it until around about 7am, then found out, luckily, that there were a couple of other anglers camping out in the boat shed who opened the gate for us. We quickly loaded up the boat and were out just as it was getting light, well as light as it got all day due to the ever- present fog.
We spent the first day mainly casting lures, assuming that not many other anglers would be doing this, an assumption that I think was valid as most anglers were either on deads, or trolling lures, and there is a very big difference in a trolled lure to a cast lure. Most of the time we were using the Berkley 6" split belly shad in various colours, rigged on a 33g jig head and stinger, and crawling them a couple of inches above the bottom.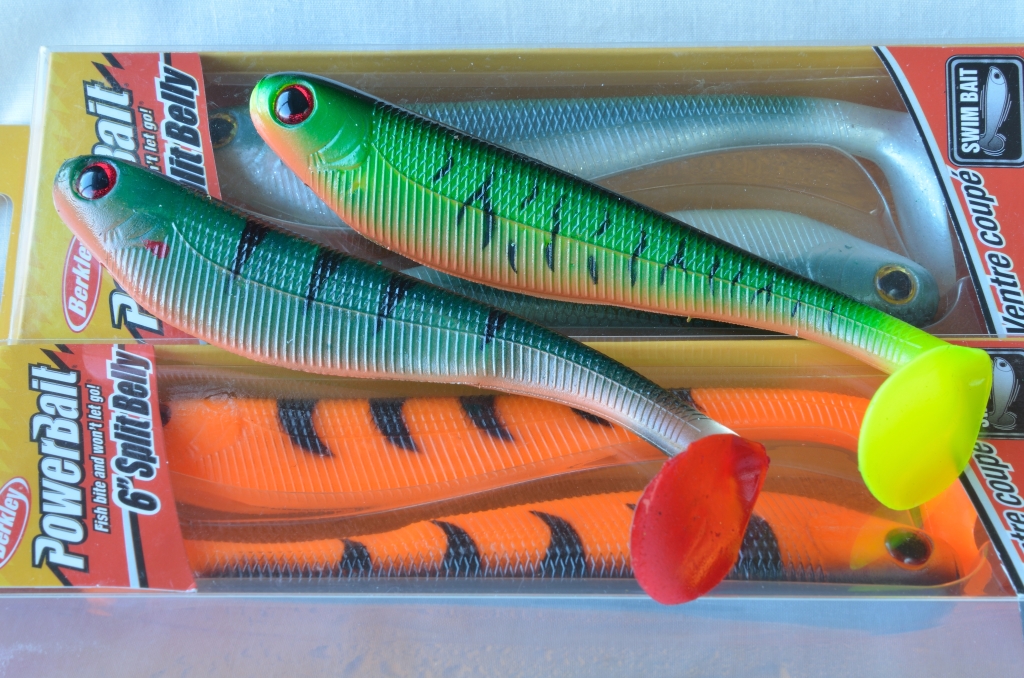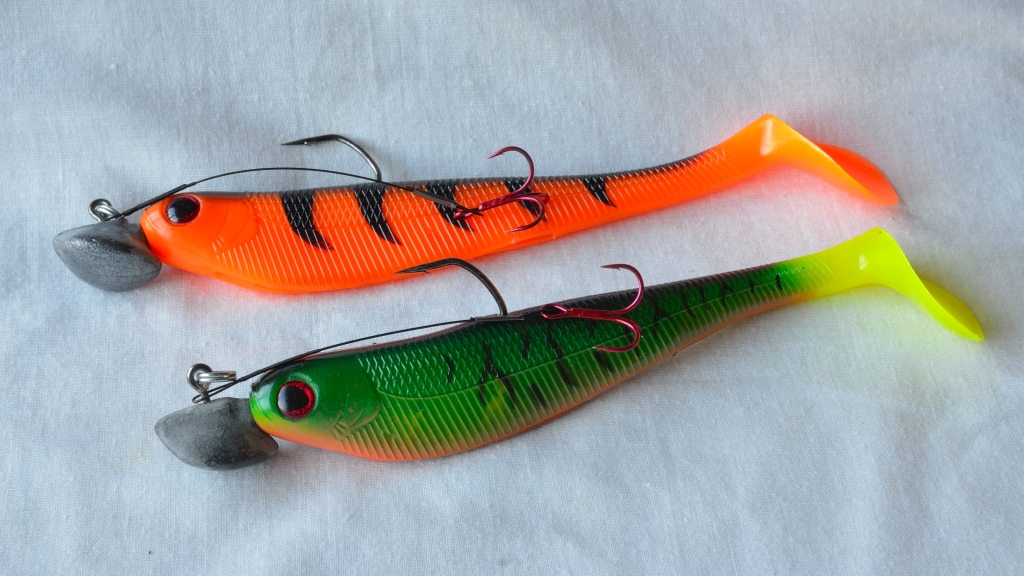 We caught fish, two in fact, both nearly as big as the lures we were casting! Not a good start really. The end of the day saw us both putting baitbox deadbaits out and fishing well into dark, but nothing was interested.
Back out again the next day on probably the most unstable boat I've ever been in, I think it must be because they are narrow and flat bottomed, but boy were they wobbly when standing up casting, or even moving in your seat. It's a shame most venues don't let you use your own boat! I love my boat, and it's by far the most stable craft I've been out on.
It was forecast to be a bit rainy around 11am, and it was spot on, the heavens opened, and we spend the rest of the day under umbrellas, occasionally moving spots, and drowning all manner of deadbaits to no avail, and being thoroughly miserable!
I'm being unfair of course, it wasn't that bad, and there is always a chance of a 20 from somewhere like Esthwaite, and on the plus side I'd discovered that if I jammed my umbrella into my lifejacket harness I could use both hands to make my tea! Though I did worry about flying off with a gust of wind like Mary Poppins!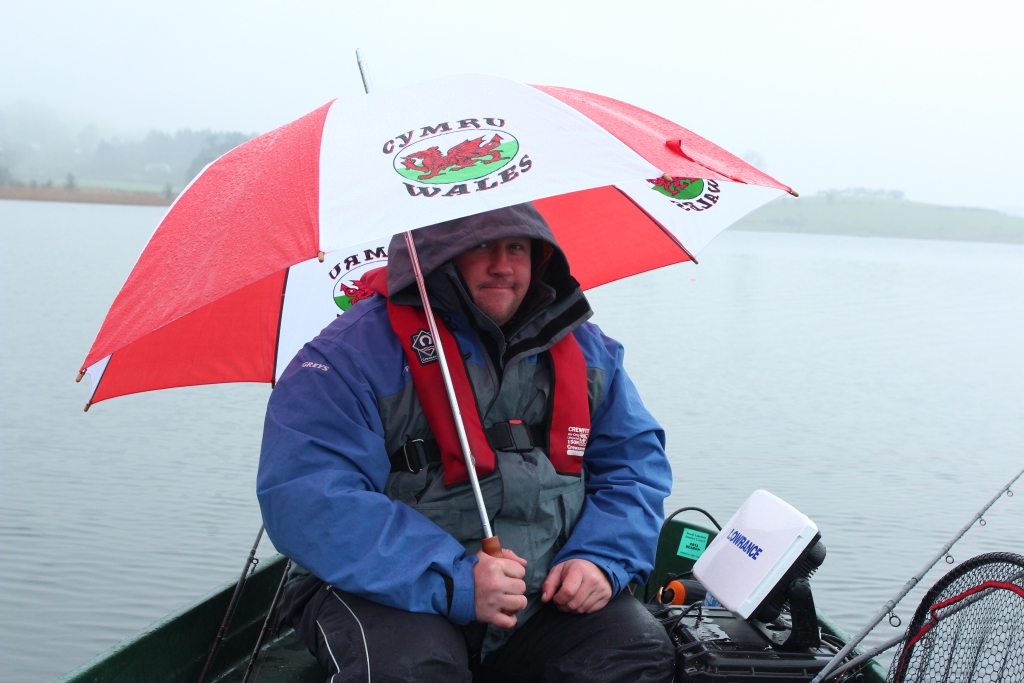 Then it was a long smelly trip back with a car full of wet gear, after dropping Paul back home, I managed to get back for 23:00 just enough time to get the wet pike stuff out of the car, and replace it with my zander gear, and the boat hitched up, ready for a trip on the river the next day. My friend Ed Mattews had been keeping his eye on the levels, as the river had been in a state of flood for the best part of three months, should it become fishable, it was important to get on it as soon as possible, hopefully the zander would be feeding their heads off. The report I got from Ed was that the river would be high, but falling- no higher then when we've caught before though, and if we went out at this level then at least we could be fairly certain that no one else would have been out and hit the areas first! That was good enough for me, and the next day saw two bleary- eyed anglers on the slipway at first light.
The river was indeed high, and very coloured, but I was confident that we would catch, and I was not wrong with Ed landing a lovely 12lb zander within 20mins of casting out in the first spot. The river was pushing through hard though as it ran off, and we had to use 8oz of lead to hold out in the flow, quiver- tipping with deadbaits was the way forward, and the zander were feeding, we had a good few fish over the next two days. I didn't get anything massive, around 8lbs was my largest fish, but they were all in cracking condition, and had obviously been feeding well, even with the floods!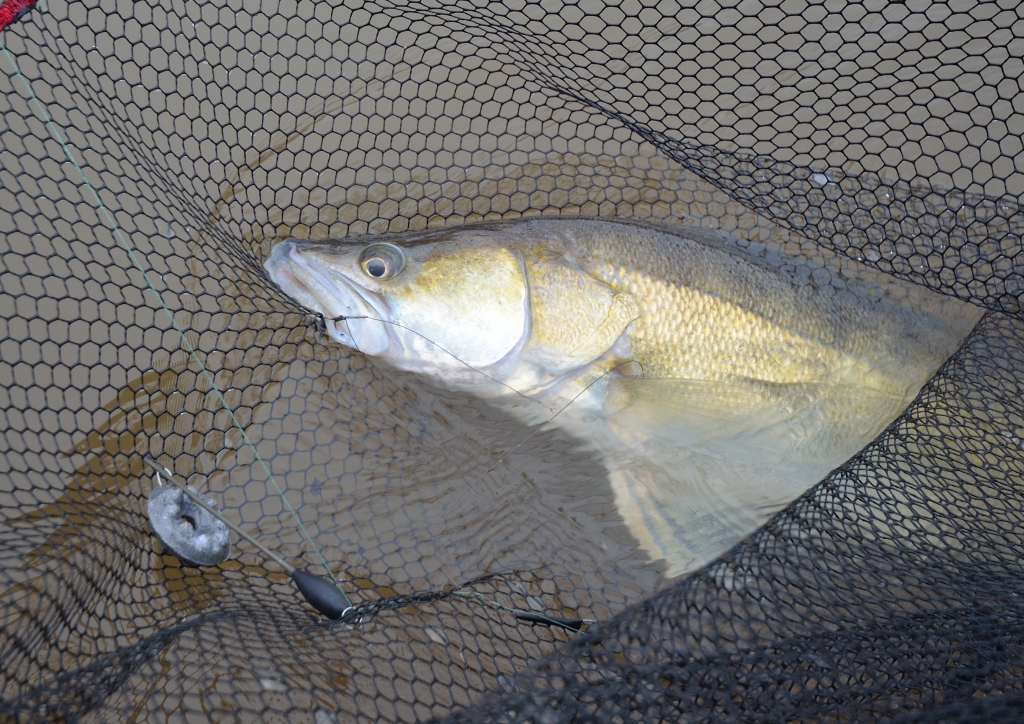 The weekend saw quite a few other boats fishing, but it was noticeable that the zander had switched off to some extent, there was a big tide on the river and this pushed right up, which could have had something to do with it- or was it that the zander had fed the hardest in the two days before, when Ed and I capitalised on it, and were now resting up? Who knows, they are a very funny species like that? Or it could have been that I was out with Paul Garner again, and he's a bit of a Jonah when it comes to this particular river!
Plans to get back on the river before the predicted cold weather came in, were scuttled by work commitments, and when the snow did start to fall, it came in bucket loads, but I still managed a trip out, not on the boat this time, as the heavy frost had put a good layer of ice on the three slipways I checked out, and I really don't want to launch my car as well as the boat, so it was a bit of bank fishing for them this time.
Country to popular belief you can catch zander when it's really cold like this, but, like pike, when its super cold, you have to get right on them, which means a lot of casting and trying different spots, I also like to use feeders if possible, and put some chop in them to create a nice smell- zone leaching to the bait.
I also find that the more tidal the water the better in cold weather, I don't know why this is, maybe the twice- daily tide means they have to keep moving, and thus need more food? Possibly?
Anyway, numerous swims and three different locations later and I'd not had a touch, maybe it was just silly to be out in this cold? But I really thought that something might happen, and other than one small fish, it didn't, and I went home sulking. On the plus point I did find a way in to a protective spot that I usually fish from the boat, and I know I can fish it from the bank- if I take my climbing gear to get up and down the bank.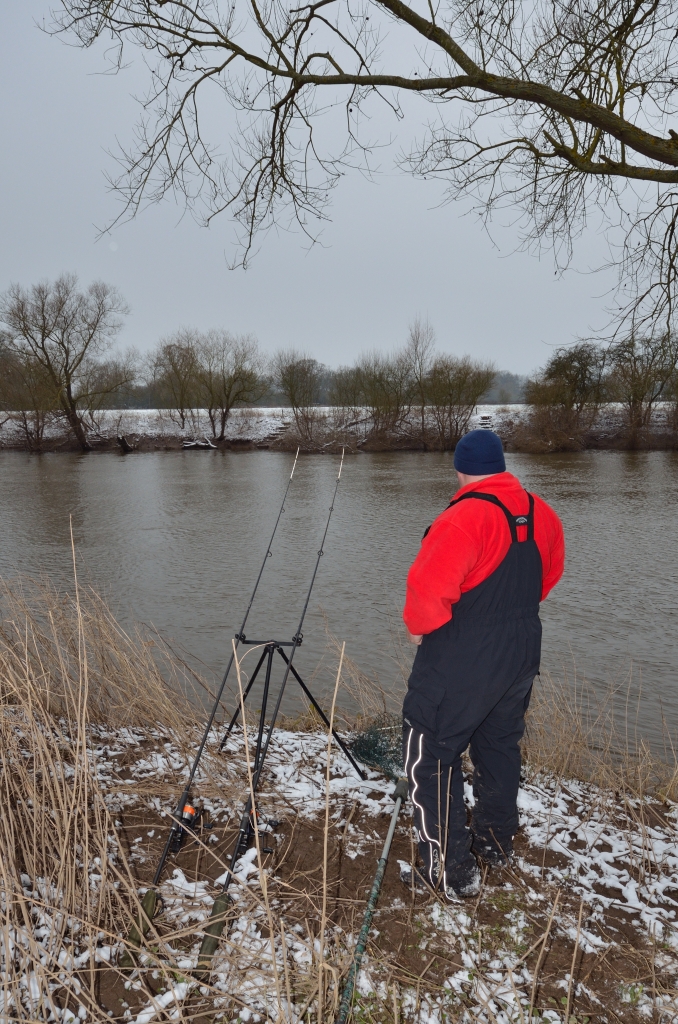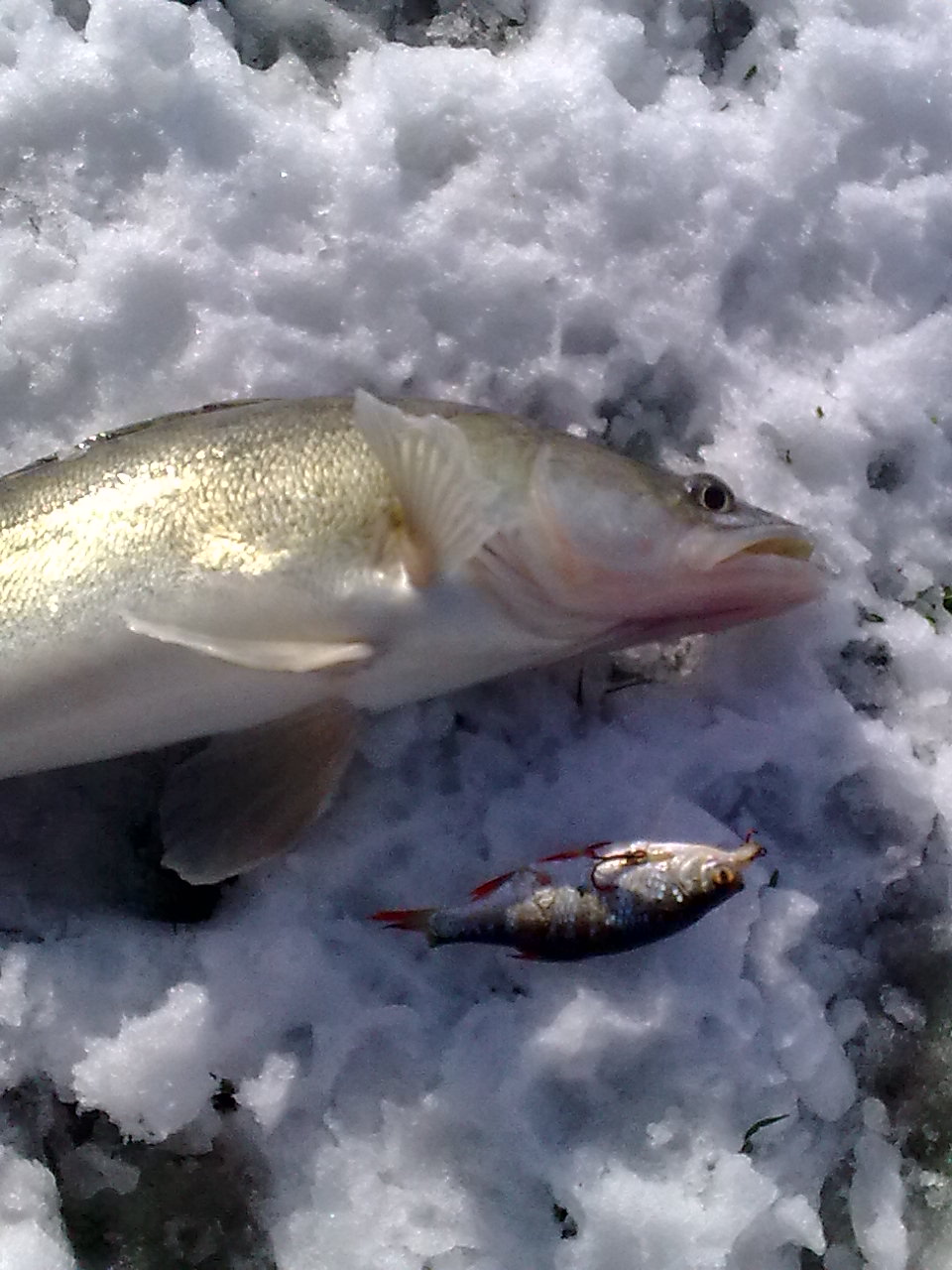 A couple of days later, I was back, in desperation really, but, even though the it was cold, and still snowing, the river looked good, and I was sure I could get a couple of fish before the river shut down completely- like they all do after prolonged cold weather, as soon as it starts to melt, all the salty run- off goes in, and the fish go off!
After getting the boat hitched up, it was just getting light, when I manoeuvred the vehicle carefully down the icy slip way, and smashed the ice to launch the boat. After letting the engine warm up on idle, the next thing was to smash the boat through the ice to get out on the main river. This always sounds worse than it is, as you hear the ice cracking and creaking against the hull, but eventually Ed and I were out on the river. Anyway, after a couple of hours with just one dropped take on deadbaits, we swapped to jigs, and began slowly finesse fishing, creeping them along the bottom. After a few moves into a weirpool area, we managed to find a few zander, nothing massive, 4 or 5lb was the largest, but it was good fun on a cold day when we were expecting a blank. I think I finished up with six, maybe seven, zeds and Ed with five and a nice pike, not bad for a couple of hours in the cold. What was strange though, is that all my fish were fresh and pristine, while each one of Ed's, had something wrong with them- scars down the side, fins missing, blobs on the head, no eyes, etc. it was quite funny, I even suggested that he was fishing for the zander equivalent of "The Undateables!"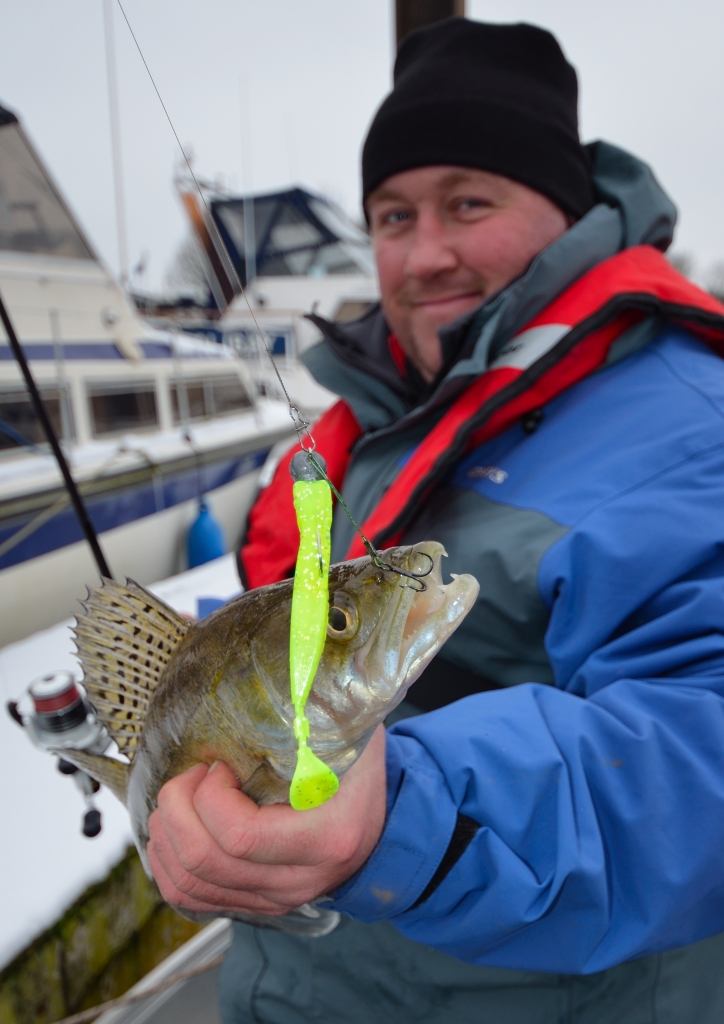 Press Articles this month include:
Pike Scene – Deabaits – Anglers Mail 15th Dec 2012
Ledger Stems – On Coarse – Greys Online Ezine- Jan 2012