Christmas 2014 – Blog
Pike fishing can mean a lot of different things to a lot of different anglers. For some it's going out and having a "laugh" with their mates and catching jacks, for others it's simply getting away from everything, for a few it's big fish only. I think I fall in to the latter category, and, to be honest, if I never saw another jack again I would be happy. I have never understood the fascination of catching lots of small fish, or felt the need to "get a bend in the rod" when the going is tough. If you want to catch big pike then you need to fish for them.
Unfortunately catching big fish of any species is not easy, catching big pike is even harder, and only relatively few pike anglers constantly catch big pike. To do so you have to be very single minded and really work for those fish. That may mean being the first on the water, driving long distances, fishing the trout waters, travelling abroad etc. So it is not usual to see the same few dedicated faces on lots of different waters up and down the country.
I've had my "pike head" on recently, and have been quite enjoying myself catching a few good fish on the way, including adding another 30lber to my list and I also managed to add 25lb+ fish from 3 different waters. The fishing has been kind to me this year, and, because it's been so good, there has been a bit of an hiatus in this blog. Unfortunately because of the article schedule I have had it has had to take a bit of back seat, as I've had to hold a few pictures back, but hopefully I've now caught up with most things and can get it back on track.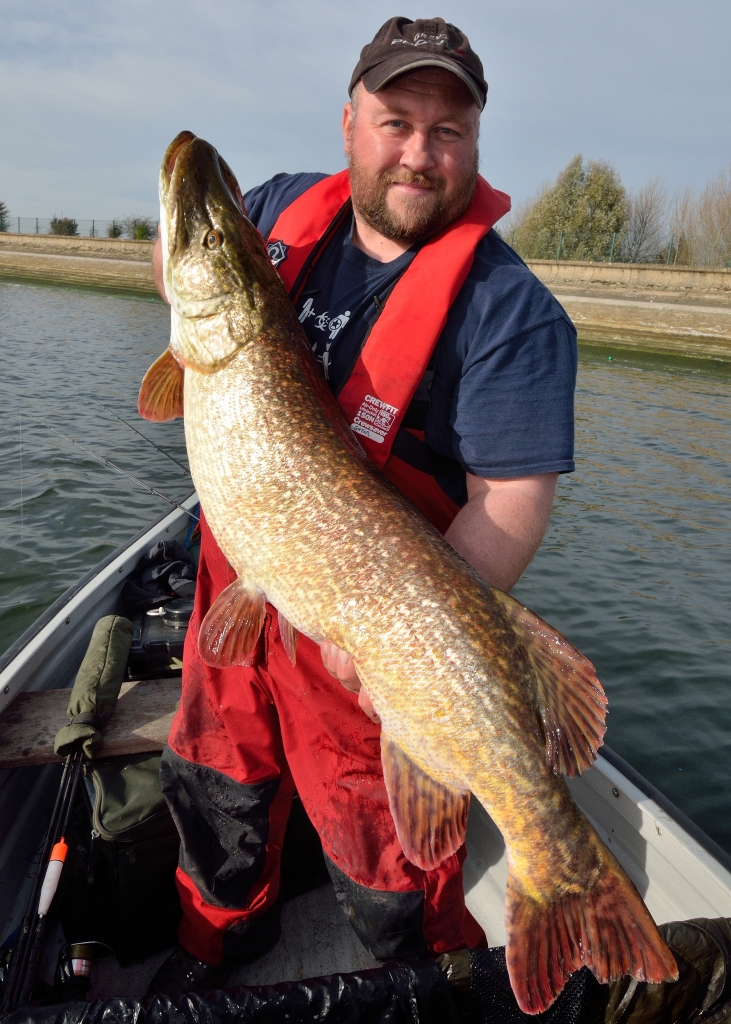 Usually, come December, I will have wasted some time after big perch and then be in full zander mode by now, but this year the pike fishing has been great and with most of the reservoirs staying open longer it has been a fun time to be out fishing. I love reservoir pike fishing, I think it is my favourite type of fishing, so while I can I will keep doing it – though as it gets colder my results have dropped off somewhat. I don't think this is because the pike have stopped feeding per se, but more likely they have migrated into different areas that I simply don't know yet (most reservoirs are big places, you know). A big plus point with the reservoirs staying open longer is that I think a really big pike could come out – usually they shut at the end of November so you really don't get to target them when the fish are at their largest weights.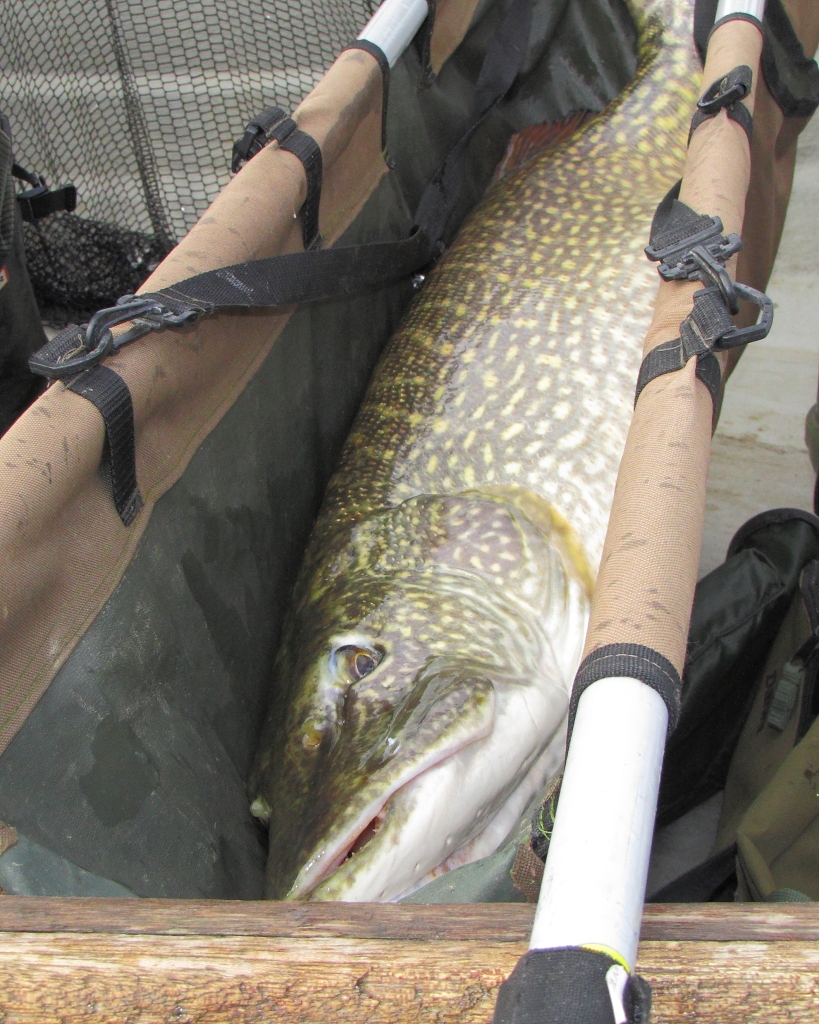 So I think I will stick to the reservoirs for the time being – currently the rivers are at the top of the bank anyway so I don't think I am missing out, I did manage a quick trip on the Severn when the water dropped off a bit, but all I caught were loads of micro zander which isn't a good time in my book, so that can take a back seat for a while.
I also had a brief flirtation with perch fishing at the start of the month. Firstly Blithfield, which was a bit disappointing, not for numbers of fish, but for sizes. I think the largest I had in the boat may have been 2lbs, maybe there will be some larger ones come out later on in the year. What it did do was get me fired up to catch some big perch again, as I had laid off them a bit.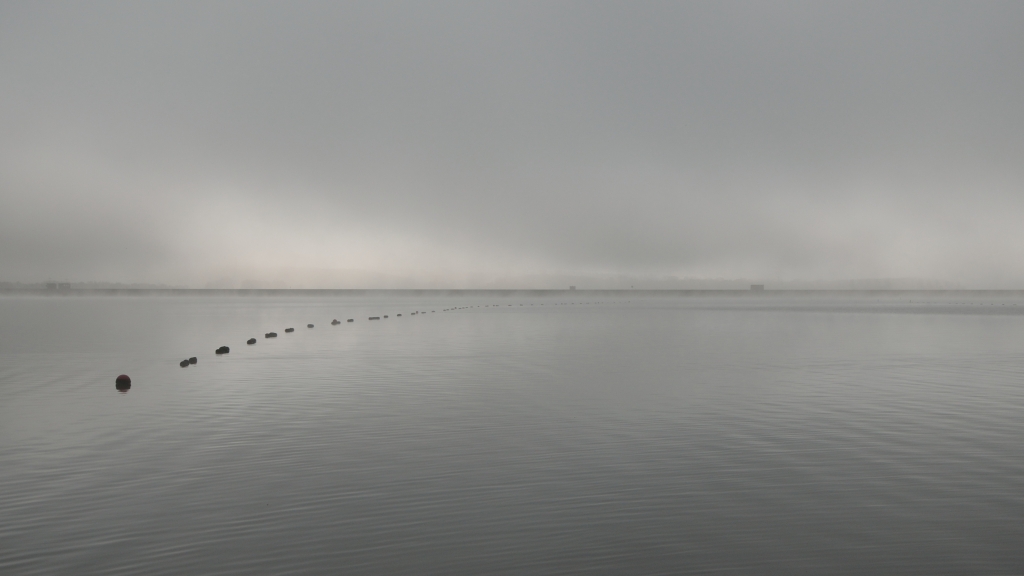 So, with my drop- shot rods and tackle already in the car, I got up at stupid time in the morning and did the 3hr drive to a water I had been keeping an eye on for a while, and pulled up in the car park at first light. "First light" was a bit of an over- statement as it was thick fog, and it was touch and go if the manager was going to let me out, In the end I had to fire up the HDS system and show him how my GPS and waypoint system worked, and promised not to crash into anything, and I was eventually let out to pilfer all the good perch spots. As it turns out this was a complete waste of time, I didn't have so much as a tap on my drop- shot tackle in all my "known" perch spots on the lake. By midday I was getting a bit despondent and decided to jack it in and sulk back home, as I was motoring back to the slipway I was on the phone to one of my friends and happened to look down on the side imager and see what looked like a big shoal of perch just off the bottom near the river bed, so I quickly doughnutted  the boat around and told my friend I had to go, as I'd just seen a big perch on the echo sounder and hung up (which must have sounded crazy to him on the other end!)
Anyway, I slowed the engine and crept up on where the fish were, and gently dropped my rig down and straight away I was into a fish. This was more like it, and a nice 3lb perch was quickly in the net. There has been lots written on returning perch and then to have them spook the shoal – much of this I personally disbelieve, but as it was such a compact area they were in I decided to let the boat drift away a bit before letting it go back. I then crept back into the area, I was conscious not to go right over the spot with the boat, as the fish were in quite shallow water, the fog had cleared and it had become quite a bright day – so the boat would have cast a big shadow where I was fishing. I don't think that boats scare fish, I've certainly caught zander in very shallow water with the boat right on top of them, but I don't think they like the shadow of the boat in very clear water, so I am very conscious of this when trying to fish close to features, or shoals of fish. 
As the boat glided into position I made another cast, I was using a dark brown ribster which, in any other aspect of life, would be a very unusual thing to be using. The big perch on this lake used to be quite easy to catch, but like anything – once they get a bit of pressure they get harder and harder, and where greens, yellows and orange used to be the "go to" colours, now I find that the more subdued colours are working better. This proved to be the case this time, as just a couple of twitches later in was in again, another good fish around the 3lb mark. Again I dropped it back slightly away from the area I caught it and hoped it wouldn't find its way back.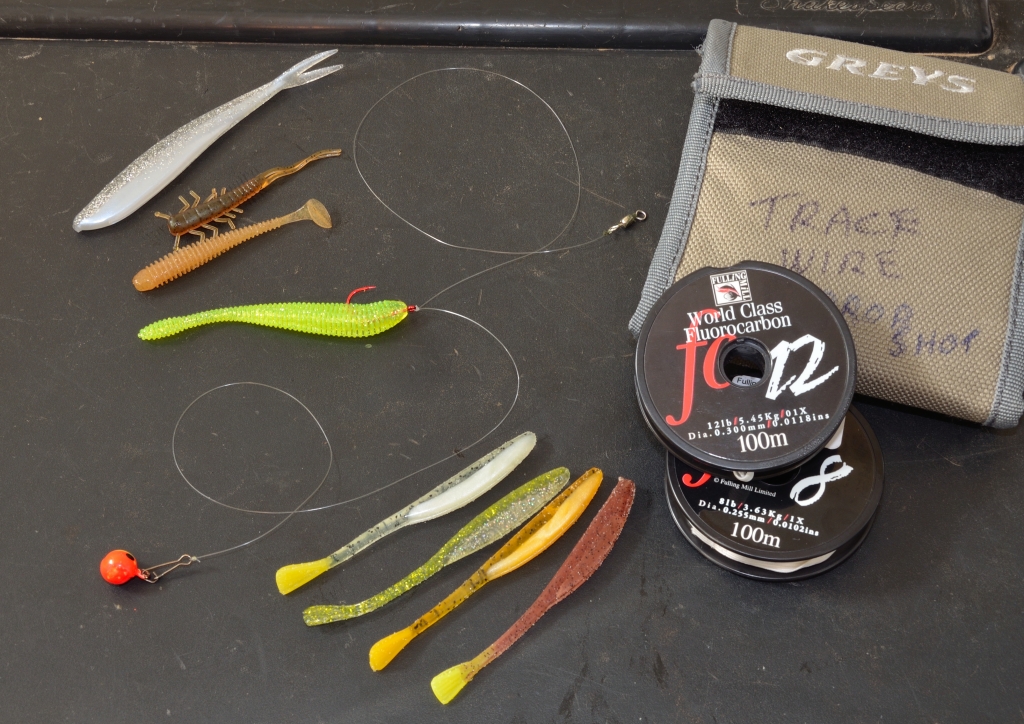 Drop-shots are strange things, they work 100% better when cast than when fished vertical. Yes, you can fish them vertical and you will still catch, but cast them and bring them back over the same area you have had hits from vertically and you can almost guarantee a fish, I don't know why this is so, I can only think it is to do with the line angle and the way the lure comes more horizontally. However when you think you know all about drop-shotting something happens that makes you think. This time I messed my cast up and "birds-nested" my reel (I like to think that was because I had just re- spooled it with some new braid that was quite wiry, not because I can't cast very well) Anyway, I was untangling everything, when the braid I was holding on to pulled out of my hand, being a bit slow I looked around to see what it had caught on to before noticing my rod tip thumping away! In panic mode I wound the whole tangle back on to the reel and proceeded to play an obviously bigger perch to the boat. When it came to the boat I don't think a perch has ever been netted so fast, it was thrashing around on the top and I didn't want it to fall off. The hook fell out in the net so it was a case of straight into the carrier bag to weigh. At 4lbs 2oz it was a monster.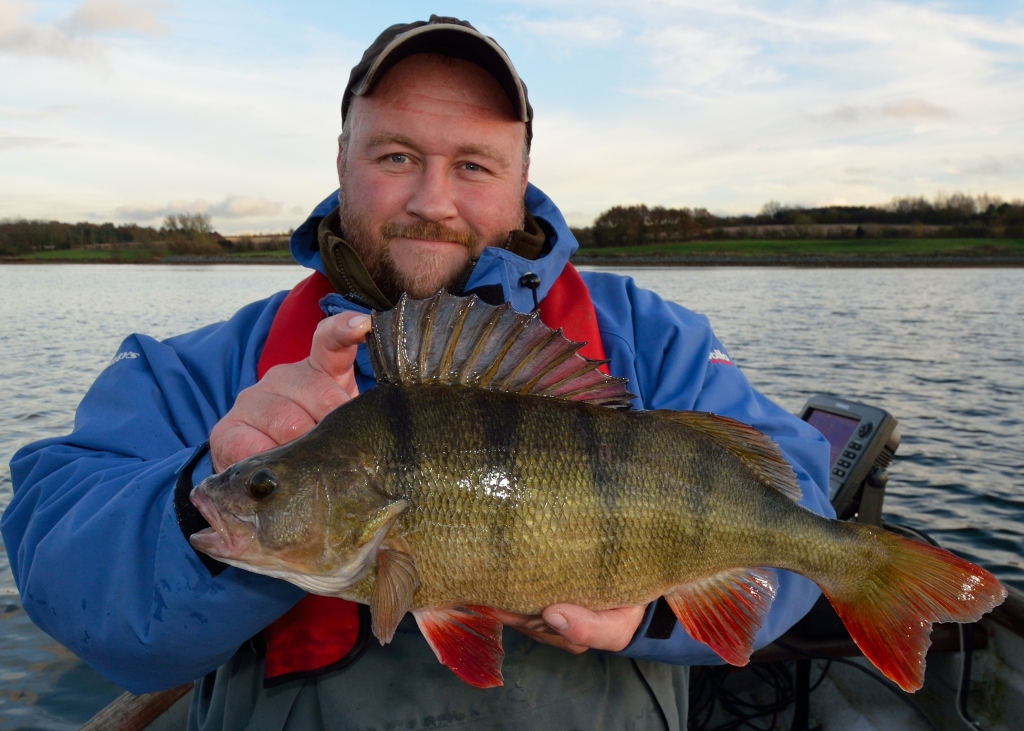 That perch had picked that lure up static from the bottom, and swam off with it to hook itself. I'd never had one do that before, but how often do you fish static lures on the bottom? It would be a very strange thing to do! Anyway it's not a tactic unless it can be replicated. So I went back over the spot cast in and left it there…. Nothing on, well, I started the retrieve, and bang, I was in again. It carried on like this more or less every time I went over the shoal of fish. I had a great day with lots of big perch. What was strange though is that they were all from that one spot, nowhere else on the whole lake seemed to hold any fish, and that one spot was I would say 6ft square, if I missed it only by a little bit on the cast I wouldn't even get a tap on the rod, it was very bizarre how tightly shoaled up they were.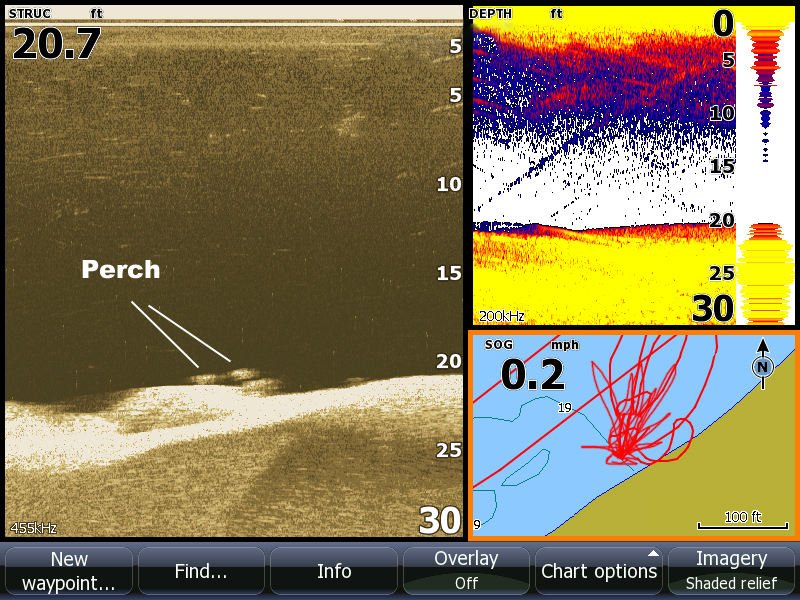 Gradually the spot slowed down, which can only be expected as most of the perch that were there had been caught and re-distributed further down the lake. But I could still see three fish on the down imager, which looked to be quite sizable, they just didn't want anything, maybe they had been spooked or already pricked? After a several blank passes I changed the colour of my lure to a bright green worm hoping that something different might tempt them. It didn't, and it was ignored on the next two retrieves. Oh well, I'd had a good day anyway and started to pack up. As I was doing so I cast in and put the rod down while I used the "bailer", and, unbelievably, another perch picked the lure up while it was static on the bottom! All I noticed was the coils of braid twitch on the flat calm surface, I quickly emptied the bailer, re-zipped, then struck into the fish – this was another monster! You can tell straight away when you have a big perch on, as they thump really hard and slowly compared to their smaller brethren. When it came to the boat I could see it was another big 4lber and got it in the net very quickly. Straight in the Sainsbury's bag she went 4lbs 6oz. Brilliant! A couple of quick photos than I had to head in for the long drive back, but it was worth it!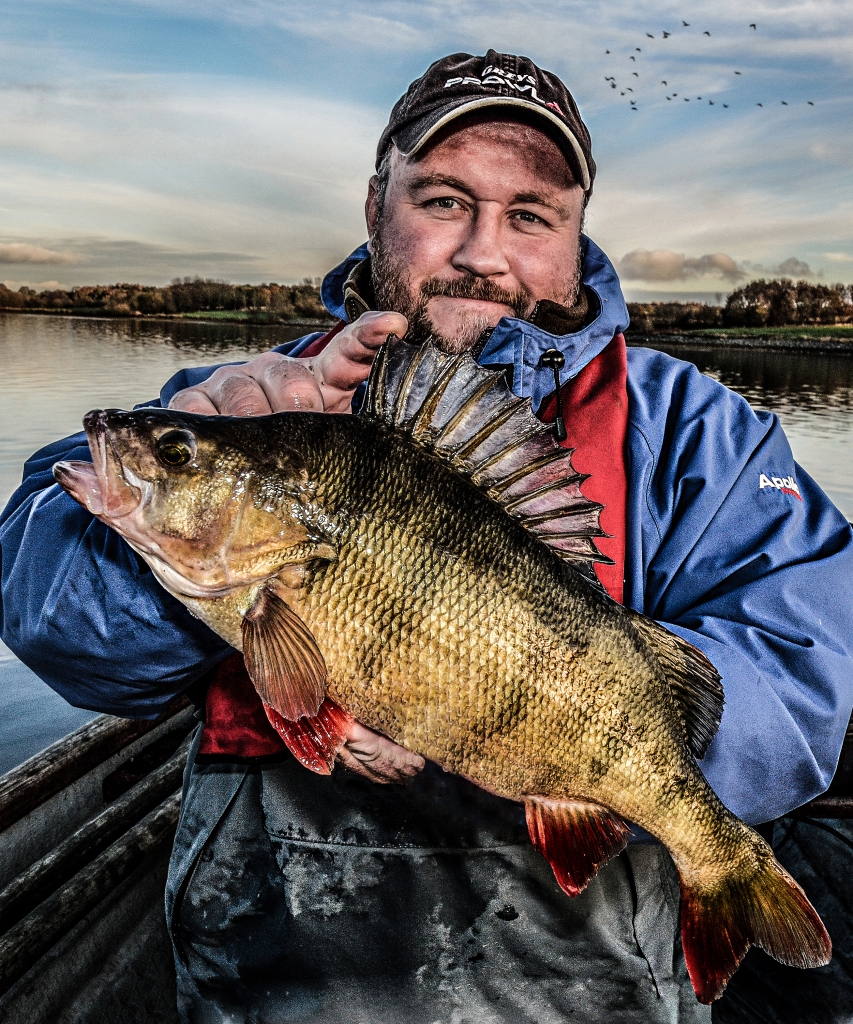 <
Have a good Christmas and New Year!
Articles this month:
Anglers Mail – Pike Masters 4th Nov – Trout water Newbie
Anglers Mail – Pike Masters 18th Nov – Photographing and looking after your catch.
Anglers Mail – Pike Masters 9th Dec – Tips for big pike
Anglers Mail – Pike Masters 16th Dec – Gavel Pit Attack with Steve Rowley