November 2013 Blog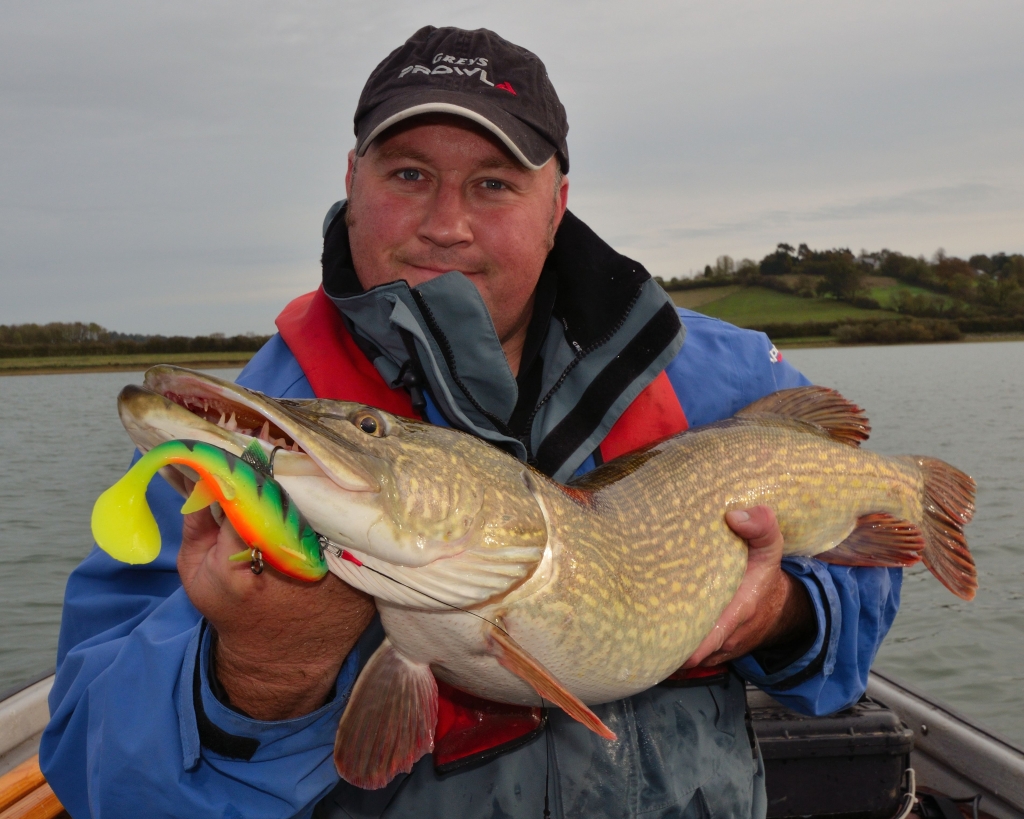 I think, if it is possible to do too much fishing, that's what I did in November, with mixed results really. It was slow on the pike front, more of that later, but I did have a well-earned twenty from one of my favourite waters. The zander fishing has really taken a back seat so far, as I must admit I had my "perch head" on lately, as I've been targeting a couple of waters where I think I could do a really big fish.
What I like about fishing, is even when you think you know where the fish are, or how to fish a certain technique, there are always new things to learn that will help you catch fish in the future. A couple of examples of this happened to me in November.
Drop- shotting is a typical example – I was out targeting perch with Paul Garner, using standard drop- shotting tactics, when it became apparent that the perch were doing something a bit strange-, for whatever reason the larger ones were quite high in the water, with the smaller ones littering the bottom. We put this bit of info together from two things – firstly we saw some good "lumps" on the side scanner that were 4 ft off the bottom, and we had a few hits on the drop, which was a bit strange for this water. Now we were catching a lot of fish, all though they were all small ones, and if it wasn't for seeing the others above them on the sounder I don't think we would have changed tactics, but see them we did, and I rigged up a drop shot with a longer "drop" of around 3ft, and almost straight away had a 3lb 7oz fish! Paul didn't take much convincing, when, on the next drop down, I had another 3 1/2lber.
Why were the fish  doing this? I don't know, had we missed a trick before? I don't know. Who fishes drops shots with a 3 – 4ft drop? I don't know! My only guess as to the behaviour is maybe it's something akin to pelagic zander, in that they rise to a certain depth to equalise the gas bladder before feeding. I don't know, but it was a funny thing to see.
Another notable thing was that nearly every fish was taken on a dark lure, with only little ones coming to my usual favourite bright yellow or green colours. Maybe this was because the fish were getting a bit more wary towards the back end of the season? Or maybe it was to do with water clarity? Who knows?
We had quite a few good fish that day with four fish over 3lbs, but no really massive fish that we were looking for.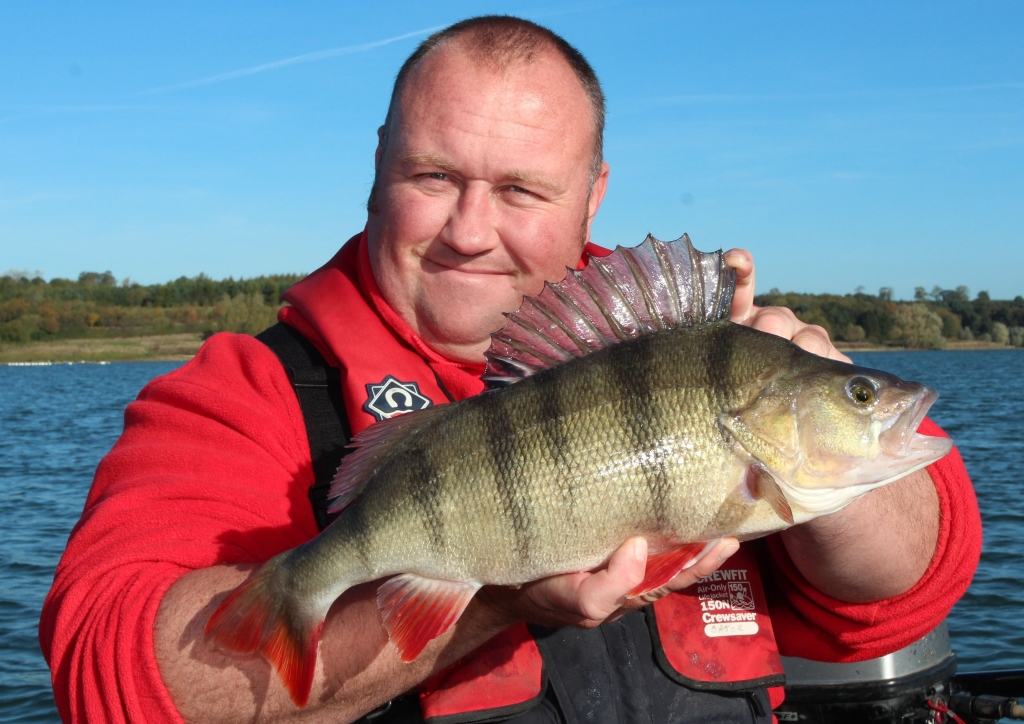 I went again the following week, full of anticipation, with long drops and black lures… and, after a long 3 1/2 hr drive, I arrived at first light to find everything had changed, it had been cold and frosty and I couldn't find a single fish on the echo sounder! They were there of course, but were so tight to the bottom that the sounder wasn't picking them up. In fact it wasn't until midday that l I finally saw a fish on the sounder!
It seemed like the cold had put the fish right down, but what was strange was it hadn't pushed them into the really deep water – the vast majority of takes were in the 35ft range. But this time the fish wanted a really short "drop", so much so that in the end I was using them as short as 6 inches, and they were back on the bright colours again! I wish these perch would make up their minds.
In the end I managed a few scraper 3's but the vast majority of fish were 6 inch jobs!  I also had an upper- double pike that was hanging around one of the perch shoals, which was a nice surprise as it's normally a "jack only" water. Interestingly it coughed up a couple of chewed- up perch in the net, so it was obviously feeding on them!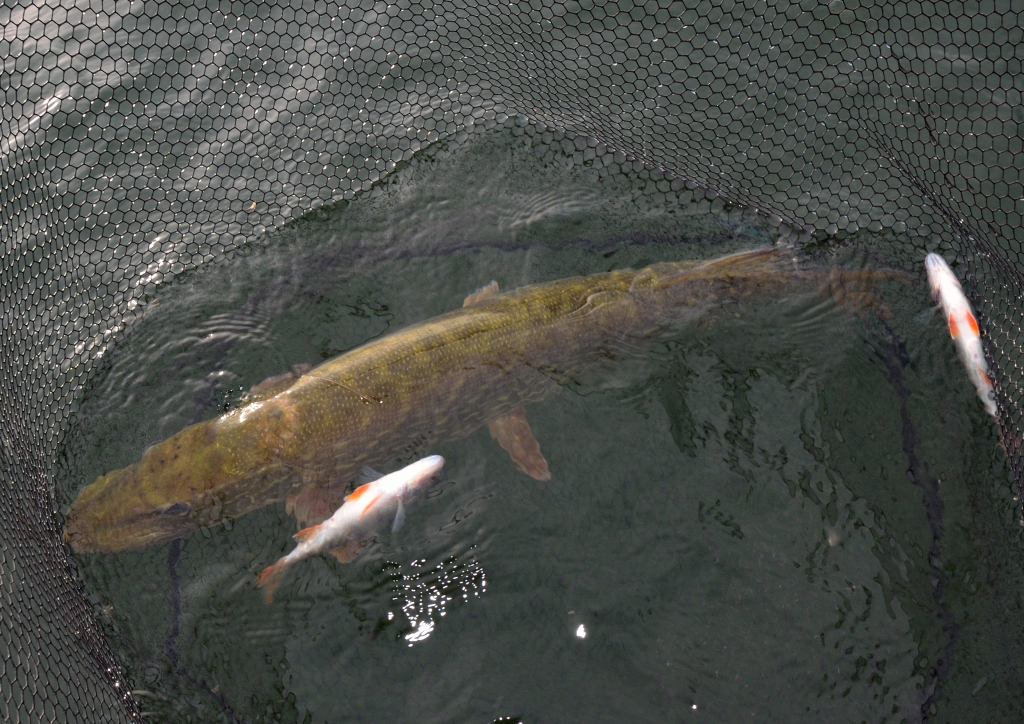 The rest of the month was really a Chew fest! That didn't result in anything for me! Though I don't think I'm alone in this, having depressingly worked out it took me 11 trips to catch a significant fish i.e. a fish over 20lbs (the rest were either blanks or jacks) I am now on 6 trips without a fish! People may not believe it, as, after all, it's Chew, and all you do is chuck out a deadbait and reel in 20's. But it's not like that for many people, and speaking to most it works out between 8 and 10 days per fish now, unless you are lucky. Now that may not seem too bad, but if you only get your allocated 4 days per year that's 2 years per fish, so you either have to put up with it or spend a lot more on tickets!
Now I think if I had done the same amount of days on a couple of other trout reservoirs, I am certain that I would have had a lot more fish, and several twenties to boot, but what I wouldn't have (with the exception of one water) is the chance to catch a 35lb + pike or a 40lb + pike.  That, in a nutshell, is why I will keep going back!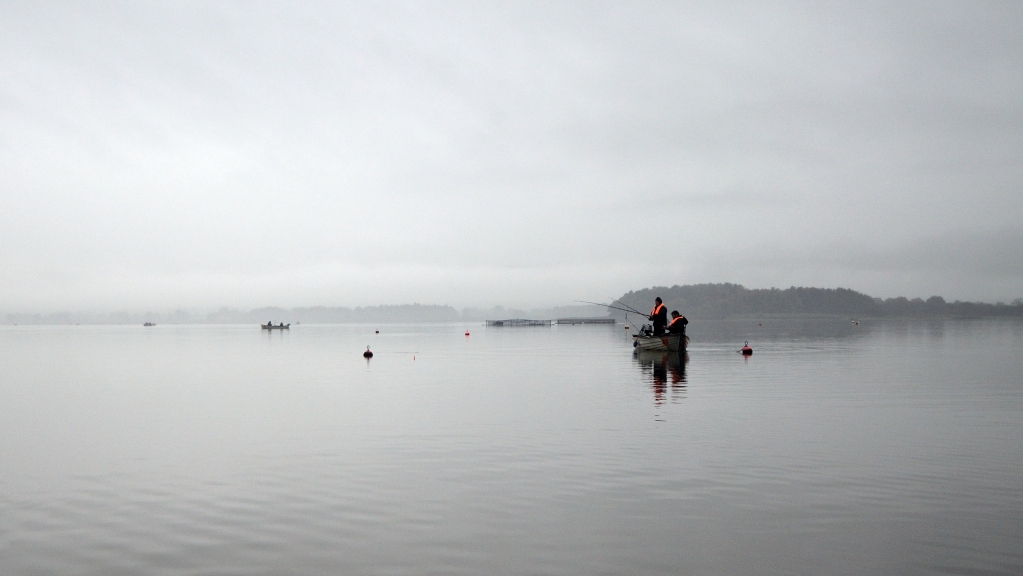 Don't get me wrong, I love Chew, I think with the exception of maybe Rutland it is the most picturesque trout water I've fished, I love the excitement of it all, the nervous flutters when you get a take, the race to the going spots, the banter in the pub, Yes, I'll moan when I haven't caught anything for few days, but It's a fabulous place. Just don't go it you think its going to be easy, like a few years ago!
What was worse this trial is that I missed a few chances, I was out with Lewis Baldwin on the last trial and we decided to fish somewhere different, as most of the boats were concentrating on the deep water in front of the lodge and sailing club, where you would expect the fish to be at this time of year based on previous years' results. But I'd got a feeling there were still a few fish shallow, but no one was fishing for them, it is a bit like a flock of sheep on Chew most days, but if no one is catching it's good to explore. It was one of these shallow water spots that we anchored up on.
John Horsey and Tony Donnelly were out filming with Sky TV in the general vicinity of where we were fishing … OK.. So they were drifting and casting lures and we anchored up in their spot, but it wasn't because they were fishing there, it was a spot I'd got marked on my GPS and Ii really fancied it, just off an old river bed.
We had literally just got the last rod cast in when the ratchet on my reel screamed, and I picked up the rod and bent into a fish for all of 2 seconds before the hooks pulled out! Grrr… Looking at the bait, it was obviously a good fish, then, before I could recast, one of Lewis's floats twitched, went under, and then popped back up. We waited but the pike had obviously dropped the bait.
In my experience this hardly ever happens on Chew, nearly all the fish I have had gulped the bait down and ran off with it. I think you really only get this behaviour if your rigs aren't good, or it's near spawning time and the pike pick the bait up and swim with it in their beak, not really wanting it. It can be a sign of pressured fish as well, but nothing had been caught all week – how can the fish be pressured if they haven't seen a hook for the best part of two weeks? It was a strange occurrence, then Lewis's other float went and line was screaming off the reel!
This fish was a lovely 22lber and was filmed start to finish by Sky Sports, Luckily it went in the net first time, but looking down on it in the net I could see by the length of trace it had gobbled the bait. I whispered to Lewis as we were now on TV we had to make this look good, and passed him the net while I sorted out the boat, sladle, unhooking tools, scales, camera etc.
As soon as I'd got everything in order I lifted the net into the sladle and went straight into unhooking mode, and opening its mouth I could only see one treble, damn it!.. We all try and avoid a deep- hooked fish, but with the best intentions in the world sometimes it happens – you never want it to, and you never want it to when you have a TV camera stuck in your face! But I've unhooked my fair share of deep- hooked pike, so it was out with the top treble, then I got Lewis to tension the trace, and, through the gill rakers flicked out the bottom treble when it came into view. Now whether it was luck or our skilful unhooking procedure, but that bottom treble came out like it was greased with butter! So I couldn't help sitting there with a smug look on my face while I photographed the pike for Lewis. In fact, Tony said afterwards that it was the quickest he'd ever seen a pike unhooked and commented on how well we'd looked after the pike! I think he meant it as a complement?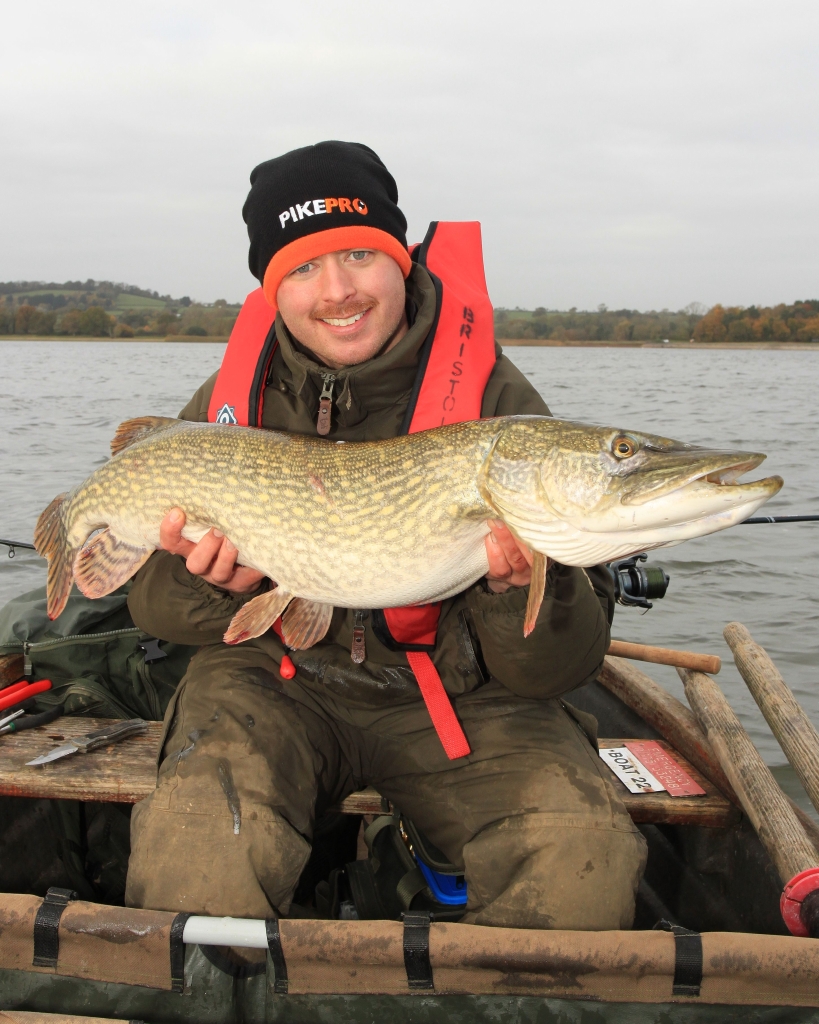 After that it went dead, I couldn't believe it, I thought we had found some fish – with all the floats going. But, apart from a trout, that was it, and we moved around that area a fair bit as well. Paul and his mate were out in another boat and they came and fished around us, they even saw pike roll near their floats, but that was it for the day.
My next two days were bank days, I think I prefer boat fishing, but looking at my catch rate I've caught a lot more from the bank, I think this maybe just that you get on earlier, and are fishing during that all- important (at this time of year) first light feeding spell.
A few good fish had come from Wally Bank, Woodford is a sure fire bet in November as well, but I fancied fishing somewhere different – if you fish the same swims all the time you don't learn very much, and sometimes for me that is as important as catching.
Due to the fact that Lewis and myself had some action in shallower water away from the other boats, I decided that I would have a go on Nunnery, having not fished it before it would be somewhere different.
I arrived in the dark and was surprised to find no one on the lake, it was about 5am, and usually there are headlights all over the place, but I couldn't see anyone else – a good indicator that it's not fishing very well! I made my way down to one of the rock piers and set up, as I was setting up something swirled on the next pier along! So I moved all my gear to that one and cast in, and sat down to have my Weetabix!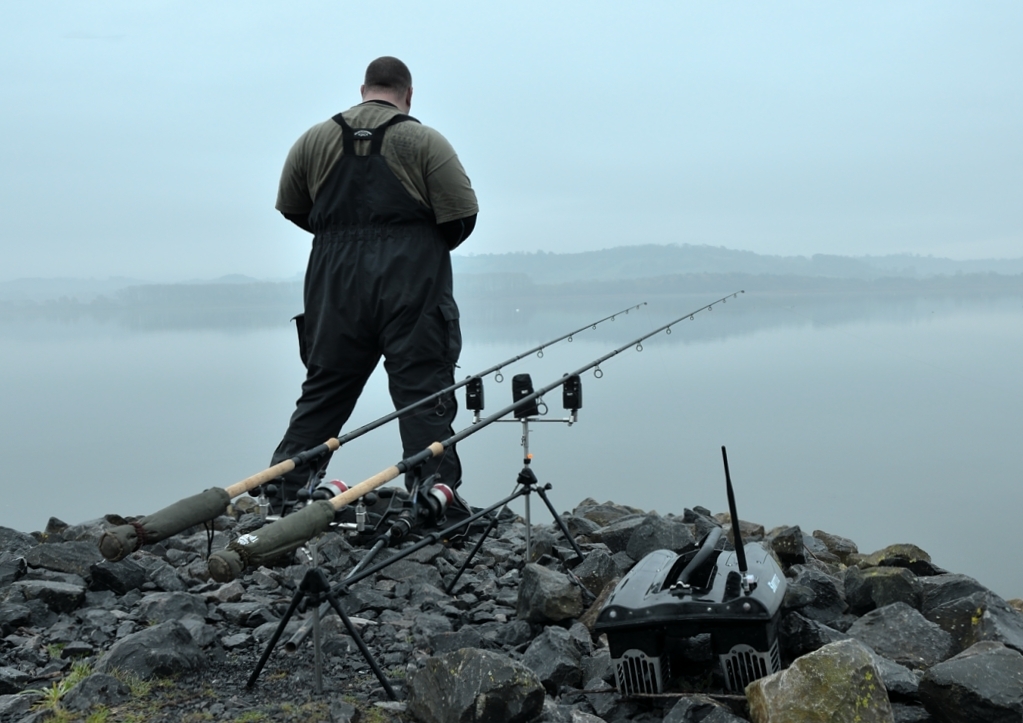 As it got lighter I put one bait out a bit deeper with the aid of a bait boat, which involved a torturous scramble down the rocks with my bait boat to reach the water. Luckily I have the balance of a gazelle and the feet of Fred Astaire, so I only slipped in once!
As I was sat there with my "socker" a massive fish rolled about 100 yards out, it was easily 30lbs,but it must have been in 20 odd foot of water where it was. I didn't need any prompting and land-slid back down with my bait boat and dropped a bait right on top of where I saw the fish.    
In my experience, if you haven't caught anything by 10am when you are bank fishing, its' time to prepare for a blank! Occasionally you get one at last knockings, but it's not been such a good time this year. So at 10am I was sulking with a wet foot and thinking about what to do when the bait-boated bait pulled from the clip. In a bit of shock I wound down and pulled into the fish, which did the thing I didn't want it to do and started kiting towards the left, right where a stupid buoy had been left in the water. I managed to bully it away from this and get it in close, it felt like a good fish as first – then got smaller as it came in. After scrambling / sliding / falling down the bank I chinned a nice 15lber out, and that was it for the day.
The following day I was back again, Paul was fishing Woodford bank and I popped in to see him and pick up some fresh Baitbox goodies, and I was half tempted to fish down there, but that was a huge fish I'd seen the day before, so off to Nunnery I went. It was the same as before – one bait cast out and one bait to the big fish spot, and wait for something to happen…. Well the first thing to happen was I'd not set up my chair correctly, and when I sat down it collapsed and I fell backwards! Anyone that knows that area will know there are a couple of scrapes out at the back of the piers, and it was down into one of those I roly-polyed into! By a bit of luck I stopped feet first at the bottom, and it was only my boots that went ankle deep into the cold water!
So this time I was sat with a cup of tea with two "sockers" when the cast in bait rod sprang to life, and I squelched down to it and struck into what was obviously a very good fish! The rod just stayed bent and I could feel the fish rising up in the water, then it started shaking its head, I can't believe how much it shook its head, the rod was like a buckaroo in my hand. Small pike don't do this, they can't, they simply don't have the body mass to do it, it was like having a sumo wrestler trying to do sit ups attached to the end of the line! The fish then kited to the left again, to the stupid buoy that had been left in for some ridiculous reason, it came to the surface and threw the hooks out!
I was so annoyed,, you put in all that the effort, time, and the expense, to fish Chew in hope of getting a big fish, you don't get that many chances,,  and I'd just messed it up!  … and I'd got wet feet again!!
I gave it another couple of hours then packed up and went around to see Paul, I felt a bit better to find out that the anglers either side of him had had good fish, so it wasn't just me having a bad run of luck! Anyway that was my last day on Chew, hopefully I'll get a few days in February next year, but for now I was glad to see the back of the place.
I consoled myself by heading off the next day to catch some easy zander.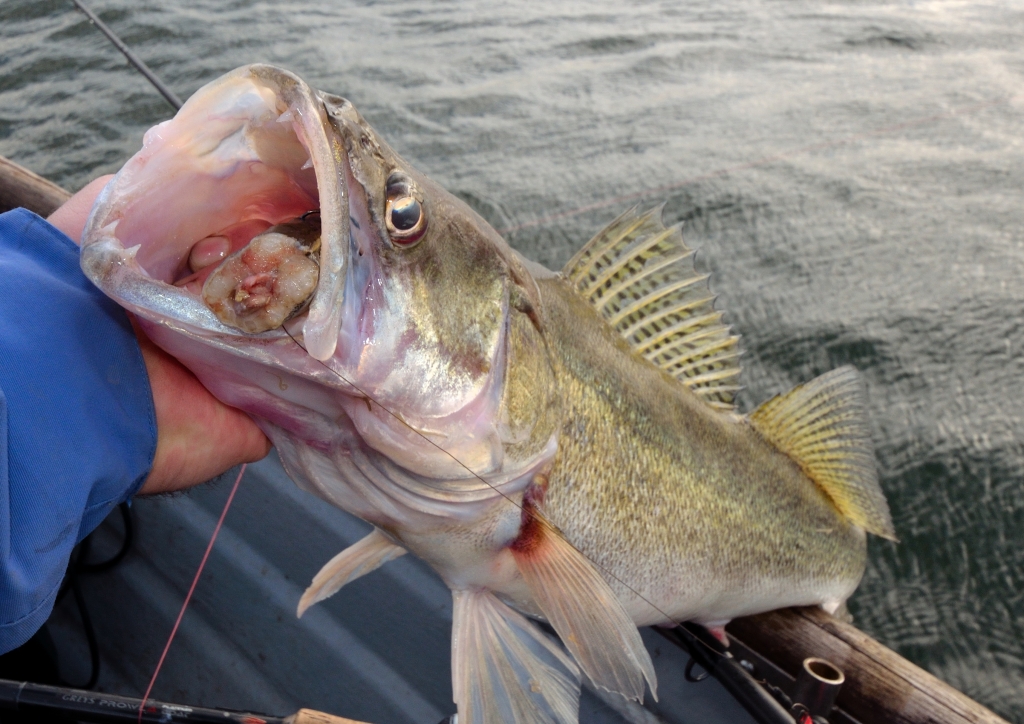 Articles this month:
Pike Scene – Beat the weed – Anglers Mail – November 12th 2013