December 2013 Blog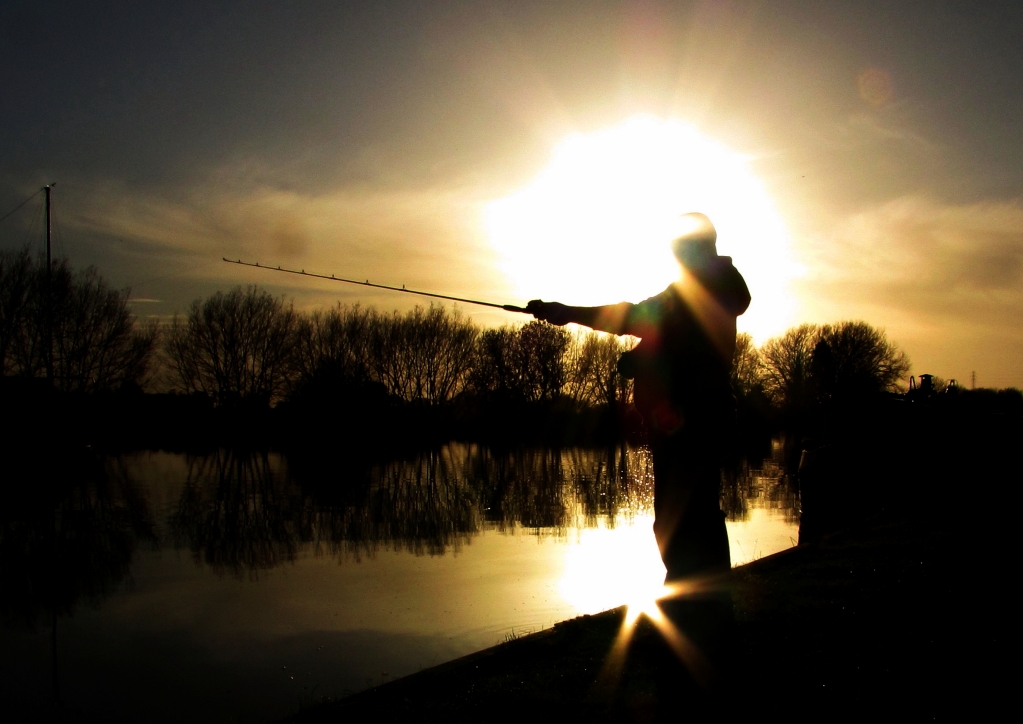 I decided to have a bit of a lay off during December, I think with all the heavy fishing in November I was done in and I just felt like do some easy local lure fishing.
But my best laid plans for a bit of rest were scuppered with a phone call from Ed Betteridge from Hardy Greys, requesting a day out to do some filming of the new Prowla gear. Ed also wanted to catch his first zander so it was a simple decision to go to Rutland for the day and bag up on easy fish… or so I thought.
I don't fish Rutland for the zander anymore, I've caught enough of them from there -and until they get a bit bigger they don't really hold any interest to me, but it's a good place to go if you're new to vertical fishing and want to learn how to do it. So that's where Ed and myself headed to, on a dank Thursday.
My thoughts of a few easy zander for the film – a couple of tips to camera, then home for tea and medals were dashed, as by 11 am all we had had was a couple of big trout! Now it's strange to catch trout on jigs, unless you're fishing them in some weird way! But, for whatever the reason we kept catching them. After trout number three I moved us from this banker spot to try a few more areas that I'd got marked on the GPS.
As it turns out these were as dead as a door nail, and looking at the finder, most of the zander had moved really deep by the look of it. Yes, you can catch them deep, but fish with popping eyes and distended stomachs don't make good TV. So in the end we went back to just off our original starting point as there were certainly zander there, maybe they would turn on before the end of the day.
It was a good move, as on the first drift Ed had his first Zed and was pleased as punch with it! Then I had a couple of small ones and then a good one for Rutland of about 5 or 6lbs. Great.. the pressure was off! Pheww!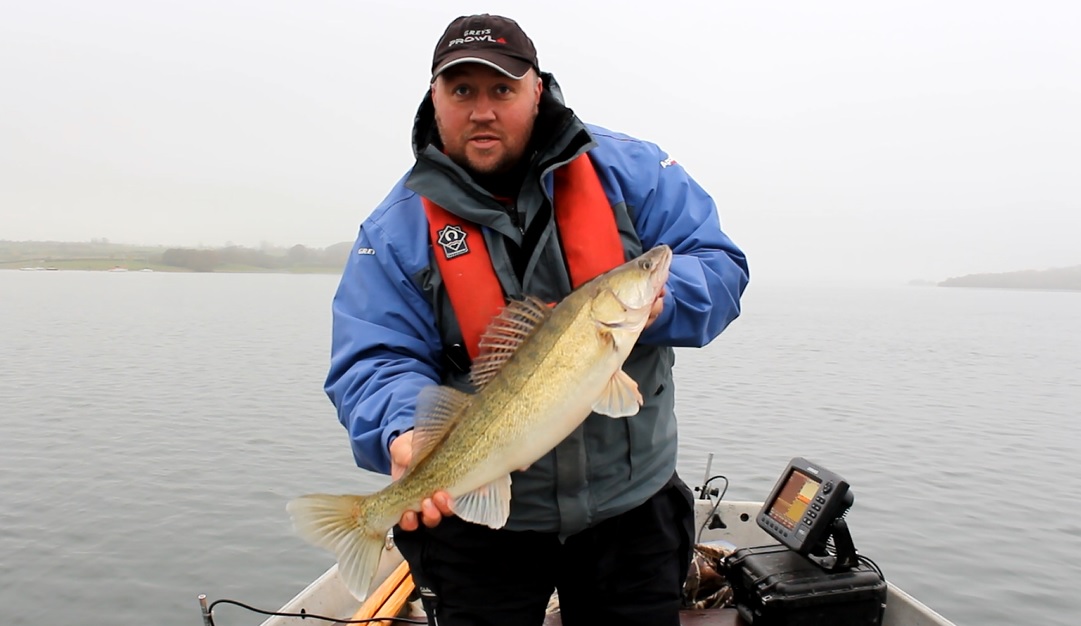 Then it was over to fun fishing, trying to get a bigger one for Ed and trying a few new lures for myself. We finished the day with only around 6 or 7 zeds but what was interesting is that Ed picked up a pike around 17lbs, just on the top of a shelf in 50ft of water.
Now one thing I know about Rutland pike is there isn't just one of them, so I stopped with the jigs and started casting along the feature, and it didn't take that many casts for me to expertly miss another one! Gutted! The worse thing was that we had to be to the lodge within 15 mins so that was that, at least I'd found a new area to fish next time.
The next thing to take me off my self- imposed fishing rest was, back at the lodge, I was told the fact that Rutland was staying open another week! Bugger! That means I had to go back to try my new- found pike spot! So the next week, I was back anchored over the area, the depth map that I had made showed a narrow corridor between two ridges, riding up from 50ft to 30ft of water.
Now fishing lures in 30 ft of water is easy, fishing them in 50 ft and greater is a bit more tricky, but once you've done it a few times, and are confident at working them at this depth, it can be surprising what's lurking down there. 50 – 60 ft isn't deep to a pike, but how many people do you see casting lures in this depth?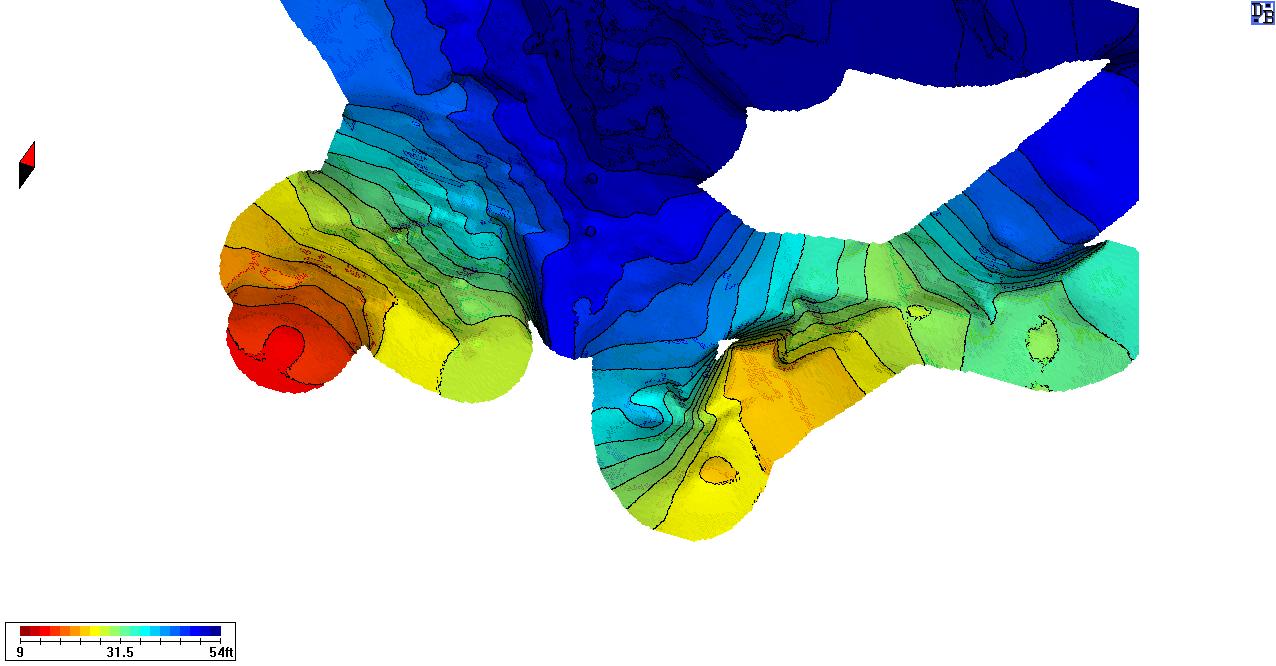 You do need the right kind of lure, and the right kind of braid, and one thing you have to do is anchor, drifting at any speed will make keeping contact with the lure (at the right depth) very hard. I won't go into any more detail as it will fill a whole blog.
I had been fishing the feature for about 30 mins, hopping along with the anchor once I'd covered the area, when I had a massive slack- line bite, and wound down hard to connect with an angry pike – which must have wondered what was going on as it popped up right next to the boat, to be scooped up in the waiting net.
It was only about 15 -16lber, but more evidence to me that the pike had moved to this depth range, as there certainly weren't any shallower. This pike had really swallowed the lure as well, which is quite common when fishing "low and slow" like this.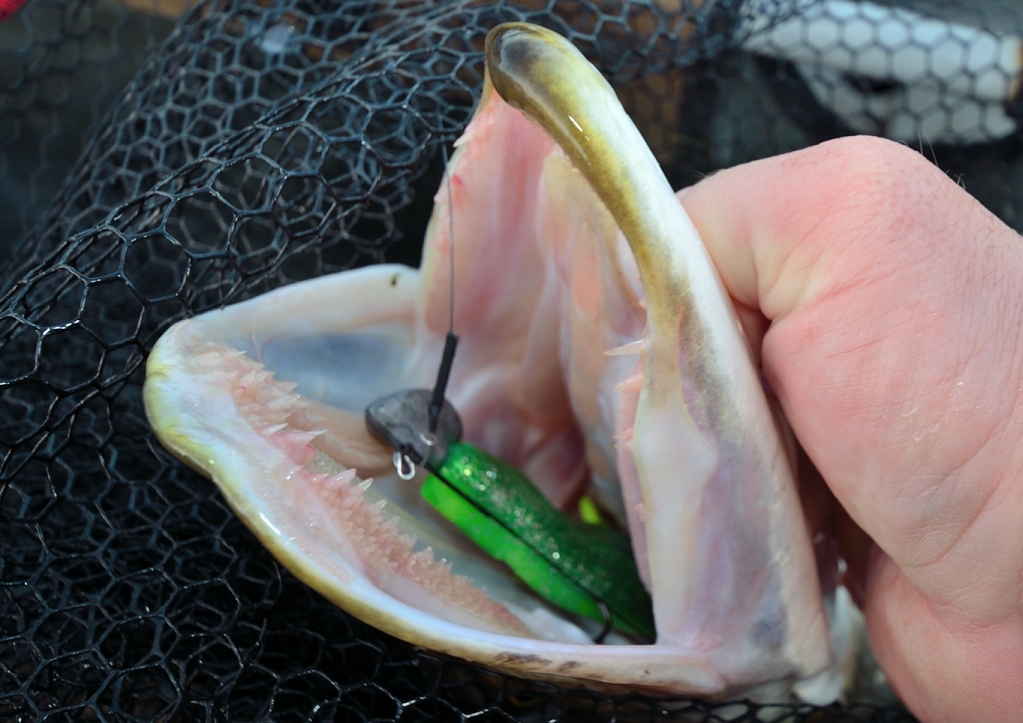 An hour later, and with just one other hit, that was it.  I'd covered the feature quite well, so I moved to another spot with the same type of contour, where a friend of mine had a good fish last year, but the only exciting thing to happen was another slack-liner where I couldn't keep up with the fish, so it was possibly a trout.
Fishing these depths you do tend to get slack- liners as you are working the lure very slowly, sometimes just on the swing down, so when a fish hits it, it's moving faster and you get that slack- line indication. It's all very exciting!
Strange Occurrences;
When I got home there was a distinctly fishy smell in the garage, I had a horrible moment when I thought the bait freezer had defrosted, as the stink was coming directly from this area. So it was a relief to find everything nicely frozen when I opened the lid. But the whiff was still there, and on the floor was a series of strange little footprints that were dark red, leading to the back of the garage, very strange. I had visions of El Chupacabra hiding away under a drying unhooking mat. But all I found was a puddle of smelly red liquid. Stranger and stranger.
Using my best CSI techniques I followed the "blood trail" along and up a series of shelves where I'd previously lined up a selection of pike attractors for a quick photo.
There was some salmon oil, eel oil, various Bait Box dyes, some Multimino and a couple of other fishy scents, but right in the middle there was an ominous gap. Something had been there and now wasn't. I searched around but couldn't find the bottle anywhere. Had I knocked it off? Trodden on it? Further investigation found a few more little footprints again in dark red, I followed these to what, for all intents and purposes looked like a murder scene, with arterial spray all up the back of my freezer and another puddle of red goo  under it, when  I bravely pulled the freezer out of the way. In the end my tracking skill is obviously lacking – as that was all I could find, no bottle or anything, just spray and a pool of red.
I ended up going back to my computer to find out what should have been on the shelf and as it turns out it was a bottle of Baitbox Lamprey- flavoured dye.
I can only assume a mouse had taken a liking to it, and pushed it off the shelf then dragged it under the freezer, before chewing into the bottle?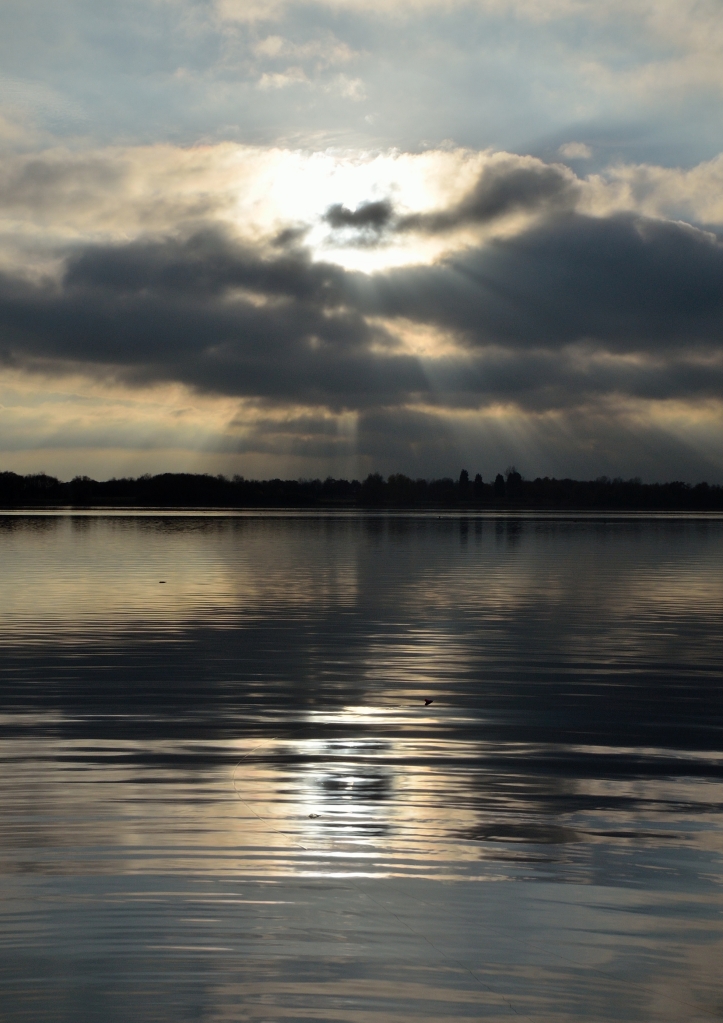 John Mees the head warden at Grafham Water has taken the mammoth forward- thinking step of staying open for predator fishing until the end of January. Which is fabulous news, for all the anglers that love fishing there, and a great opportunity to fish for potentially very big zander at that time of year.
John is one of those forward -thinking managers who realises the potential of the predator market. It wasn't that long ago that Grafham first opened its doors for pike fishing, and John will admit that, at first he was apprehensive, not knowing what he was letting himself in for. Yes, there will always be idiots out there, but, as John says, they come once, don't catch and don't come back again, it's the regulars that really make the place.
So Paul and I made plans for an early trip to see how it was going, and were not overly surprised to find that we were the only boat booked! We had 1500 acres to ourselves! Nice!
It had been cold, but I still expected a few zander to be caught if we could find them!
We had our cold water jigs with us, and as a back- up some deadbaits as well. The wind was meant to pick up quite a bit after mid day so we decided to vertical fish first, then put some baits out if the jigs proved ineffective.
The vertical fishing was slow, with only one hit, which came as usual I wasn't paying attention and nearly pulled the rod from my hand, and at the same time bounced the fish off!
After a couple of hours we anchored and put some baits out, but it was dead, we moved several times and then just at last knockings one of Paul's floats bobbed and your typical 9lb Grafham zander was quickly in the boat. This fish, like some of the others I have had lately, was really leached up, so it was obvious that they hadn't been moving about that much, maybe that's why it had been fishing so slowly? Who knows?
I'll be back again though, as I'm sure a big one will come out before it shuts.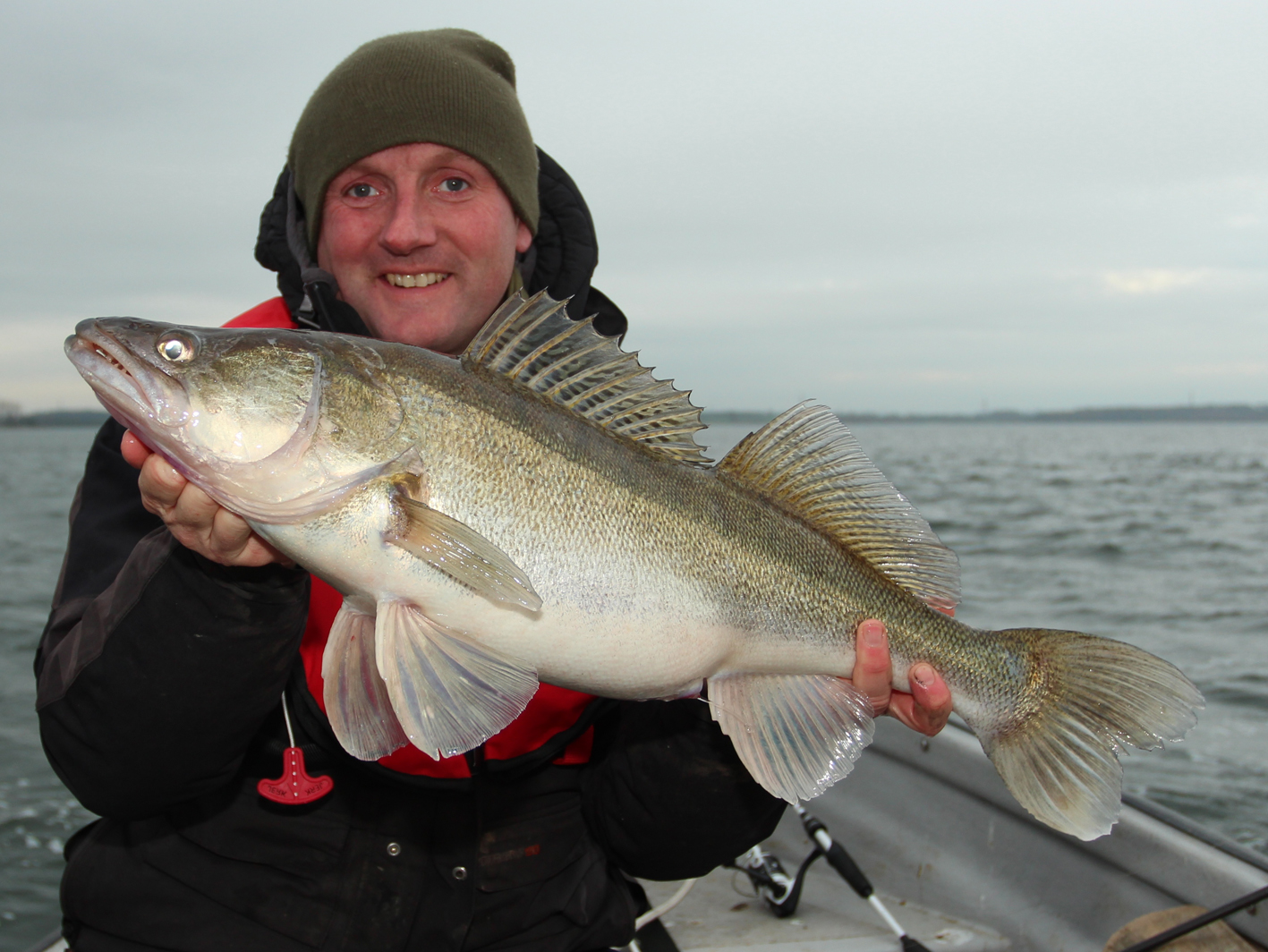 Rain, Rain, Rain
Most of my other fishing during December was washed away due to the rain! It started with a trip to the Trent but this coincided with the first fresh dollop of cold water, which turned the river into jack city! Small pike don't seem that bothered with an influx of fresh water, but the zander I was after switch off if the fresh water is cold.
So hoping that the cold water hadn't also buggered up the Severn I made the trip down there, with similar results.
Then the rain never stopped, putting all the rivers out of action. Oh well, I did want a bit of a break over Christmas anyway! So that was it for me, I look forward to more relaxed fishing in the new year and hopefully a fist full of Chew tickets.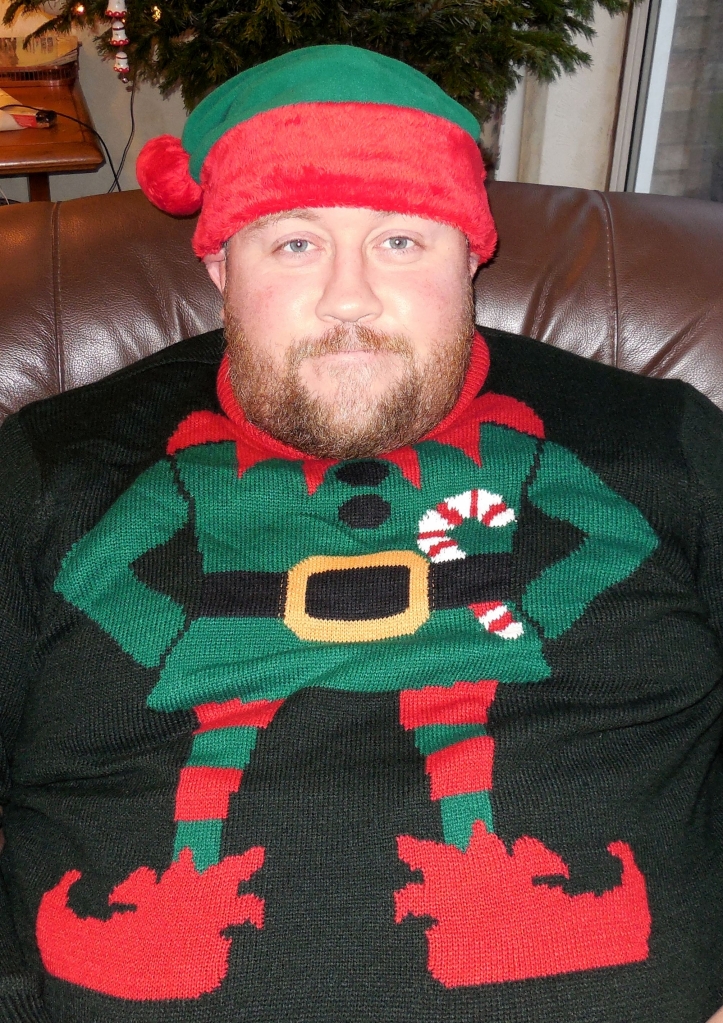 Happy Christmas and New Year
Articles this month:
Anglers mail – Dec 3rd – Top Three Lures.
Anglers Mail – Christmas edition – Pike Scene – Mummy baits.
Anglers Mail – Christmas edition – Top tips.
Pike and Predators – Drop- Shotting Revisited.