September Blog 2014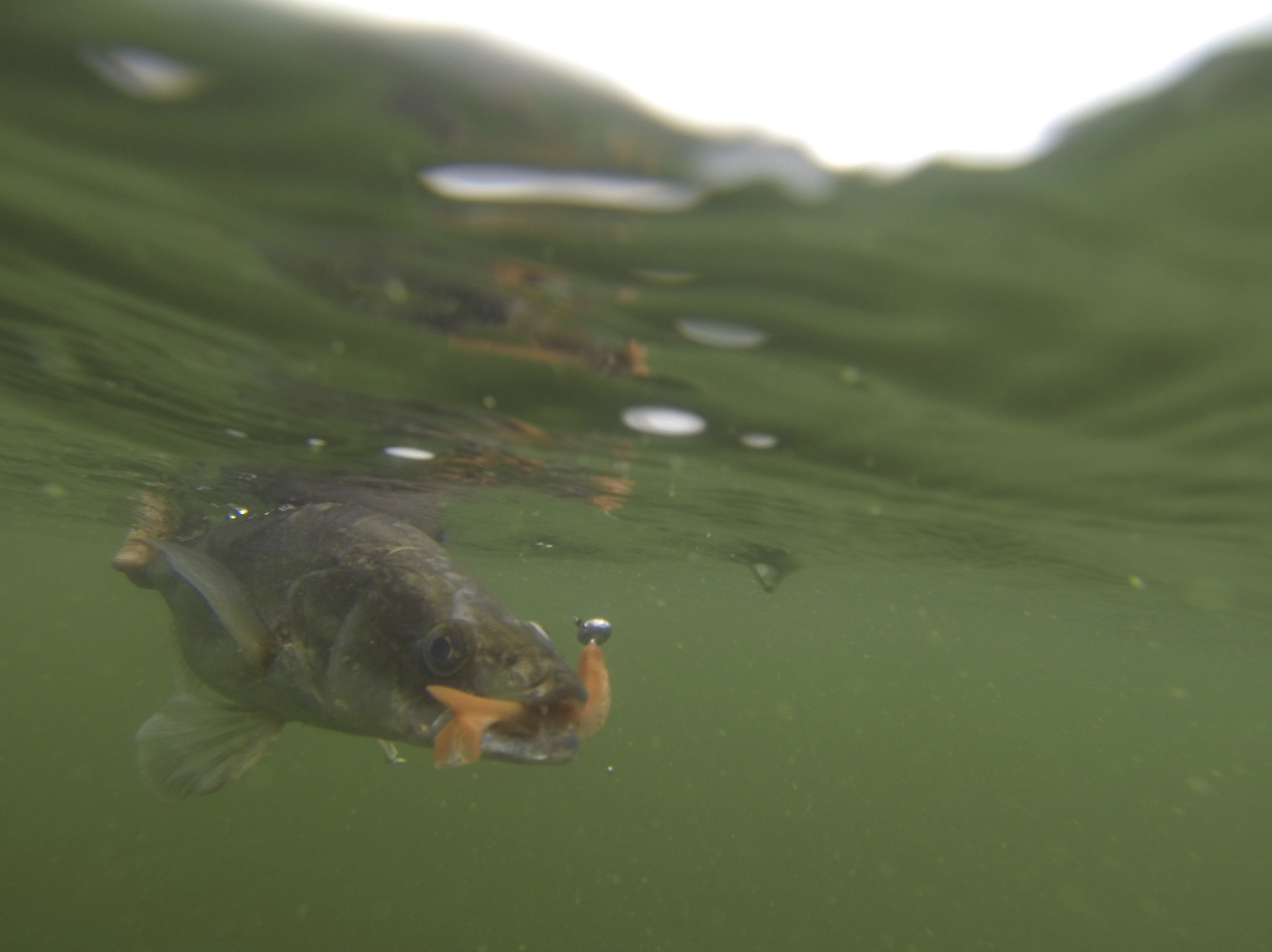 September has absolutely flown by, and has gone down as by far the most stressful month I've ever had – firstly buying a new house, then job uncertainty reared its ugly head, followed by a new schedule of "Pike Scene" for the upcoming season, and a talk to do for the Pike Anglers Club convention. I've really had to make an effort to go fishing, though, to be honest, sometimes I didn't want to!
September for me kicks off the predator season proper, (not that I don't manage to go in the summer months on the river), but now the Anglian Water reservoirs open on the 1st  of September for lure fishing  it all kicks off then, in my opinion.
Grafham was a bit of a disappointment- it had been drained down so they can do some bank work so it was quite low, there was also a horrible algae bloom turning the water a dark brown. This worried me, brown algae can be quite toxic especially as it's a silicate algae. The water even smelled bad, and to be honest I was beaten before I even started, and even though I fished hard I wasn't confident in catching any pike when the visibility was less than 6 inches. Opening day was quite busy – with a flotilla of boats blockading one of the water towers, with some good perch being caught.
Me, I blanked, which is typical of pike fishing at Grafham. When I go there I really have to be very focused on what I am fishing for, as it is very easy to get side- tracked. For example I am sure I could have gone and caught some zander, or put on a drop shot for perch while the pike fishing is slow, but if I had started catching either zander or perch that would be it for the day, I'd have been hooked and stayed fishing for them. So when I'm pike fishing I only take pike stuff with me – sometimes this helps. It certainly leads to more blanks! But I am a firm believer that on waters like Grafham you have to grind away at it until you find the pike, they aren't hard to catch when you know where they are, it's just locating them when you don't that is the problem.
After a few days casting big lures it was time for a break, and my attentions turned towards some easy zander fishing!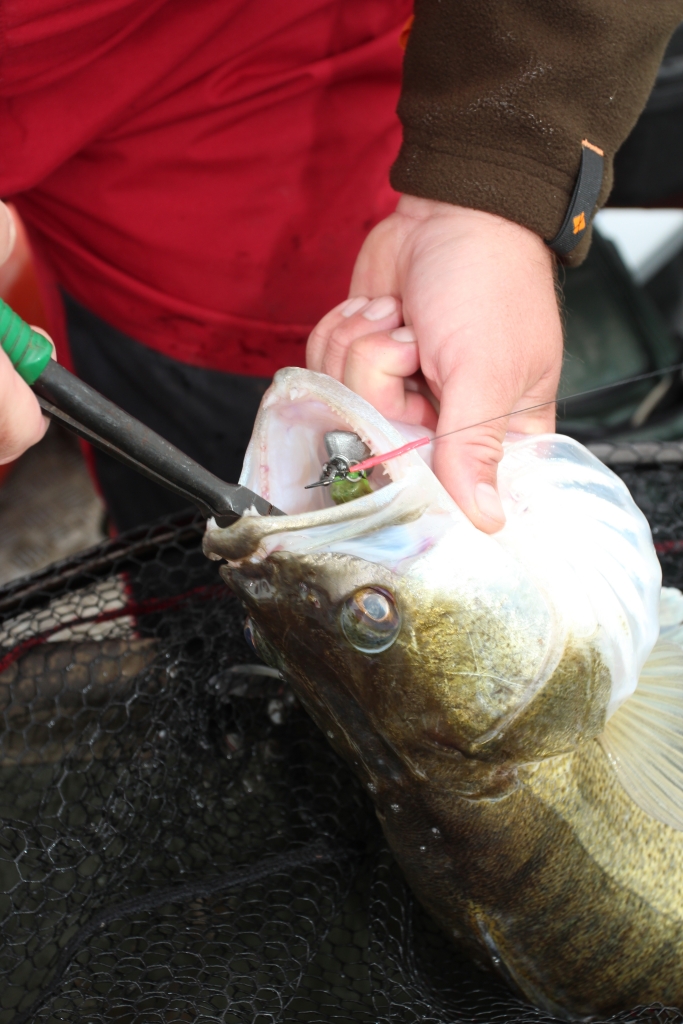 In between tides I had heard that the tidal river was also fishing well for the zeds, like it always does in September. If only I had the time to concentrate on it at this time of year I am sure I could get a couple of decent fish out, but alas I don't.  I did manage one half day on my boat, more to test some new lures and get some photos than in the expectation of catching too much. However I had a good day, with several fish all falling to "Gulp Eels". These are an eel shaped soft bait with a paddle tail, and they come in a jar of "Gulp" liquid, which for all intents and purposes looks and smells like Granddad's wee. I don't know what it tastes like as I'm not that brave, but it's meant to be a good predator attractor. I got them purely as I wanted an eel analogue bait to try on these tidal fish, and I did ok on them. They do look like eels in the water with a good body roll as well, which I didn't expect. I used them with 14g and 21g jig heads and they looked really good and accounted for a good few fish that day, nothing massive, but it's always encouraging when trying out new lures.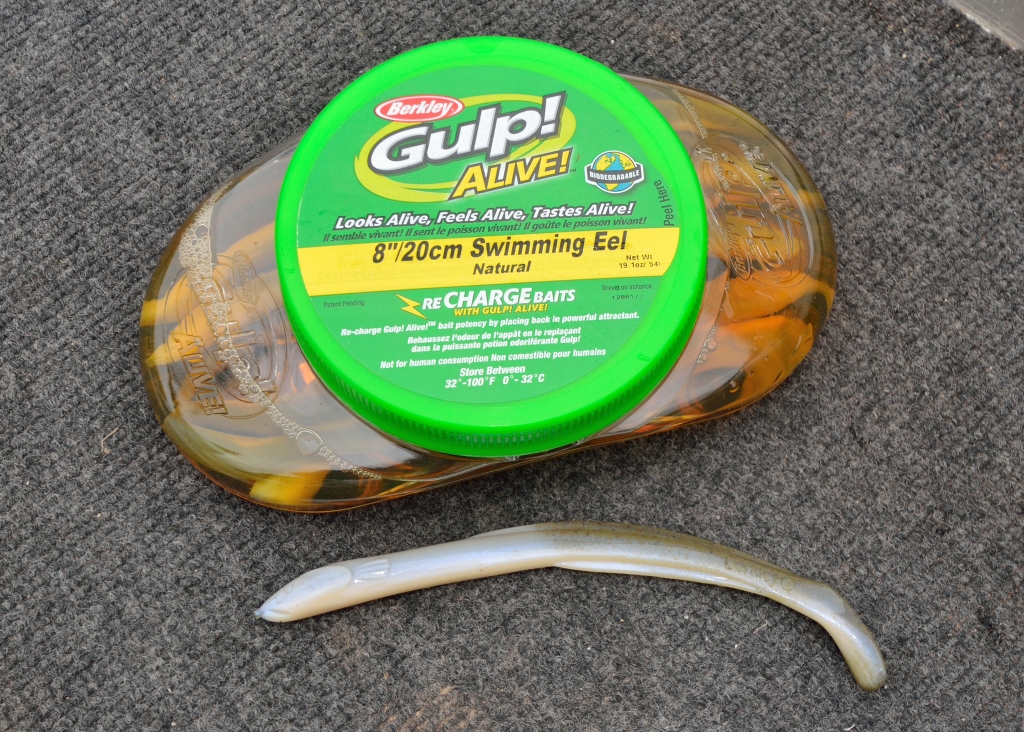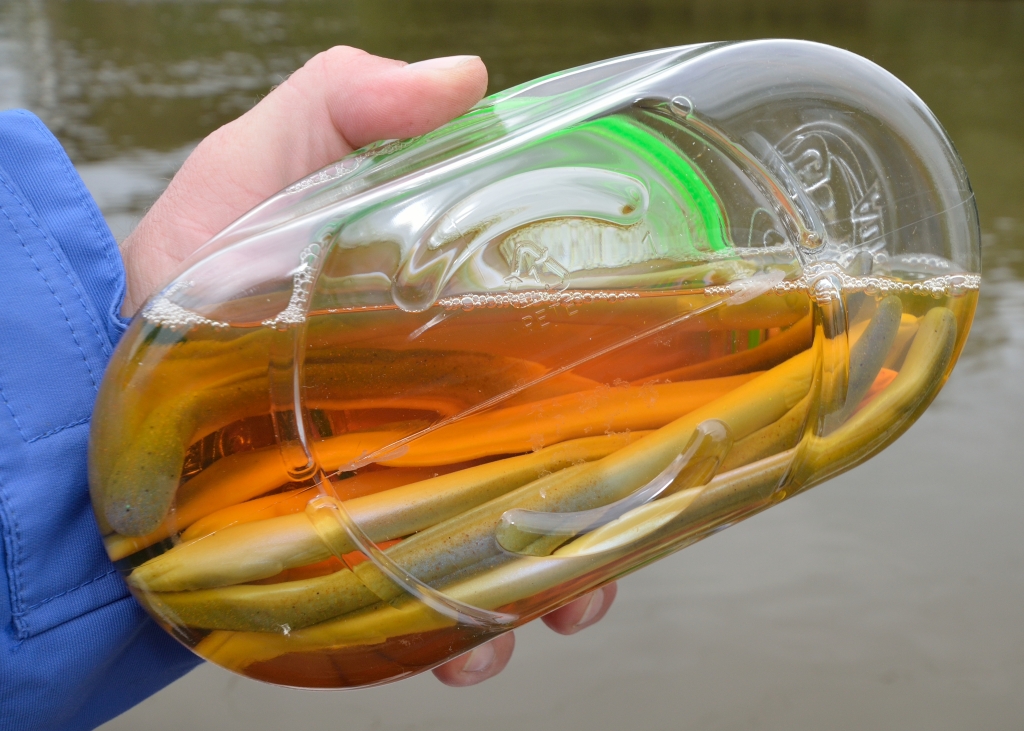 With regard to trying new lures, I'd just got my hands on some Sebile "AT Minnows" and Paul and I were having a bit of fun trying them out on some small zander. Somehow I had managed to mix my order up, and got a trade pack of blue coloured ones instead of the zander -friendly green that I had been expecting. Blue isn't a colour that I've used very much, maybe because I associate it with sea fishing, but surprisingly, the zander loved it. Paul was out- catching me maybe three to one using them, and it certainly opened my eyes.
The "AT Minnow" has an internal tube moulded in, so you can easily attached a stinger and fix it at different points on the lure without impeding its action, which is all tail -based and quite unusual. Lately I have been fishing my jigs for zander with just the stinger, no main jig hook at all. The reasoning behind this is that with certain sized jig hooks I think you bump a lot of zander, purely because of the jig hook not penetrating the zander's mouth correctly. By just using a single stinger the treble seems to slip into the corner of the fish's mouth and helps prevent lost fish.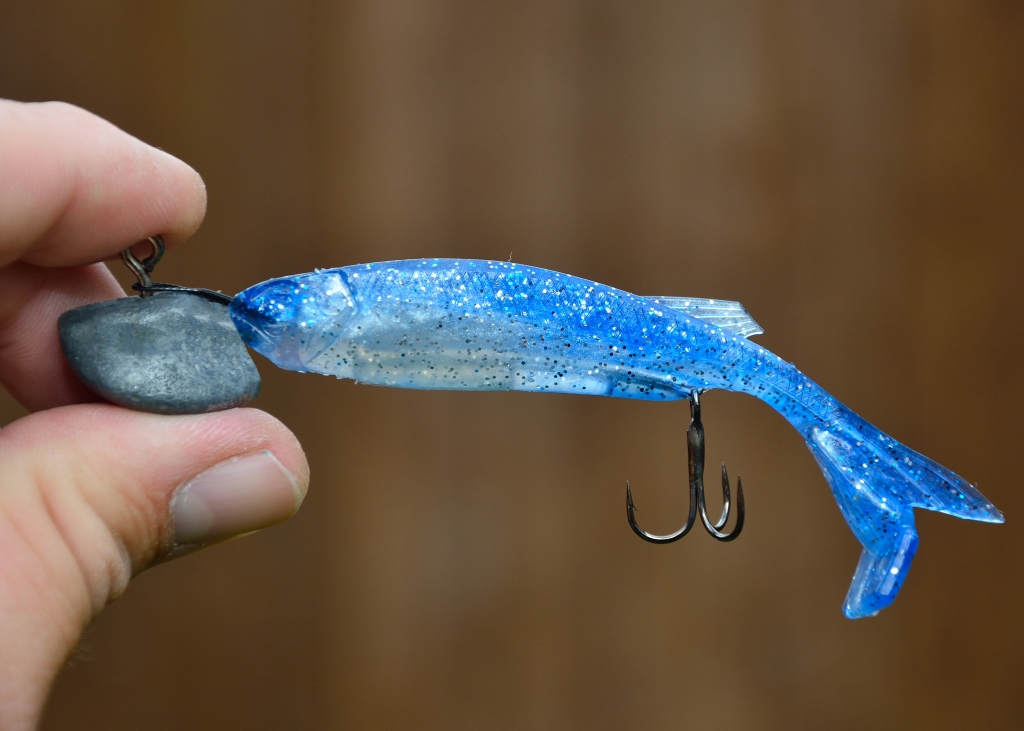 We also messed about getting some underwater shots of zander on lures, which can only really be done in calm and bright conditions. Not the conditions that you would expect to bag up, but surprisingly we did ok and got some good and interesting shots on how zander take lures. You could clearly tell they were in a feeding mood and taking the lures side on, with most fish being hooked on a sensibly sized main hook. However, when they turned off and we were bumping a few fish you could see that they had been nipping at the underside of the lures, and most of the fish were landed on the stinger.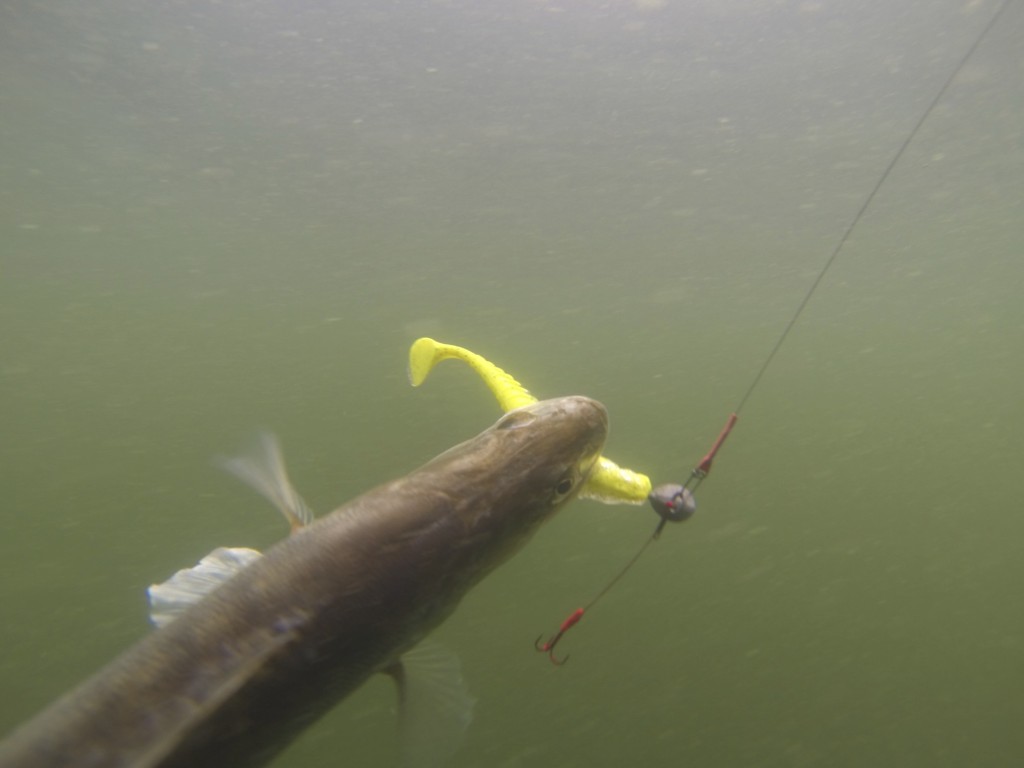 The pike fishing on the reservoirs was tough – Yes, we caught fish, but it was a hard grind on most days. To be honest it is usually like this each year, but I think in our excitement we forget!  It made me feel slightly better that other anglers were also struggling. Unfortunately as the season progresses it is only going to get harder as well, as the fish get more pressured each day, so it's a bit of a kicker when you are struggling on the first week! It could have been because it was still quite warm, possibly meaning the fish had moved to deep water like they did early on last season but we tried some of the deep water areas and these were also quiet. I did manage a nice twenty on the third day, which was more than welcome. However this was the only hit of the day, and came at last knockings on a spot that we had covered several times during the day, and it's a long day, at this time of year, casting big lures. After three days I'd had enough, and retired with shoulder and back ache and was glad to get back to work!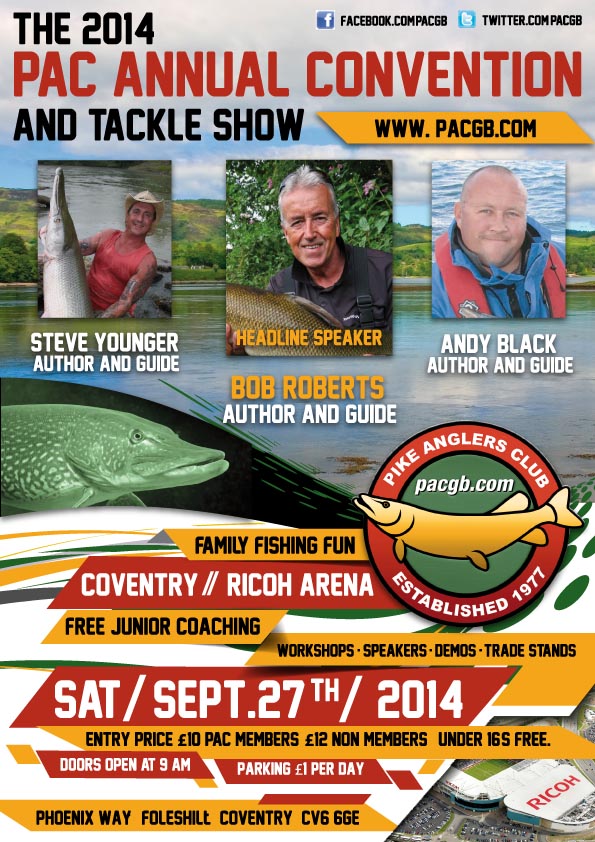 The PAC convention at the Ricoh Arena was a bit of a manic affair for me, I don't like doing talks, and I was quite nervous if I am honest, but getting stuck on the M5 only added to this. I did a technical talk on using echo sounders for pike fishing, which I thought would be a bit different to the standard – here's a photo of a pike and here is another pike.
Unfortunately the talk before mine overran a little, which in turn pushed mine back a little bit and caused a bit of confusion with regard to the start time, meaning some people missed the start- but I like to think the talk went down well and wasn't too overly complicated, but only the audience can say this. I did have a lot of people come and ask questions afterwards, which is always a nice sign that people have been listening.    
Roll on October and the Chew trials and some easy thirties! (I wish!)