September 2013 – Blog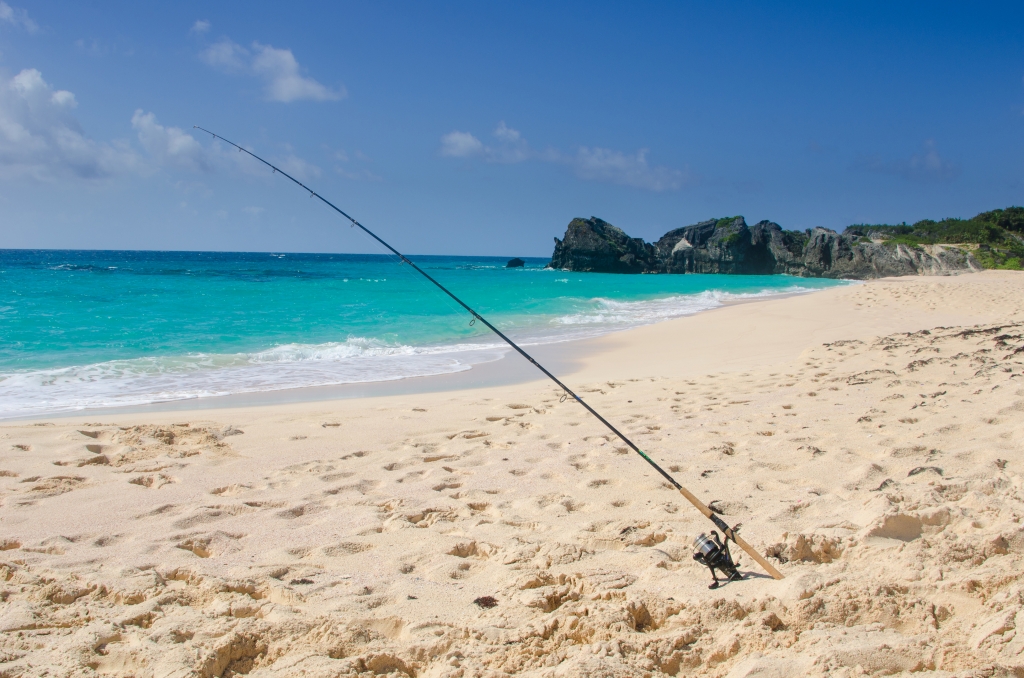 September started slowly on the reservoir scene, with most of them fishing fairly poorly to be honest. The pike were few and far between though I did manage to winkle a twenty. The zander were small and manky. One day I had three that from body length should all have been 15lb + fish, but they were so skinny they only weighed in between 8 – 9 lbs! The last one I caught even coughed up a load of nematode worms, not good!
I was glad for the middle of the month to come around, as we'd booked to go on holiday to see friends in Bermuda. After a reasonable seven hour flight, I managed to get through customs with out any blue glove incidents, we travelled all of 10 minutes to our hotel and then collapsed into bed.
On the first morning I opened the curtains of our room at around 6am to a beautiful sea view. As I was looking out at the water of the bay I saw a massive load of bait fish scatter. I rubbed my eyes and the same thing happened again only this time I saw a big fish roll afterward! At the risk of getting court-martialed I explained what was happening to my understanding better half, pointing out that I had to go try and catch them. Luckily I think she was too jet lagged to complain so in a flash I was gone, taking my rod and a box of lures.
When I got to the beach there were tarpon rolling everywhere, bait fish were landing on the beach and into the moored boats in the attempts to escape, how could I not catch one? Well I couldn't. I tried every lure I'd taken with me but they were just too preoccupied hitting that shoal of pin sized fry. Some of those fish were massive as well, with at least two of them being over 8ft long. They didn't want to know though and after two hours I slunk back to get some breakfast.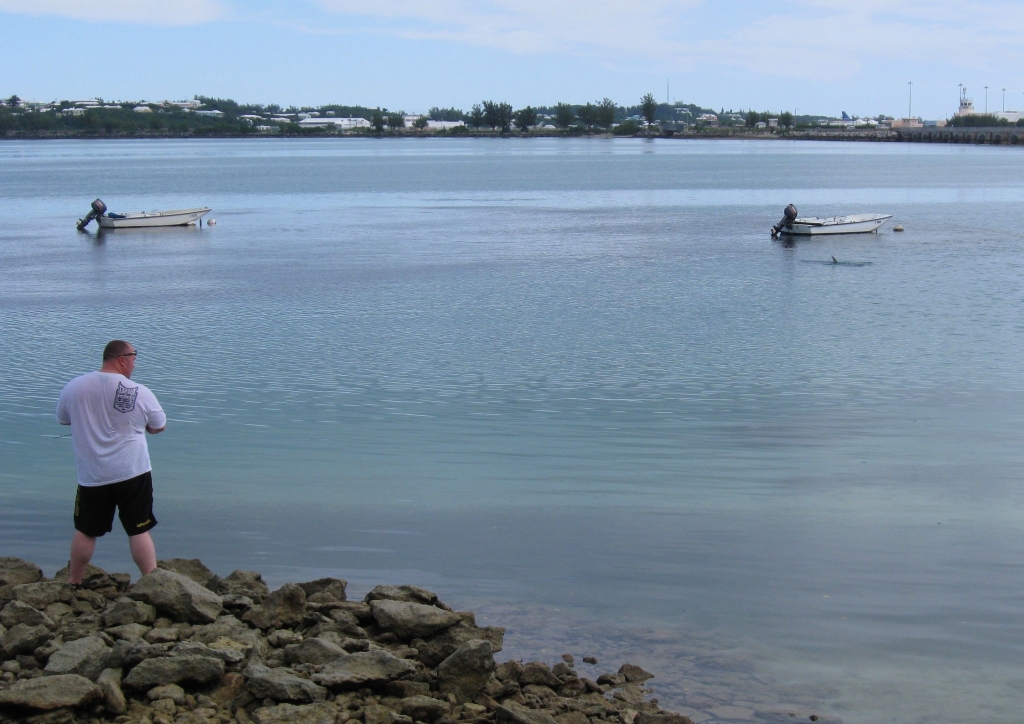 I managed to sneak out again more or less every morning to have a go on that little rocky beach. The strange thing is that those tarpon stayed there for three days, and then disappeared, I never saw them again. I did catch fish down there on baits. I caught small snappers, grunts and other strange reef fish using prawns fished pennel style on a pulley-rig. The bites were ferocious, nearly pulling the rod in several times, great fun. I also managed a couple of snapper on some fox drop shot lures I had brought with me, showing that drop-shotting is not just a perch only method. Strangely black was by far the best colour even though the water was crystal clear.
I also caught a strange fish which at the time I didn't know what it was, and neither did any of the locals who I showed the picture to. It turned out to be a species of Mojarra. Which is apparently quite common in tropical seas. Looking back through my photos I caught a few of these while I was in the Caribbean a couple of year ago. They are great fighters and I really thought I'd got something quite big on. I had to wade out to the rocks to land it and it turned out to be all of around 3lbs!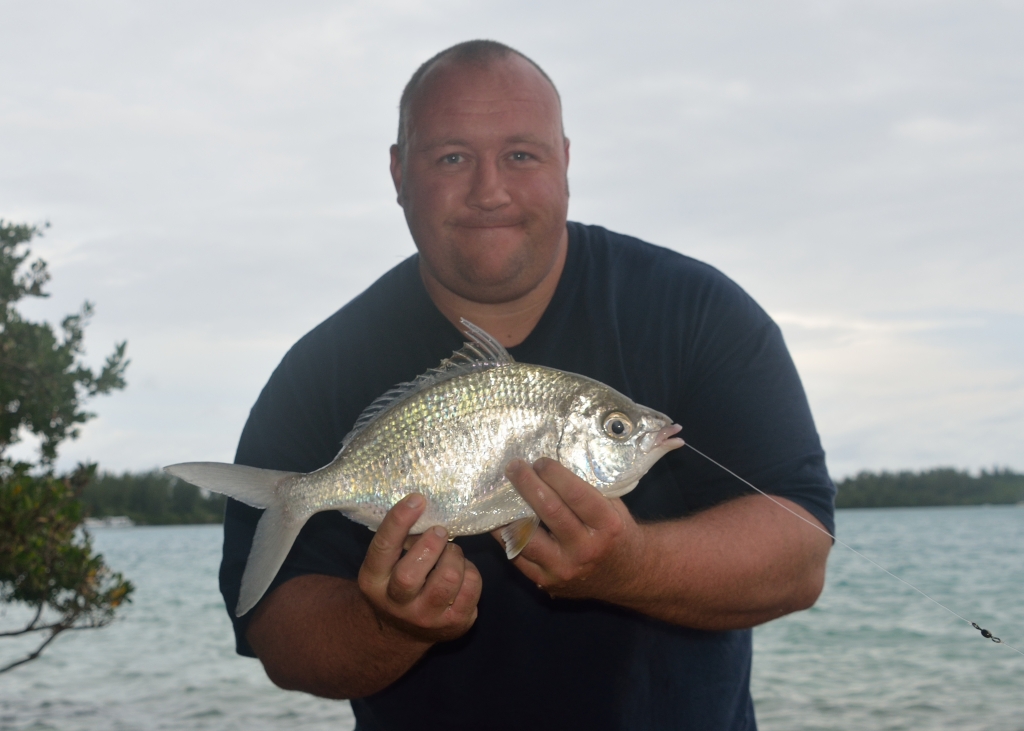 Bermuda has some unique pink sand beaches made by Parrot fish eating the coral and passing it out. The beaches are on the east side of the island, and were a bit of a jog to get to from where we were staying, but I couldn't pass up a beach day there fishing on the reefs. After an exciting hours bus drive we found a nice secluded beach near Warwick beach to set up on. Hardly anyone here beach fishes, most of the locals have their own big game boats, and most holiday makers are just happy soaking up the sun and drinking rum swizzles by the pool, so shore fishing here is a bit of an unknown.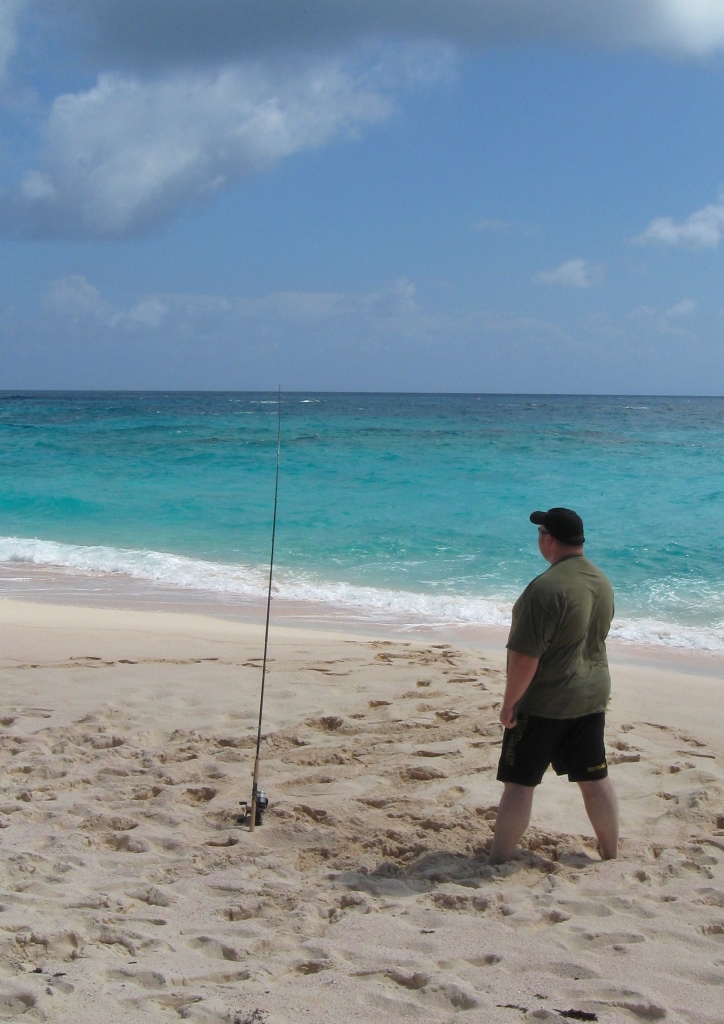 I'd managed to find a shop that sold some squid, always good bait in hot climates, and I put faith in this as I cast out into the aqua marine waters. Again I was using the ever faithful pulley-rig with a 3 oz grip wire lead, and fishing about 50 – 60 yards out. Luckily the sand was nice and soft so I could push the butt section of the rod into the sand so I didn't need to carry around a rod rest. It wasn't long before my rod was nearly pulled into the sea. It amazes me how hard these tropical fish pull even small ones nearly pull your arm off and make you think you have something big. In total I had 5 new species from this spot, an Almaco Jack, Black Grouper, Brem, a Sergeant Major Fish and the strangely named Pudding Wife Fish.
I was fishing little bits of squid about 2 inches long, but binding them onto the hook with bait elastic, to form a tight tube of bait. What you learn when fishing for reef fish like these is that everyone of them has teeth! They will rip baits apart unless you bind them on tightly.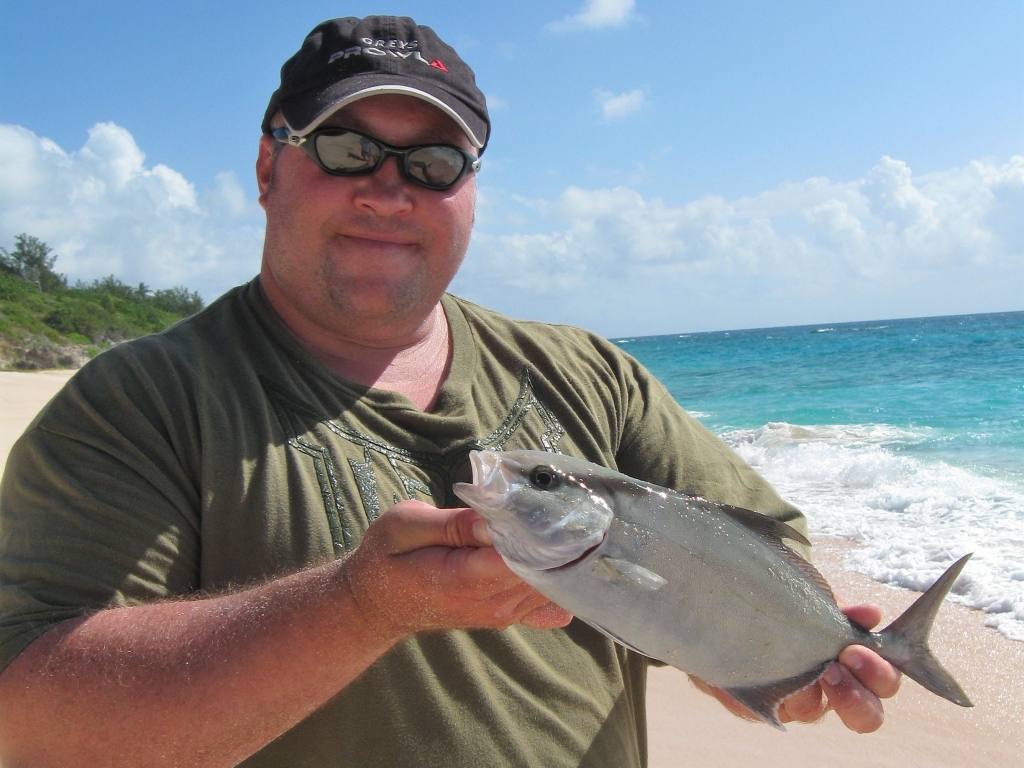 I used a tip that I picked up in Australia to keep my bait as fresh as I could. When fishing in bright sunshine, if you are not able to lug a cool box and ice around to keep your bait fresh, dig a hole in the sand (obviously above the high tide mark) and store your bait (in its packaging) in there. You only need to go roughly 1ft down and you can really feel the difference in heat from the sun baked surface to the cool damp underneath.
Once the tide got up the bites dried up a little bit so I moved only about 100 yards down the beach to where I could see the tide was forming a bit of a rip current. Straight away I was into fish and quickly landed what is locally known as a Pudding Wife Fish. They look a bit like our wrass but are a bit more colourful, if that is possible. This spot was full of them and I caught a fish each cast until we decided to call it a day and head off for some lunch and a break from the relentless sun.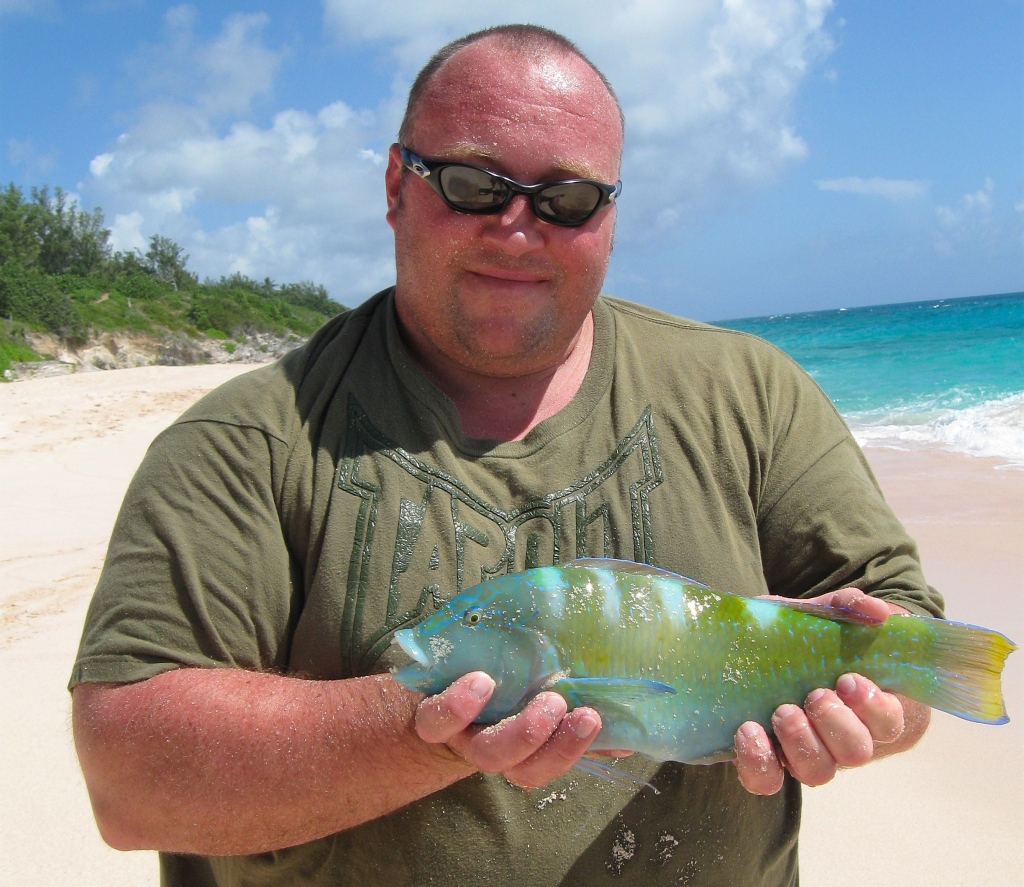 I returned after lunch to catch Parrot Fish and Brim. My fun may have lasted longer if not for the American couple who decided to snorkel where I had been casting, even after chatting with me about what I was catching! All in all though it was a good day out, catching what was some new species for me.
I managed to winkle a day out with my friend Larry (who never had a drink out of his hand or a cigar out of his mouth the whole day). It was a great day out on the water, we went approximately 30 miles out to troll around one of numerous deep water pinnacles that litter the water around Bermuda.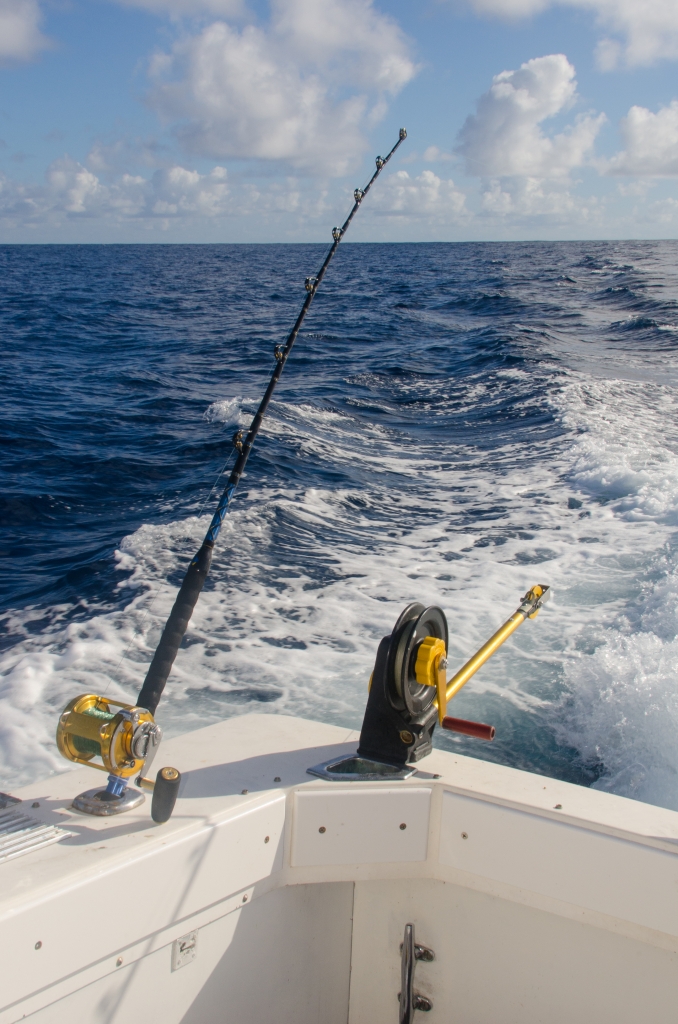 After we left the sanctuary of the reefs around the island it was amazing how quickly the depth dropped off, at one point the finder was reading 5000 ft deep, then couldn't make contact with the bottom! The water we were fishing was roughly 500 ft deep and was at the tip of an underwater volcano. The vast depth change causes a great up-welling bringing nutrients to the surface layers. This kick starts a massive food chain with the top end predators being Marlin, Tuna and Wahoo.
We were after Wahoo, as late September / early October are two of the best months to fish for them there. Wahoo are basically like big mackerel on steroids but they have a good set of "cutting" teeth that work a bit like scissors. This means you have to use wire for them, and apparently if you have wire on you don't catch tuna!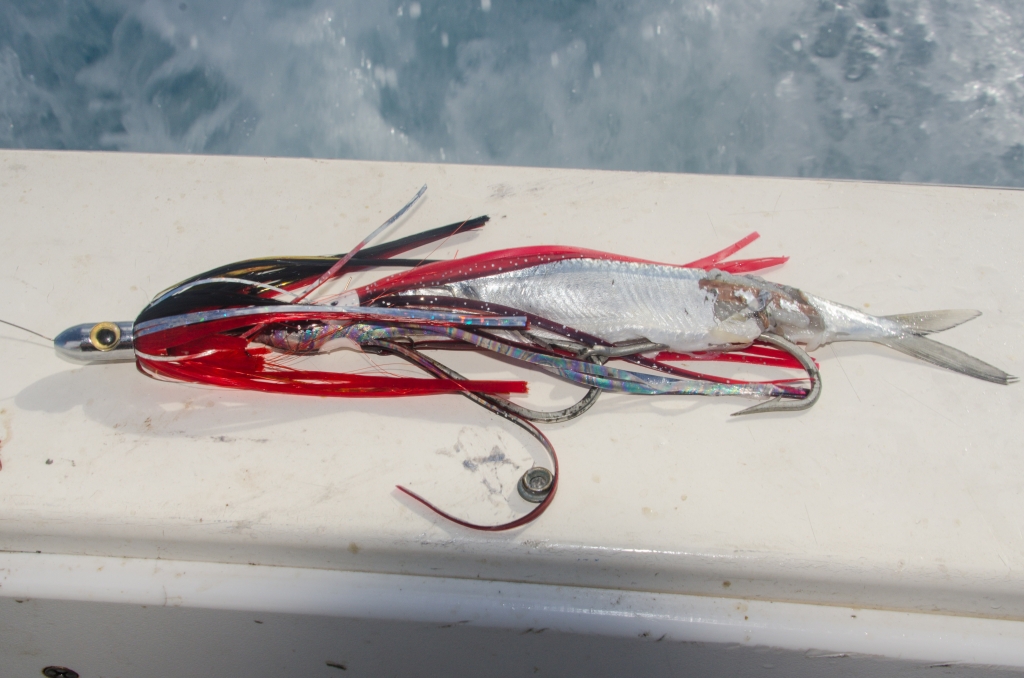 We spent the day trolling with a spread of five baits out. Two fished on the surface on the out riggers, two 50ft down on the down riggers and one dead line out the back that was fished at around 3ft deep.The baits were frozen Ballyhoo, which are a bit like a garfish. It's a shame you can't get these for use as bait in UK, specifically for use in the pike scene. I'm sure they would catch fish. The Ballyhoo were presented on two single hooks and held in place with a bit of copper wire that was wrapped around their beak. On the trace were a couple of squid lures to pulse in the water and cause a disturbance, attracting the fish.
I've been out all over the world, Thailand, Dominican Republic, Sri Lanka and Australia. My past experience of big game fishing is that you motor around all day, have a few drinks, get a sun tan, and eventually go home a grand lighter. I've never so much as had a take and I was hoping this time would be different. It was! Within 20 minutes we had our first hit on the dead line at the back but unfortunately it dropped off. Apparently you only land one in three wahoo because of their hard bony mouth. I was gutted it dropped off but excited at the same time. It was the first time I'd seen a take while being out on a game boat.
We trolled for another 2 hours with nothing to show for it, so decided for a change in tack. We headed further out to have a go at drifting for tuna. This involved throwing in bits of chopped fish as chum and then free-lining a sardine in the chum line. As it turns out getting bites was easy enough, hooking them was another thing.
On the first drift, as I was paying line out, something grabbed my bait right next to the side boat, but dropped it before I got the rod out of the holder to strike! On the next drift the same thing happened. The technique was to pull line, straight from the rod tip to feed line out, so it didn't tangle around the rip ring on the take, then strike with the rod. On the third drift something hit the bait, but was again off before I could strike.
On the next drift I held the line between my fingers and as soon as something plucked at the bait I set the hook by pulling back on the line in my hand before getting the rod out of the holder, and this time the fish stuck on. As it turns out it was an Amberjack, a new species for me, albeit only about 8lbs in weight it fought surprisingly hard and I was pleased as punch.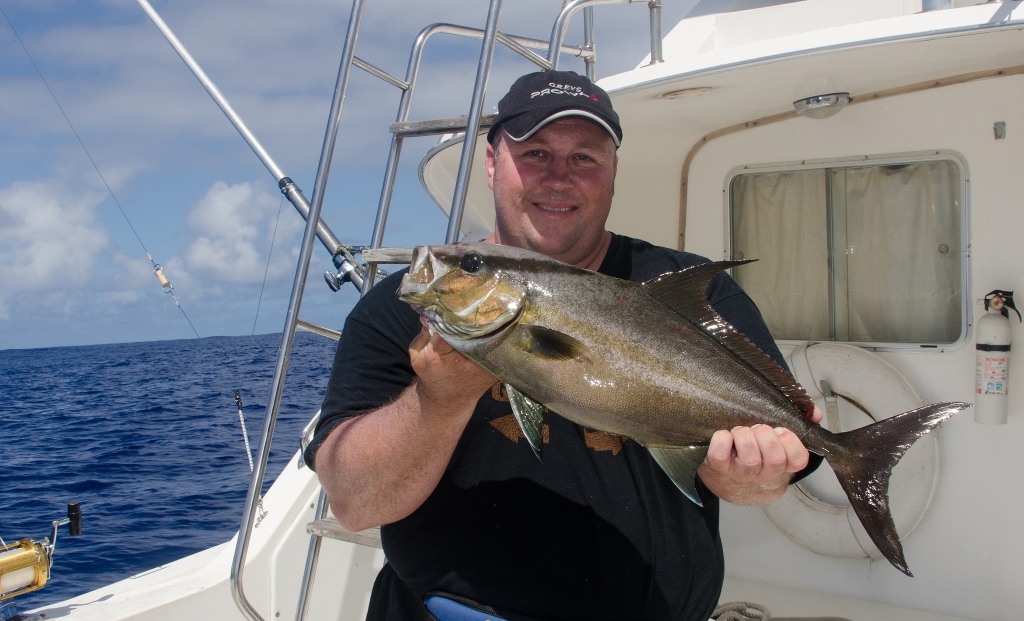 After this catch we went back to targeting the wahoo, trolling over the spot where we had been chumming. After 10 minutes one of the down riggers screamed off and I was in to what was obviously a big fish. The average size of wahoo in Bermuda is 20lbs but this felt much bigger.
The fighting quality of the wahoo is renowned but to be honest I just found it hard work through other factors. The boat was trolling at 8 to 9 knots, to enable the hooks to self set on a bite, but even when the boat slowed down it was still going at 3 knots until the other lures has been wound in. By the time the boat came to a stop the fish was 500 odd yards away with the reel nearly empty and I had a massive winching job in front of me. As I had hooked the fish in the middle of the day, it was a winching job in 33 degrees of heat with Larry shouting the whole time that it was only a small fish and to put my back in to it. After about 15 minutes I managed to get the fish to the boat with Larry estimating it to be a not so small fish at 50 – 60lb wahoo as he manhandled it into the boat.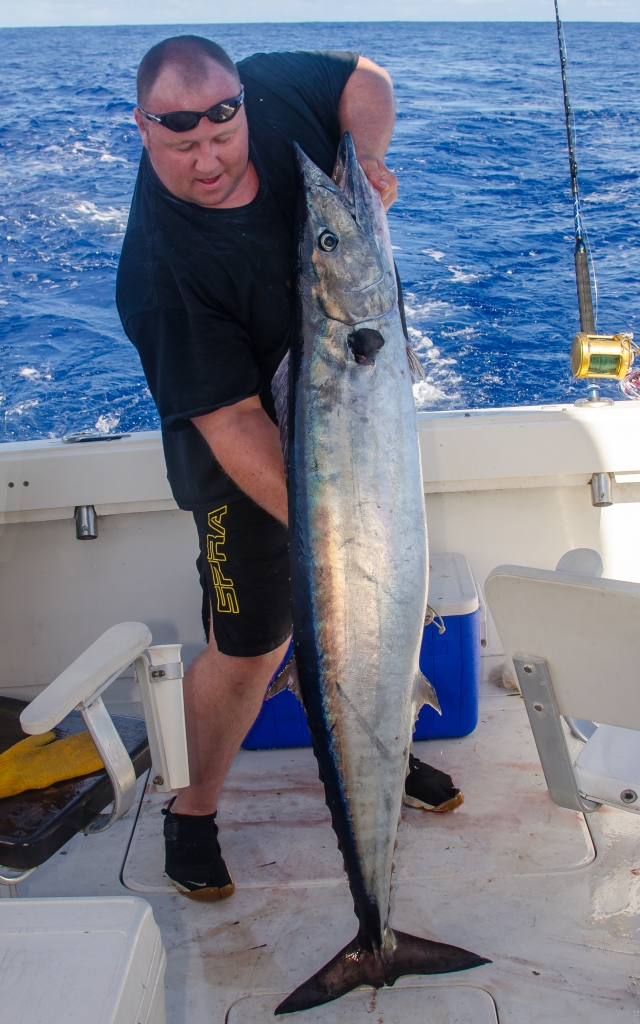 I really enjoyed catching that fish, and it was a spectacular fish to look at, if only pike went that big! But quite frankly, after that fish I didn't want to catch another one. I was done in! We did do a little more trolling while heading back, but as it turns out that was the last fish of the trip, but I was happy enough anyway. At least now I can say I've fished in and survived the Bermuda triangle!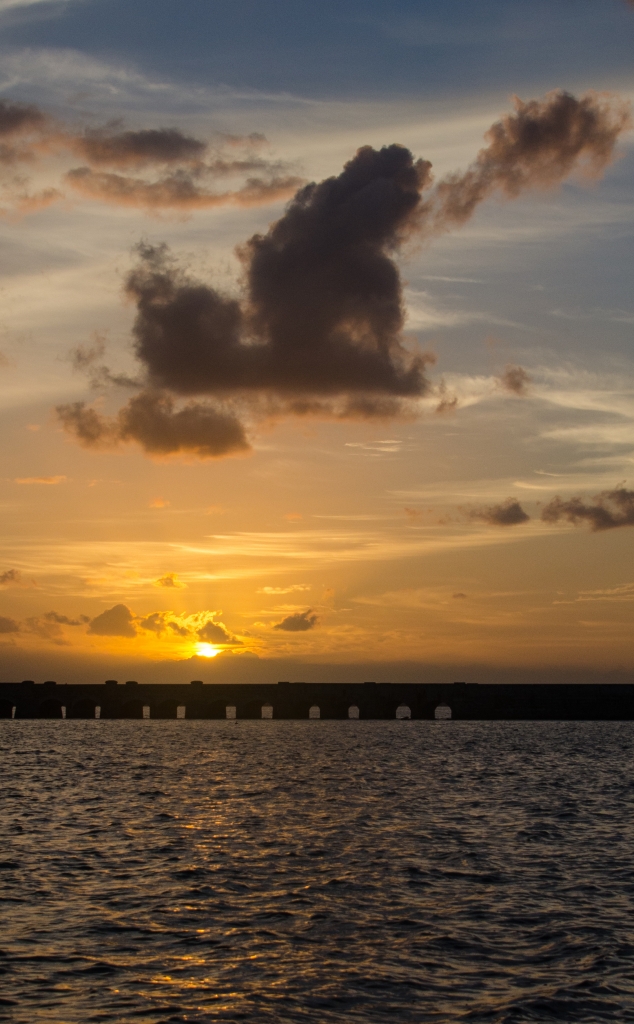 Articles this month:
 Anglers Mail September 10th 2013 – Cover