March 2014 – Blog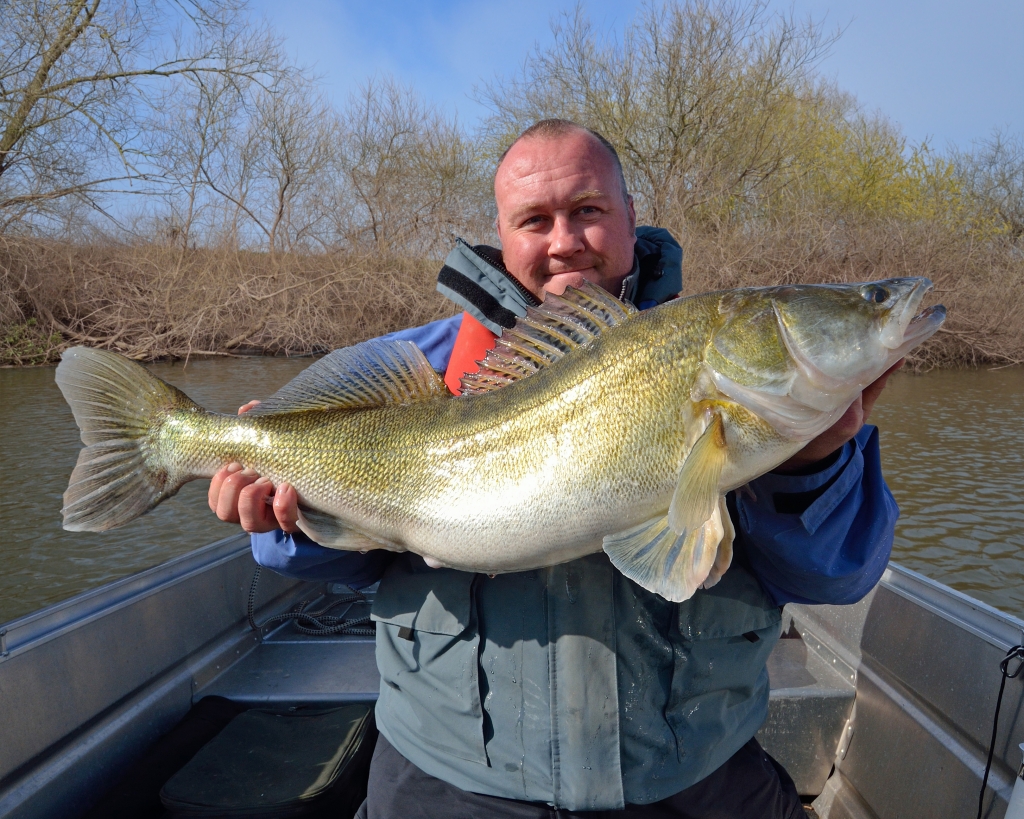 To say the river fishing season ended with a bang would be an understatement, as for months on end, what appeared to be empty rivers, started throwing up some massive zander!
Fortunately for everyone, the rains finally stopped, and after an age the rivers eventually got to a "nearly" fishable situation, and that was all the inspiration that was needed to see Ed Mattews and myself afloat on the river, it was touch and go though as a when we rocked up in the morning the river level marker had gone up again, and was resting on the red – meaning that we shouldn't have really gone out, but it was dropping and by the time the boat was in the water and the kit all sorted it was on the yellow section (well nearly!).
We tried all the usual spots that fish well in flood water, but apart from some micro- zander the river was dead, which surprised both of us. Usually the zander are quite active in flood conditions, if you know where they are you will catch them. Quite sensibly we were using baits, as the river was up and coloured, but for a laugh I chucked a jig out and had a hit straight away! Then we had a few more fish before it was time to go in. I don't know why they wanted jigs, but they did, and now I knew this I couldn't wait to get back at them. But unfortunately I couldn't get back until the last week of the season as the river once again rose up, making fishing impossible.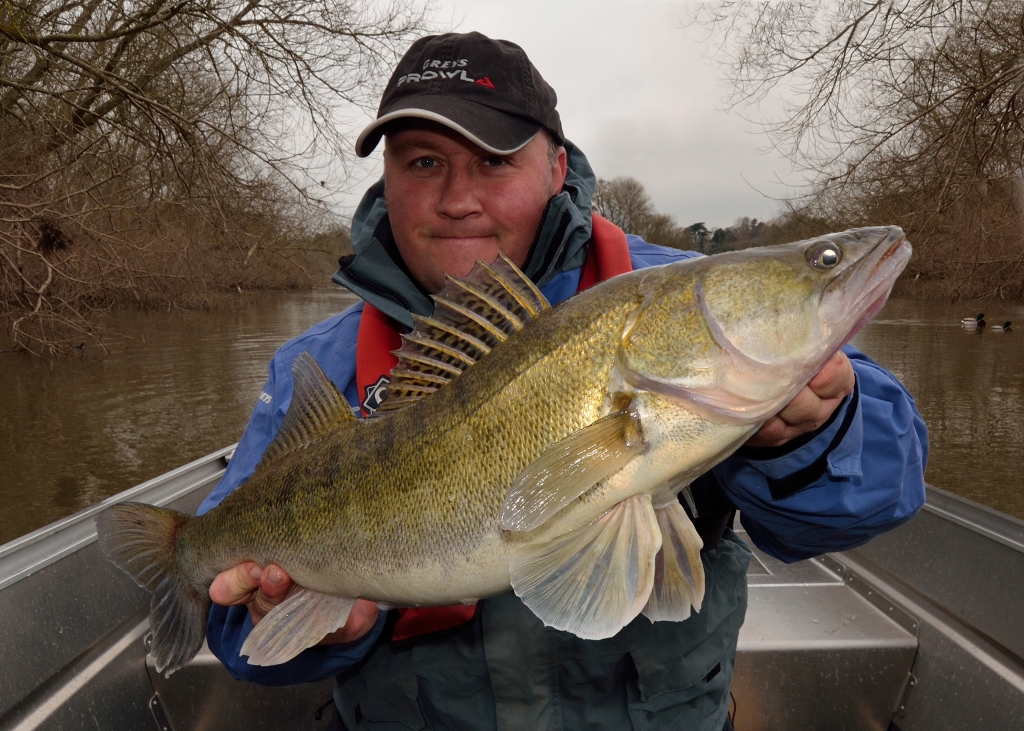 I take some time off work for the end of the river season, as this is a good time to try and get a monster zander, most of the time it doesn't happen, but sometimes it does. On the first day out I wasn't overly surprised to see quite a few other boats out along the section that I thought would be the most productive. Most looked to be bait fishing, and after chatting to a few it seemed to be hard going. Rather than put baits out as well I thought I would start with the lures again – which proved to be the correct decision as I quickly banged out a couple of decent zander on my first drift! 12lb was the largest and came on a green ripple shad. I was fishing the jigs vertically, but what was noticeable is that the fish were coming about two feet from the bottom, lures fished deeper than this weren't touched, which is most unusual for zander. 
Due to this weird feeding behaviour, I started casting the jigs, hoping that this would cover more water, and, due to the flow, keep the jig higher in the water for longer. As it turned out this was certainly the method and I finished the day with 12 zander, including two more doubles.
Pic shad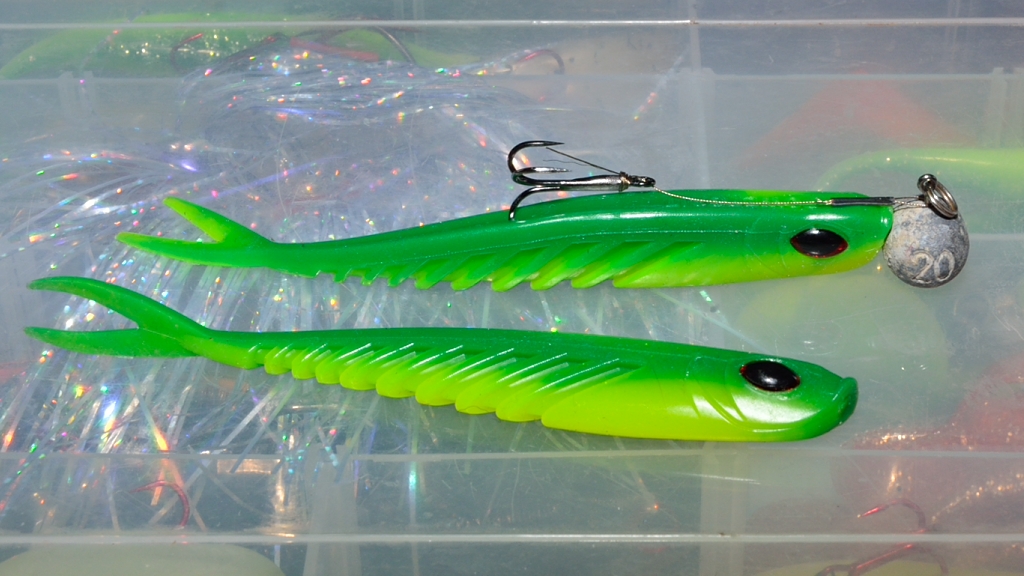 The next day was a repeat of the first, with fish coming to a variety of different coloured shads, but most were small ones, so I decided to try a bit further upriver, over a noted big fish area which usually produces fish at this time of year. Gingerly holding the boat over the spot  I dropped a shad down to an a large blob on the sonar that was again 2ft off the bottom, and watched as it moved up and grabbed the lure almost straight away! At first I thought it was a pike as it kept going after it hit the jig, then it dashed sideways against the flow and under the boat, and I struggled to keep up with it. Then the braid got caught around the electric outboard. It was a nightmare, the braid tangled around the prop and then the fish popped up on the surface on the other side of the boat and I could see it was a massive zander!
Quickly I put the engine into reverse and managed to untangle the braid, but it was severely damaged, held together by just a few strands where it had made contact with the prop, so I quickly made sure I got this damaged bit on the reel and heaved the fish back around to the correct side of the boat, and quickly plunged the net under it. It was such a relief to have it in the net, as I knew I was lucky to have landed it. At 17.12 it was a huge fish, my largest of the season, and I was chuffed to bits after such a hard season.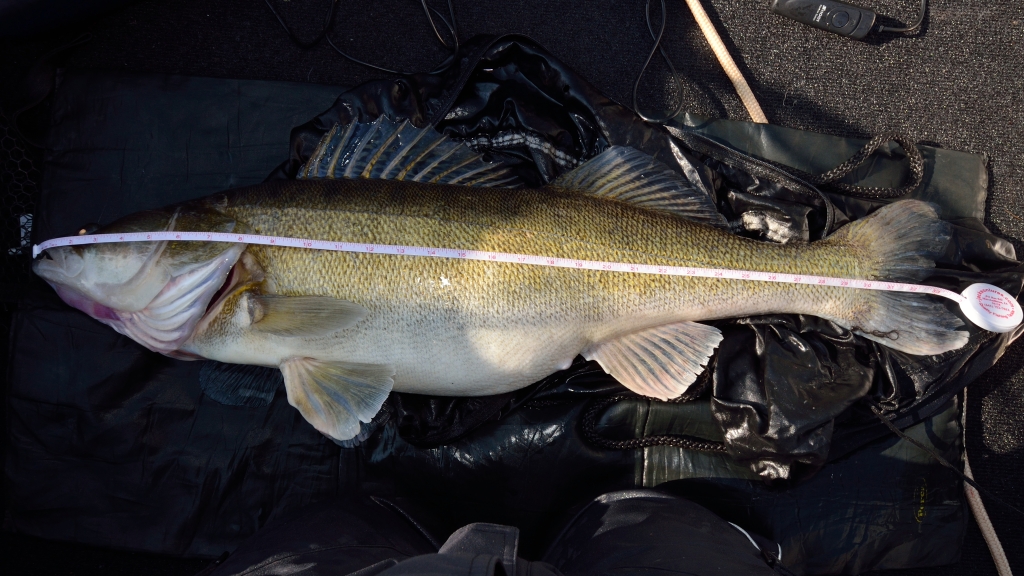 It may seem weird t to change venue after doing so well for the first   couple of days, but I had been itching to get on the lower river, as it had been flooded so very few other anglers had been down there. So the next day saw Paul Garner and myself trying to get afloat on the tidal river
There was a comedy of errors that prevented access to the lower river- the first slipway was full of debris including a half- sunken boat, and numerous logs and 2ft of mud! The other slipway further down was dismissed on the same basis, so we ended up back up river in the same place as the day before. Today, however, there were even more other anglers out. So we explored a few other areas, we both caught fish, but it wasn't the same as the previous day, and it was as if the river had switched off again. I commented to Paul that these were the conditions that produce a big fish, when everything goes dead, sometimes the really big ones come out to play!  I wasn't too far wrong when, as packing the boat away, I got a call from Ed who was fishing from the bank further down excitingly telling me of the 18.10 he had just caught, and asking for a photographer!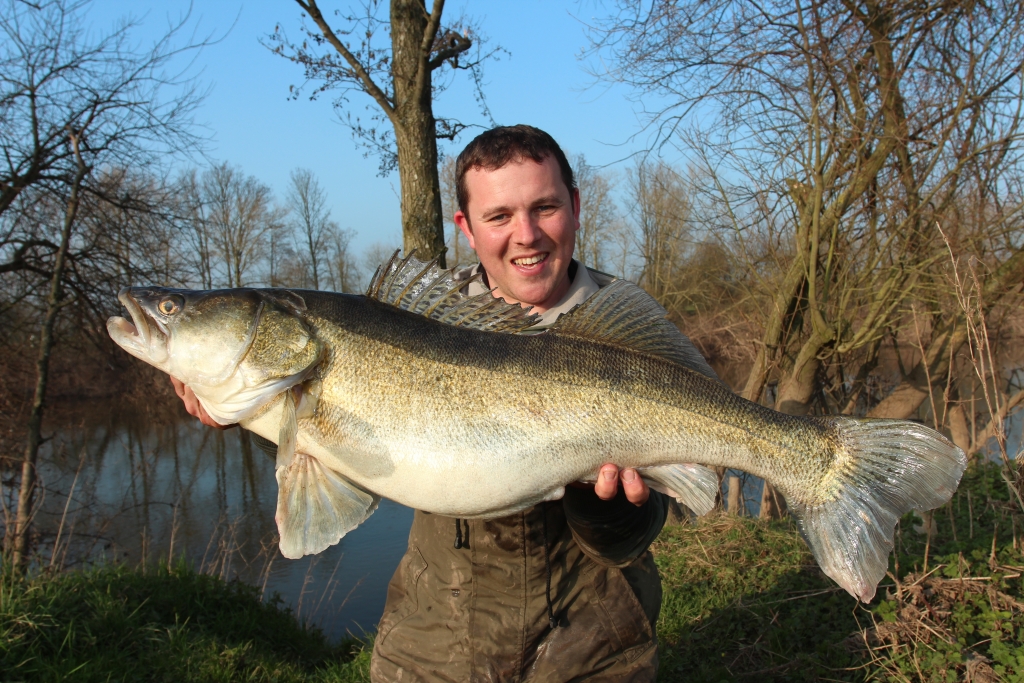 The following day Ed jumped in the boat with me, we had both had a big fish so weren't really bothered about where to fish, and we really wanted to get on the tidal, but with the slipway problems, we had a cunning plan to get away from the crowds further up, and access the lower river via the lock. So we had an eventful trip down to the lock in thick fog, dodging some large boats in the process and waited for the lock, and waited and waited. As it turns out at this time of year you have to book the lock keeper 24hrs in advance! It was almost as if someone didn't want us to fish down there!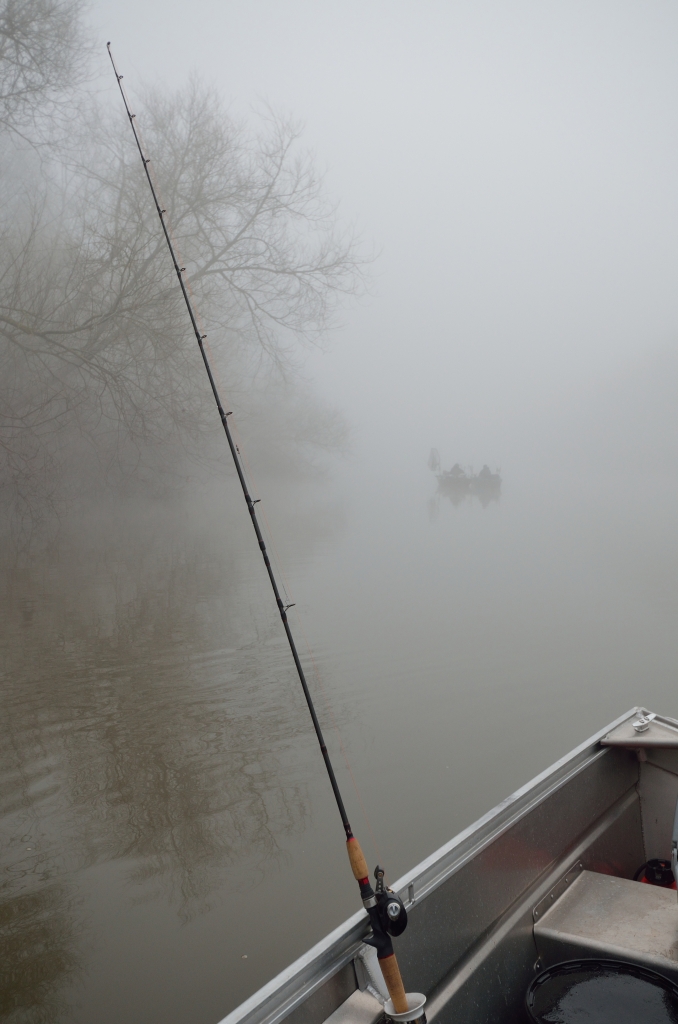 So we ended up exploring a few new spots in the area, and it was tough going with only pike putting in an appearance. That was until Ed pulled into another massive zander! This one going 17lb on the nose! Wow! There had been some big fish out this week and from all over the river. It didn't surprise me, though I secretly wondered what would have happened if we had managed to get where we wanted to fish!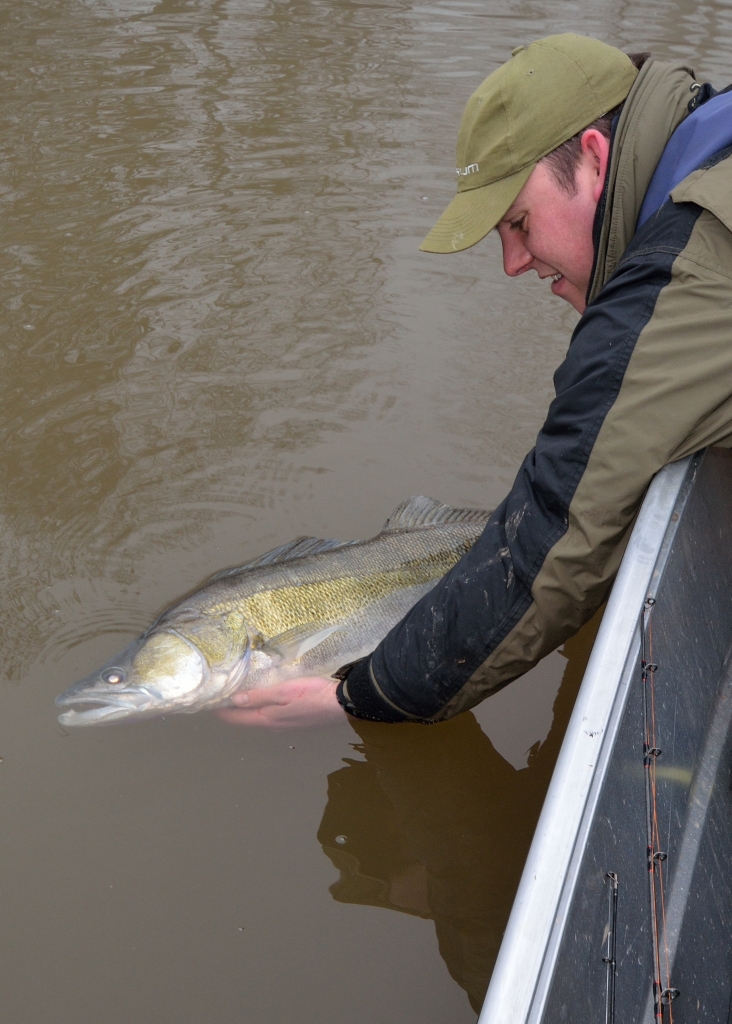 On the last day of the season, again I went down river away from the armada further upstream, and dropped into a little swim where I'd had some good pike at this time of year previously. But it can also hold zander, depending on the water flow. I'd just anchored up and was flicking a jig around to the treeline. When I had a solid take on the drop, and bounced the hooks out of what was obviously another good zander. I cast straight back onto the spot and hooked up again, but this was a smaller fish of around 5lb, I had a few more casts but nothing else, so I thought I would have a bit of a relax and put a bait out while I had my breakfast. Halfway through my Weetabix the float fished tight to the trees buried and I quickly struck into the fish, but, unfortunately, as I brought it to the side of the boat another boat came past, and not wanting to advertise that I was catching fish I dropped the rod and left the fish in the water while the other boat passed. It wasn't a massive zander, maybe 6 or 7lbs so I wasn't that worried if it fell off anyway. Once the boat had passed I picked the rod up and it felt a lot heavier than it should have, and then swam up river back towards the tree line! Obviously something big had grabbed it. I gently lifted the fish back to the surface to see a good twenty pound pike had grabbed on to it! It really didn't want to let go and in the end I managed to net both fish! The pike weighed in at 21lbs and was as skinny as a rake so must have just spawned, and must have been hungry to want that zander!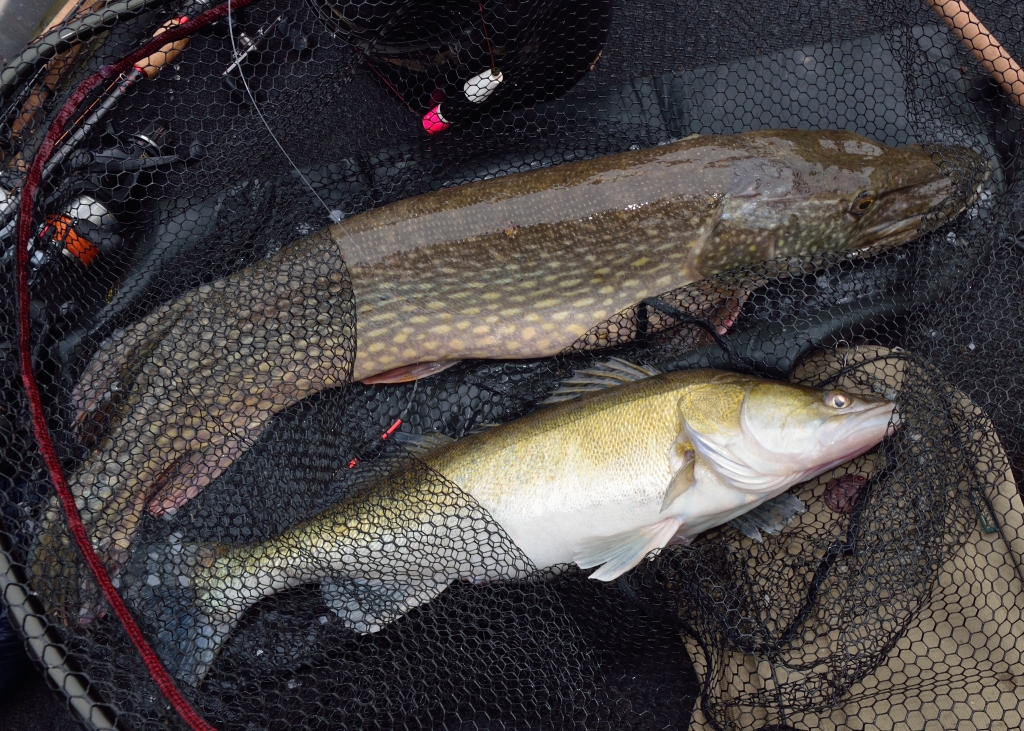 That capture opened a few quandaries, firstly should it count? I hadn't even hooked it, but had managed to net it? Secondly was it really 21lbs or should I have added the 7lb zander to the weight- as it was eating it! To be honest I wasn't that bothered, it's just nice to see river pike that size, and get back to my Weetabix! 
The rest of the day was quite slow, other than a couple of small zander and a lovely marked 17lb pike that was it for another season, and as I packed the boat up I thought what a difference that last week made, it would have been a tough season for me if it wasn't for that, but that's fishing, and that's why we all go, because even if you think you know what you are doing, you never can really be sure what you will catch!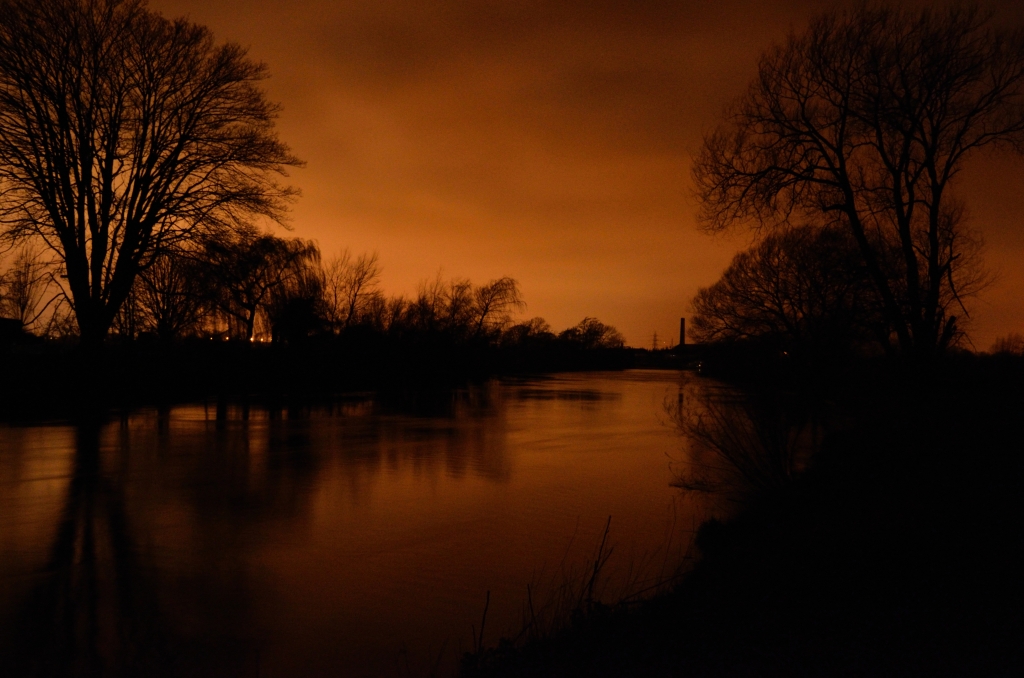 Articles this month
Pike scene – Anglers Mail – March 11th 2014 – In a Wobble.
Pike scene – Anglers Mail – March 25th 2014 – Seasonal Round up.
On Coarse – march 2014 – Zander tactics.