December 2015 Blog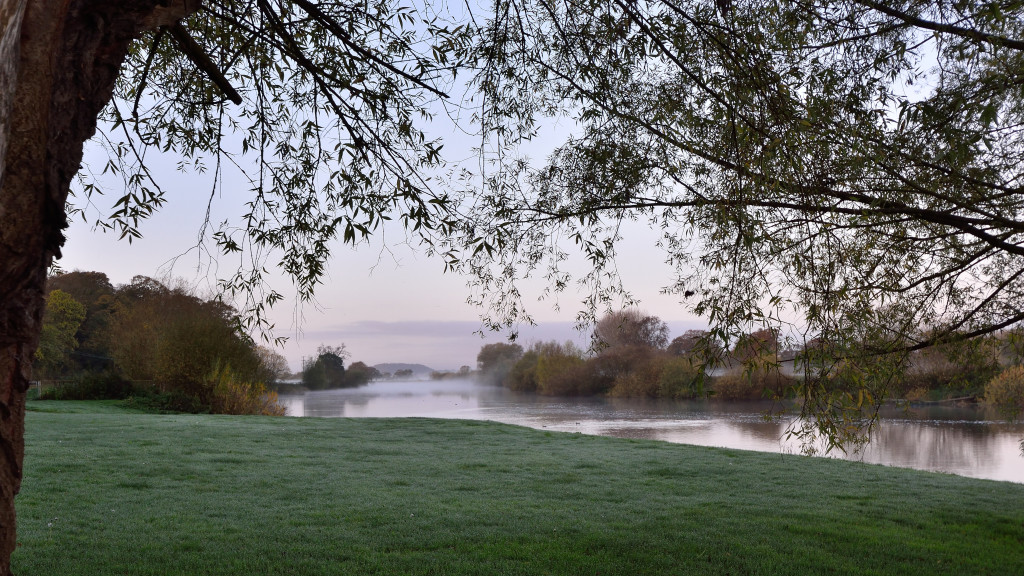 It always gets to December and I think" Where has the time gone!" I was having quite a good season up until November, then we were hit again by a  series of low pressure systems -that seemed to come one after another, which was rather unfortunate, as not only did it cause lots of localized flooding, but it ruined my catch rate!
The river has been up to and over its bank for most of two months now, which makes for some awkward fishing conditions, with very localized areas to fish, and these areas can get quite a bit of pressure in these conditions. Which, along with the muddy and steep banks, to be honest puts me off a bit, I would much rather do my own thing miles away from anyone, but you simply can't when it's like this.
The reservoirs were all being uncharacteristically difficult, now this was simply because the fish weren't where they should be! There could be multiple reasons for this, but I think that the unseasonably warm weather we have been having has been a major factor, and with water temperature still being 10.5 degrees has this has had a massive effect on them? Meaning that the fish are still holed up in their autumn areas, or even in reservoirs still in weedbeds in shallow water. I managed to do six blanks on the bounce on one of those I decided to target this winter, and on those six days I never even saw a pike on the finder-,, so it was clear that they were somewhere completely different which is problematic when you have over 1000 acres to look for them! So on my next trip I decided that I would go and try the places where I have never caught pike from before, with the thought that if they aren't where they are supposed to be, then they must be where they ae not supposed to be. A bit of twisted logic I agree! I would like to say it worked, but it didn't so I simply don't know where the pike are in that water now, and admitting defeat and I am going to return when the water is a lot cooler.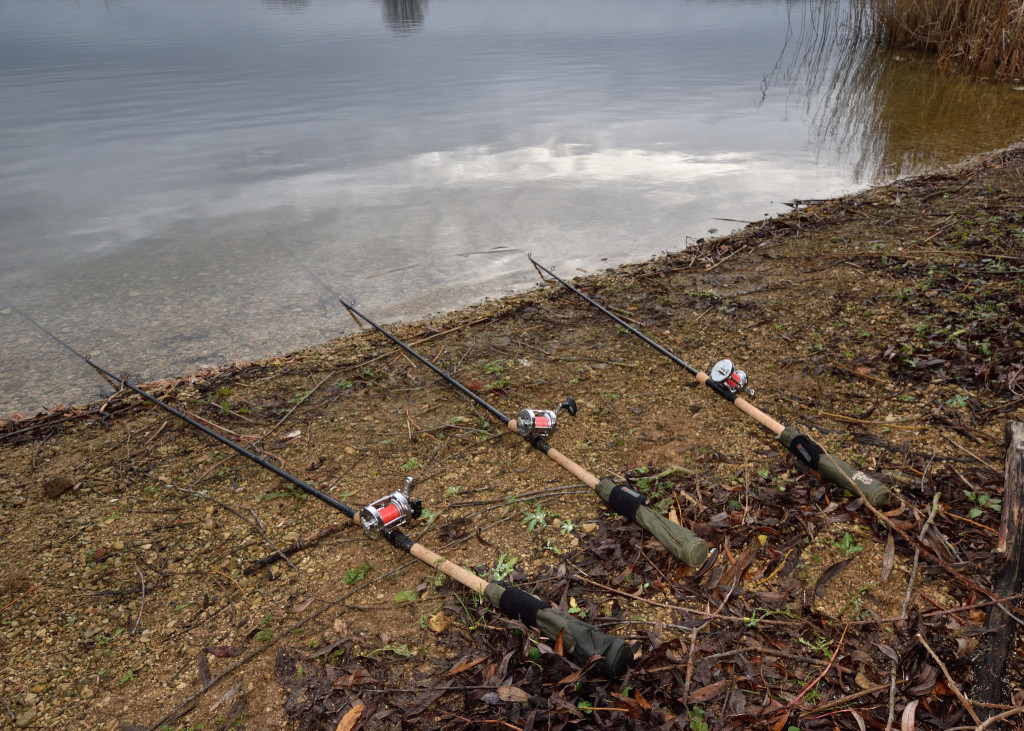 Back on the river I popped down to have a look at the conditions, as the river was rising further up but was still relatively fishable further down, By my thinking there was about 24 hours of fishable time left before the bubble of water that was heading down would hit whipping it out for another week. It seemed I wasn't the only one with that idea, as I bumped into Kirk Thomas who was just setting his rods up in a likely- looking spot when I arrive d. So I popped over to have a chat, and he had only just cast in a few minutes before then his rod tip knocked once, Knowing that deadbaits don't knock the rod tip he was soon bent into a good fish that we thought must be a pike from the water it was turning over, but we couldn't see due to the flooded brown colour that was the river in spate form. Then all of a sudden a massive zander bobbed up on the surface! Quickly I went into panic mode and ran around trying to find his net, which, as it turned out, wasn't even set up yet! After fumbling around trying to fit it together I slid down the bank and netted what I initially thought was a 16 – 17 lb zed. But on lifting the net it felt a lot heaver, on the scales she went 18.11 – a massive fat fish and a PB for Kirk. I was gutted at not having my camera kit with me so the photos had to be taken on his mobile phone, but in the end they didn't turn out too badly and you can see the real girth on the fish.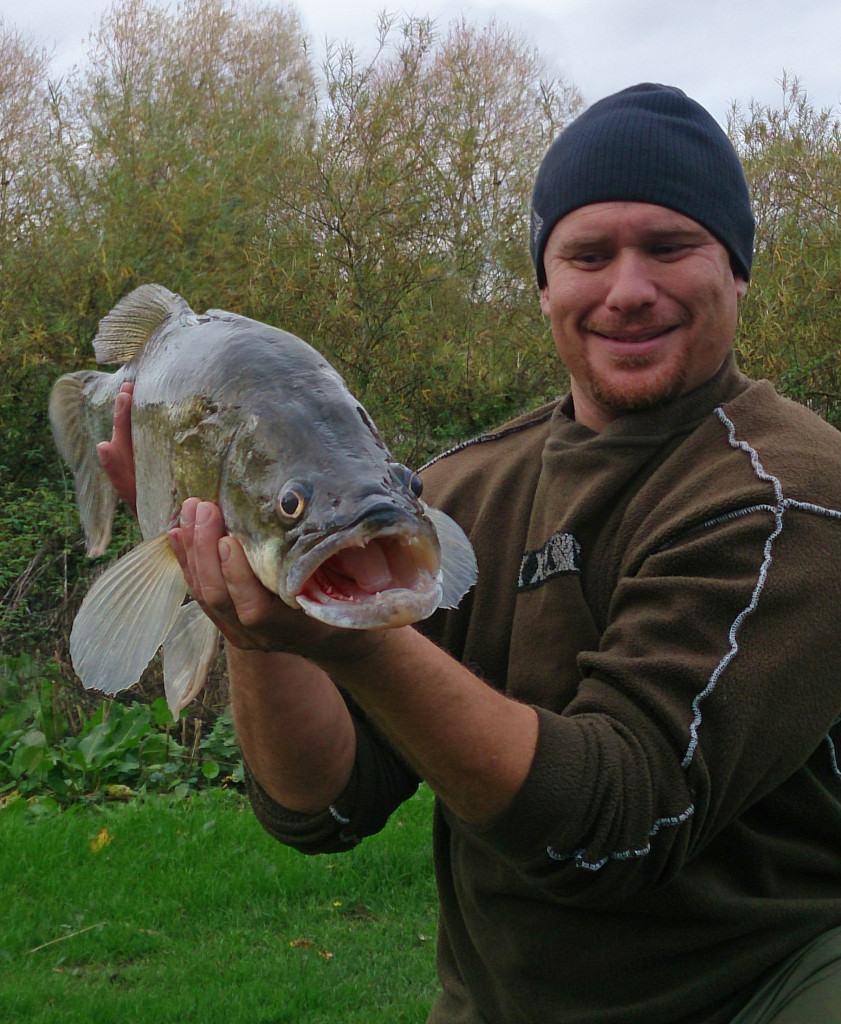 Did I fish that spot afterwards? You bet I did, but alas nothing, and then the real flood water came down making it unfishable!
A couple more trips to the another water made me even more depressed – it seemed that I couldn't buy a bite, while Paul Garner, who was with me, was catching on every trip! I suppose it is one of those things, we all go through cycles or stages like this and the absolute worst thing you can do is change your fishing style – as Paul wasn't doing anything different from me, just he was getting more of the rub than I was, these things go around in circles and he has unfortunately been in that role as well, so I suppose it was just meant to be my turn.  I just needed to get my Mo-jo back.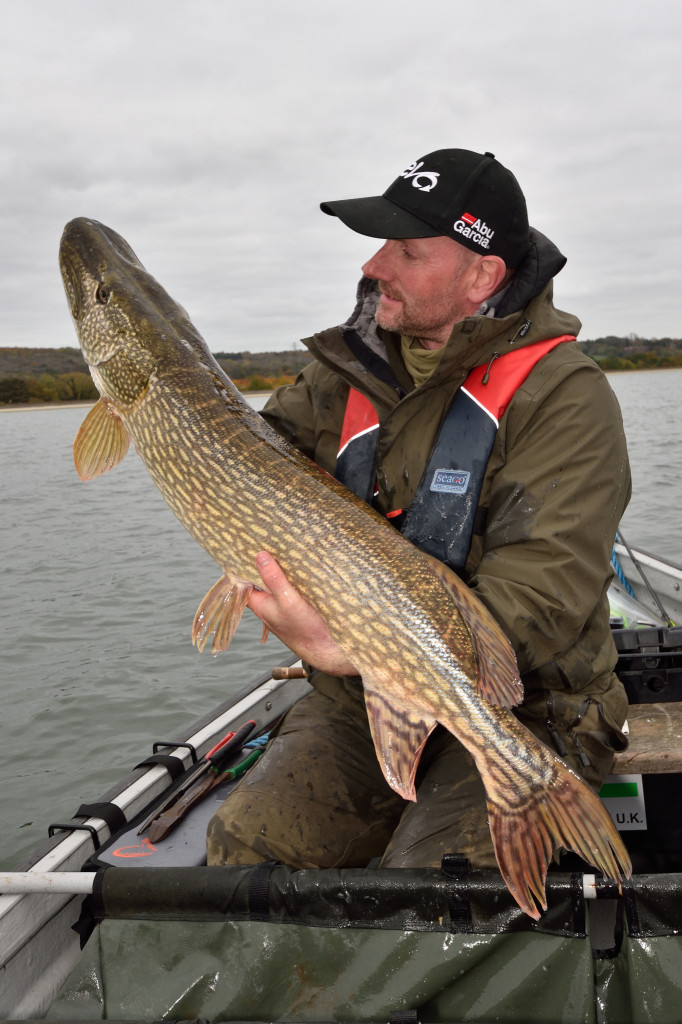 The next day I was due to fish another water, but packing the car in a rush, in the early hours the day before, I had forgotten my landing net – in fact Paul had offered to lend me his boat net to tide me over, but I told him that the water I was going to was fishing really hard, I was unlikely to catch anything anyway especially with my current form! 
So I arrived early and the first spot I tried I saw a pike on,the finder! Well that was encouraging! More encouraging was when I caught it about 5 minutes later, it was only a scrapper double but the first pike I had seen in a while so that made up for the long drive, and gave me confidence for the rest of the day though, as they say – one swallow doesn't make a summer, and I wasn't 100 % sure I had got my Mo-Jo back or not.
A couple of spots later and I saw another pike on the side imager, a decent one this time. So I manoeuvred the boat towards it and gently flicked my lure in its direction and bang, it hit it straight away!
A few scary moments later I had a good lump of a fish wallowing on the surface next to a fast drifting boat! Damn I wish I had a landing net! No time to mess about I grabbed the braid, dropped the rod and managed to chin the pike first time, and it was quickly swung into the waiting sladle. On the scales she went 20lb 10oz, my 10th Twenty of the season and more importantly –  Mo-Jo restored!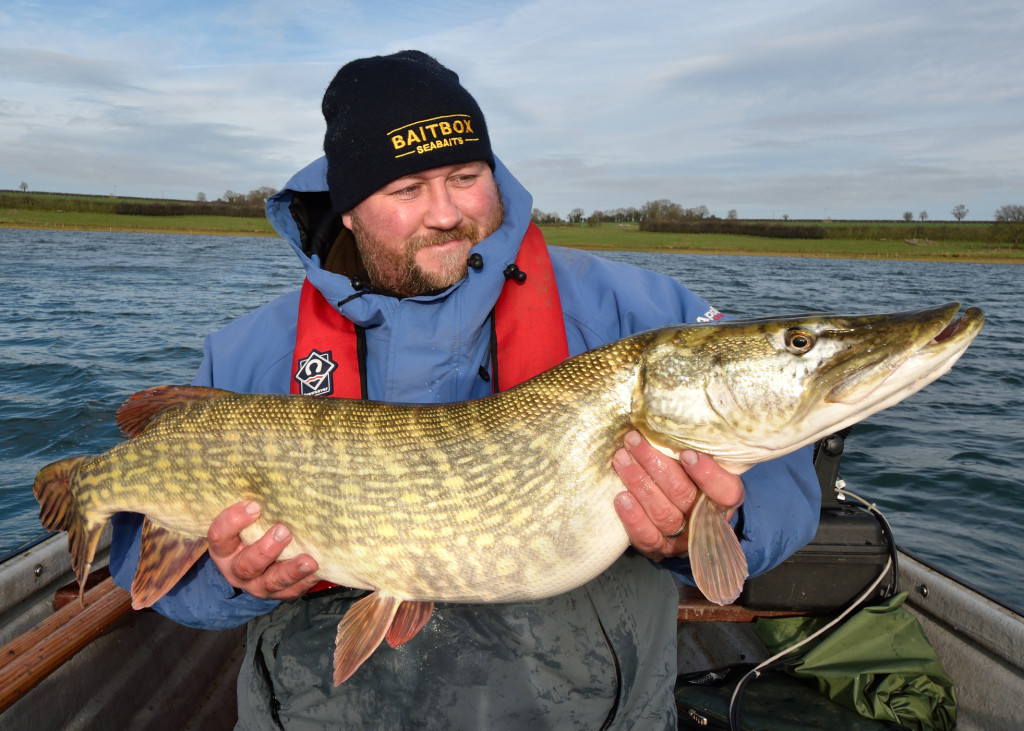 Though that fish didn't come without its problems, to cut a long story short, I got overly excited and managed to drop and then tread on my phone, then I kicked my sandwiches in to the petrol – filled water at the bottom of the boat, and broke a pole on my sladle while photographing her as I was broadsided by a rouge wave by leaning my not so insurmountable weight on to it while still holding the fish!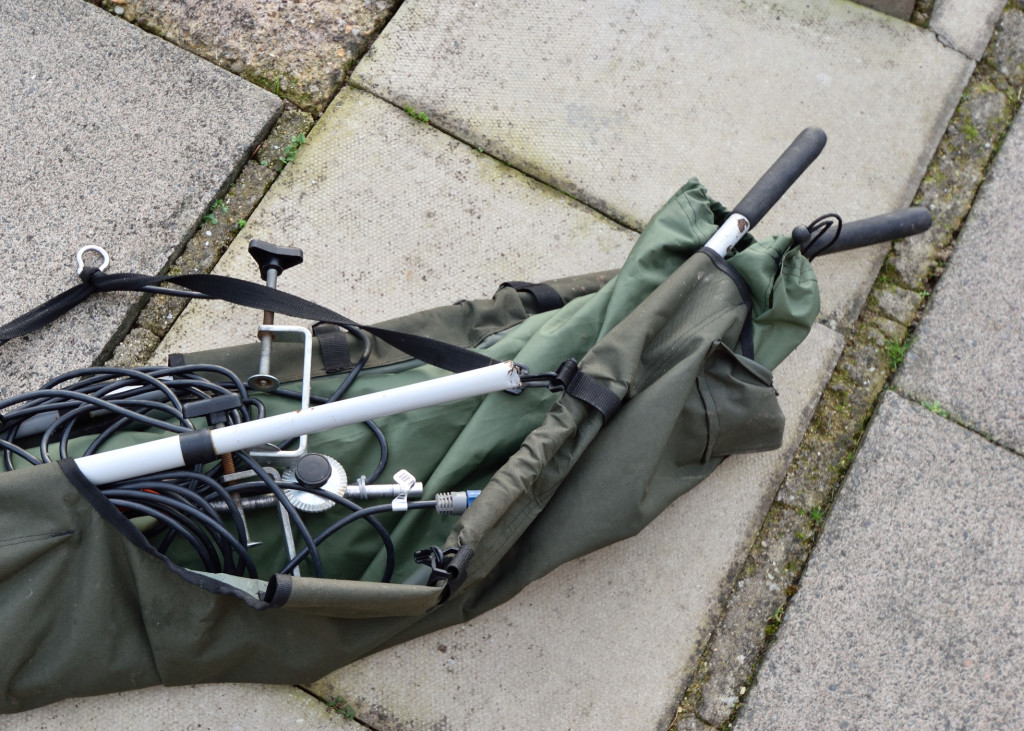 A further anecdote to the story – later the next day, when emptying the car, just to rub it in I found that my life jacket had self-inflated as it had got damp in the back of the car! That's twice now in 3 months, you would think I would learn at £25 per re arming kit! At least this time it wasn't resting on top of my lure bucket!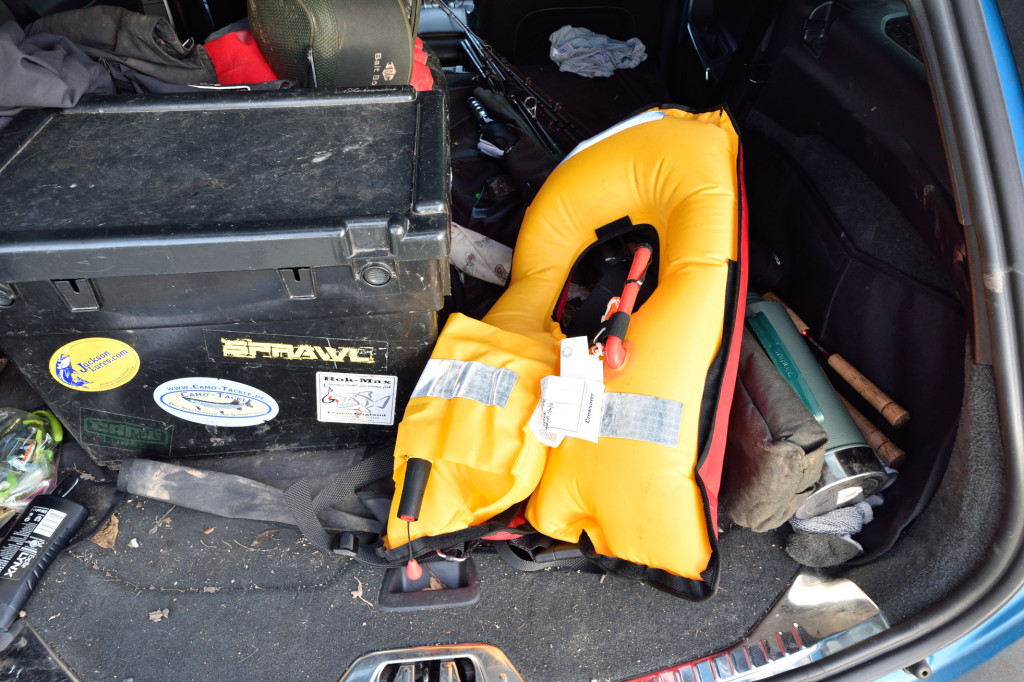 The next time I got out I had to go and get some photographs for a couple of articles I was doing for Angler's Mail –I have to actually catch something! What that means is that you have to fish "runs" waters, now I don't usually fish this type of water as most "runs" waters are jack waters which hold no interest for me at all. But needs must, and so I made arrangements to fish a couple of waters where I could get some fish on the bank and at dawn Ed Mattews and myself were soon soaking some deadbaits waiting for the pike to climb up the rods. We did get a couple of low doubles to start with, but it was slow going and to make matters worse the light was awful for photography work. But before we moved swims I told Ed that I wanted a quick cast with the lure rod. First cast I bumped one, second cast I had a jack, third cast another jack, forth cast a double. This was all from a swim we had been sitting in with 4 baits out for the last two hours! I think Ed was taken by surprise but I have seen it before where lures will out-fish baits all day long.  Eventually the swim died and we move around swim-hopping with lures, and in nearly every swim we pulled out fish after fish, but alas nothing over low doubles, but it was good fun. The lure of choice was Mc Svartzonker McMio Tail, which was ideal in the shallow water.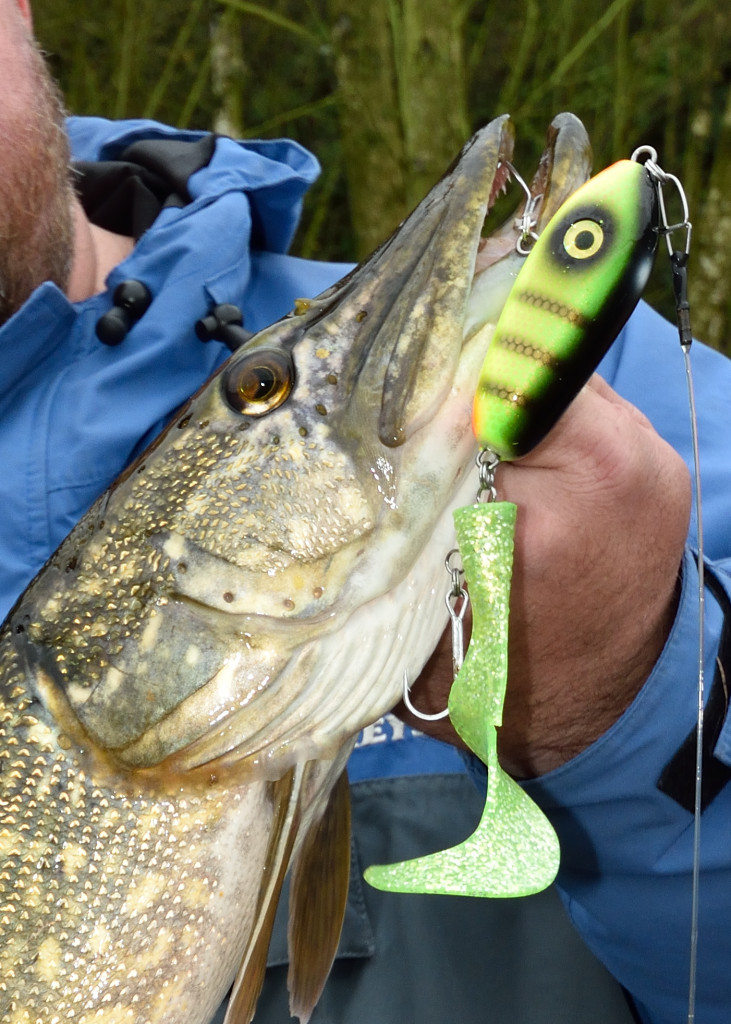 Anyway, looking at a few photos on the internet reminded me that it's that silly  time of year when washed up pike anglers who should know better try and get some publicity on facebook – by catching jacks and holding them at arm's length to the camera with a silly Christmas hat on. Unfortunately I try not to catch jacks; but in the Christmas sprit…..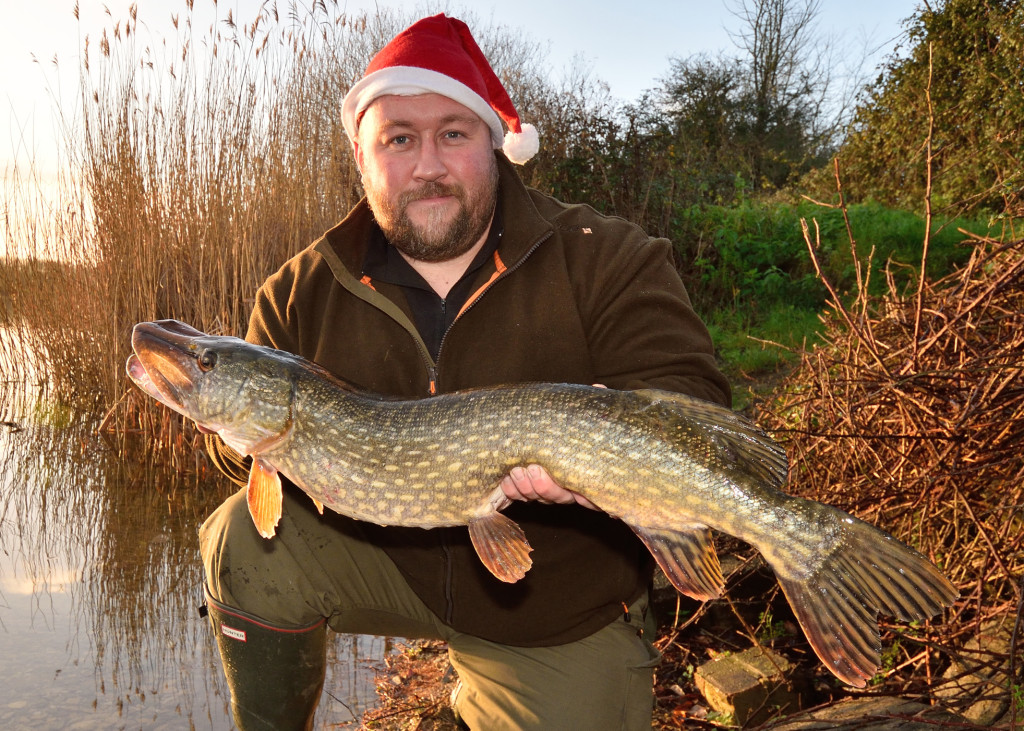 Happy Christmas and Roll on the New Year.