August 2013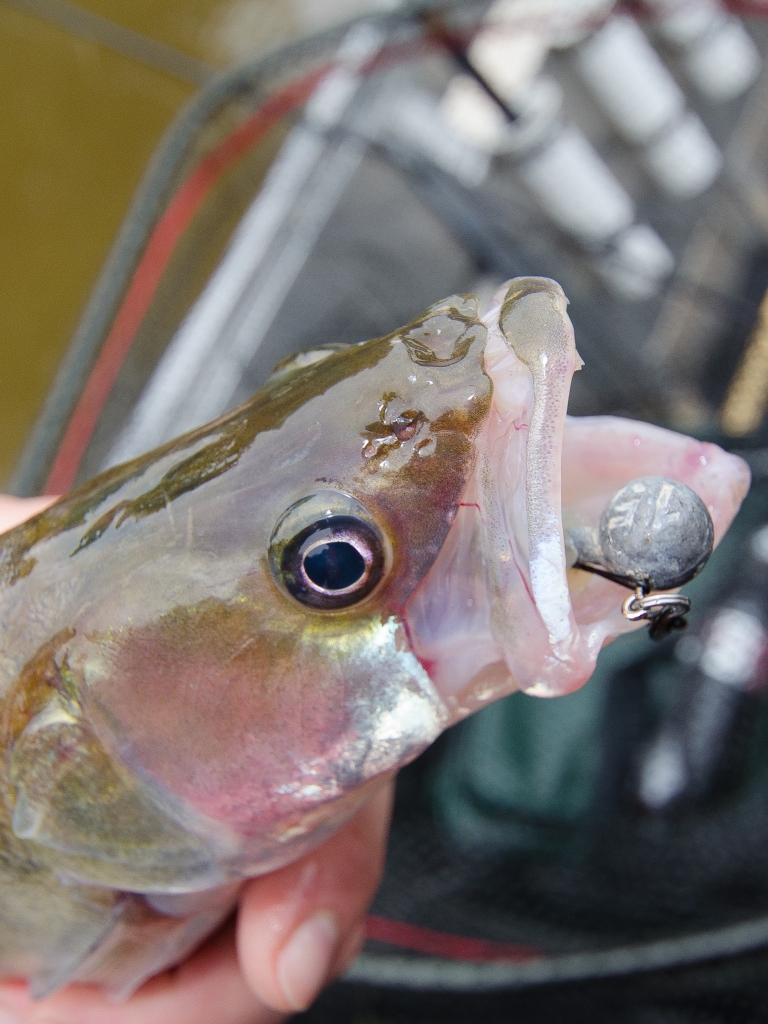 August traditionally isn't that good a month for a predator angler, you can have some good sport with catfish and eels, but I've also had a few good zander at this time of year, unfortunately nearly all of them have come at night. You can catch them on lures in the day, but you really need to be right on top of them to induce a take, and in most cases this means fishing right on top of snags, where they are holed up, as they aren't moving around that much when it's hot and bright in the day time.
I'd been out the previous week with Paul Garner, and had covered a lot of the river with a variation of jigs and crankbaits, using a "searching" more than "targeted" approach, to find where the big girls go at this time of year. I do prefer casting jigs than vertical jigging at this time of year, you just cover so much more water. In fact we were doing the best of both worlds, with Paul vertical fishing and manoeuvring the boat on the bow mount, while I was fan- casting from the back. A good plan, but a dire day out, we didn't put a proper fish in the boat all day. We did see a seal swimming up the river, which popped up a couple of times right by the boat, maybe I should become a seal guide!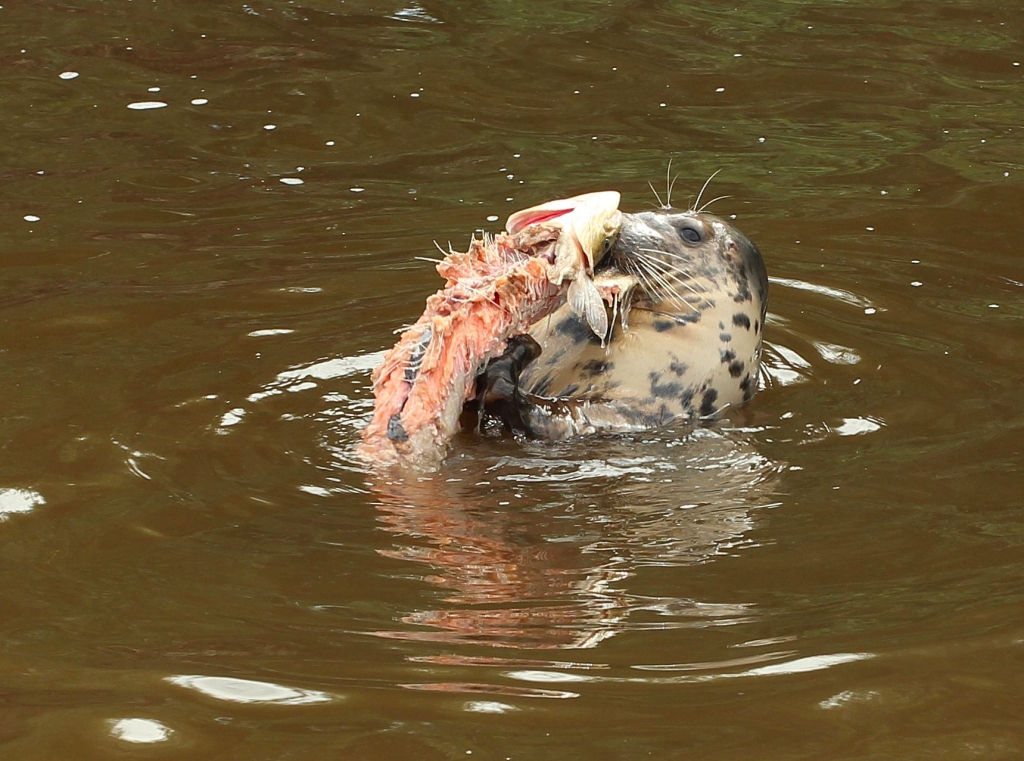 I then had another day out after tope, this was a waste of time as well, (I can see a pattern emerging). The wind really blew up just after we anchored on the turn of tide, and we spent the next 3 hrs spinning all over the place, because it was wind against tide- so the boat wouldn't hold still, in the end we packed in and went back to sit on the mud until the harbour filled up again, and we could foxtrot oscar.!
You can't fish in these conditions, if you down- tide, the lead is pulled all over the place by the movement of the boat. If you up-tide, we'll you can't, you're line is either slack and gets caught under the boat, or too tight and the lead pulls out.
I did catch a small blonde ray, which took a massive bait of three Baitbox squid, that I had chucked out in desperation of catching something on a rough day out.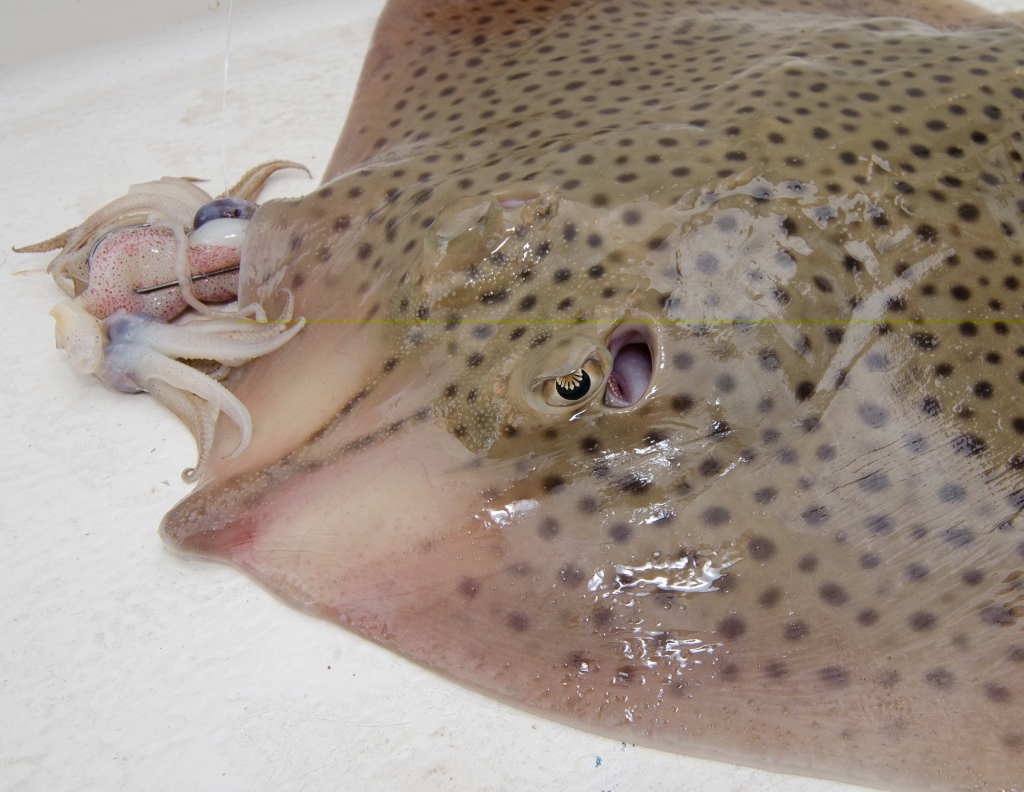 The next week I spent a day jigabooing with Ed Matthews on the bottom river, the plan was again to cover a large area of river and try and find some fish, then stop out for a couple of hours into dark, fishing baits. It was a strange day, in that we covered a lot of river for very few hits, I caught a few small pike and perch. Ed had a few hits and messed them up, then on dusk we went over one small spot where we had zander before, and we managed to cock up everything, I lost 3 fish in a row, as did Ed. What happened I don't know, I guess these things happen, but on this stretch of river, one of those fish could have been a fish of dreams.
Anyway we licked our wounds and found a spot to put some baits out for the night, I was sure we would get something, as this was a banker area where we had caught some big fish in the past, and with the day time fishing being so bad, my theory was that the zander had switched to night feeding because of the low and clear conditions of the bottom river. The zander however had different ideas, and after a couple of hours it became clear we were wasting our time. What did surprise me is that we didn't get any eel problems- the bottom river is full of them, which is why I thought the zander may have switched to night feeding to predate on these. Maybe if the eels weren't moving, the zander weren't either? Who knows, zander are weird.
After a drizzly night, at around midnight, we arrived back at the slipway, one of the major problems of boat fishing at night, is getting your boat back off again in the dark. Obviously you can negate this by staying out until morning, but, like most anglers, sometimes we don't have a choice, if you've got to work the next morning.
On larger slipways in marinas, it's not so bad, as most are illuminated quite well. But unfortunately where I've been fishing lately, it's darker then the inside of a cinema with no movie showing! With head torches it's quite simple to moor up, but reversing your trailer down a dark slip, into a dark river has caused some interesting results with me in the past- the problem is, you may have kept your natural night vision while mooring up the boat etc. but as soon as you put the lights on in the car it's gone! And if you haven't got an illumined trailer it's damn tricky. A simple solution is a magnetic spot light, I simply mount mine to the back of the car and point it at the trailer and it's like Blackpool illuminations!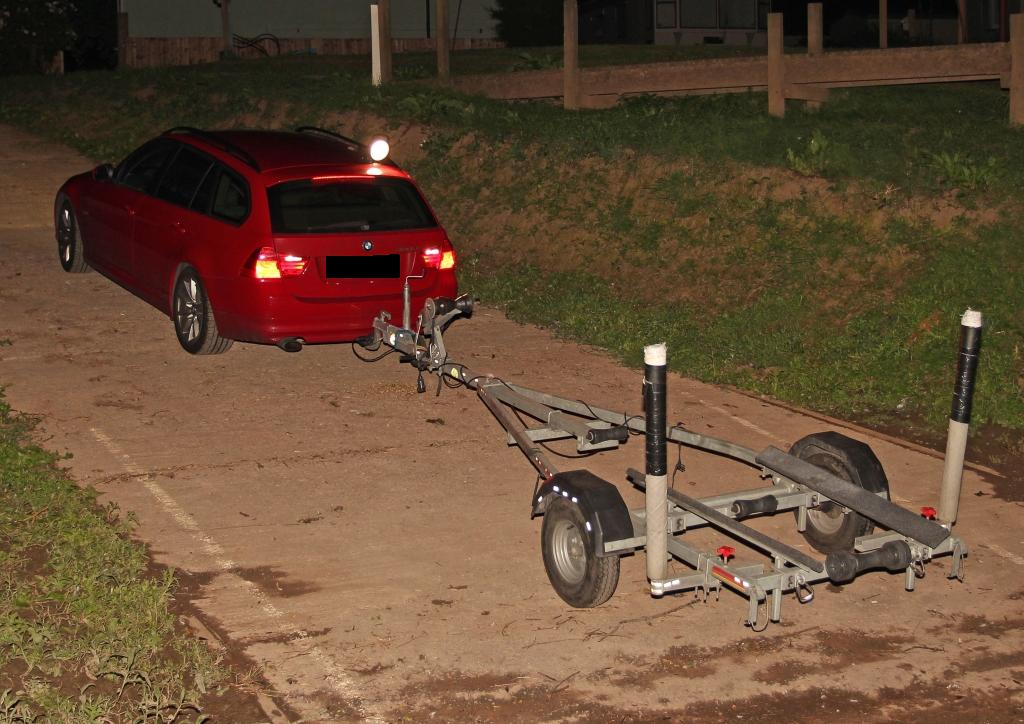 I will say I like to "go dark" when fishing from the boat at night, what this means, is that I very rarely use any form of light, this helps keep your natural night vision. On navigable areas it is a legal requirement to use navigation lights while moving, but at anchor you can display an all-round white light, and depending on the size of your boat, this may be adequate as a navigation light anyway, depending on your shipping area.
The trick to keeping you're night vision is simply don't use any light that is too bright, or too white. Mobile phones are a no no, they light you up like a carnival!
I use a small head light with a red bulb, it provides all the light I require for everything from re – baiting to watching for bites.
For indication I have reflective tape on the ends of my bait rods- when the light is positioned on to them they shine really well, and because it's red light, you can still see all you need to at night.
I do take a small powerful torch with me as well, this is used for emergencies, which usually consist of some other boat owner screaming around at night, not thinking there are any boats on the river, by shining this torch into the boat it lights it up significantly to say "Look out I'm here, don't crash into me".
We were out again the next week, the tides were big for the lower river but we braved it out hoping that the tide would flush the zander out and make them feed. We struggled again, with only a few small fish coming to the boat.
We had a half hour chasing perch with dropshot tactics, and we caught quite a few little perch, not many big ones, though Paul did manage to get one around 2lbs. Perch aren't really associated with the tidal river, but maybe that's because people don't target them? I should really have a go later in the year and see if there are any bigger present. Interestingly all these perch switched on as the tide was flooding out, then turned off. I have found the same to happening with zander as well, they like the flush out rather than the flood or slack period.
As it got dark we found a small cluster of fish, nothing big, but it was good to get hits after a couple of hard sessions. Paul for reasons known only to him was fishing with a green crawfish imitation on a vertical jig presentation. It looked like a blob of weed flapping in the water, but he assured me that he would catch zander on it. I did point out that there weren't any crawfish in the river, let alone lime green ones. I also pointed out that zander aren't vegetarian, so fishing with something that looks effectively like it could have been plucked from a Caesar salad, would not be very productive. But he wasn't put off, even after all my "advice".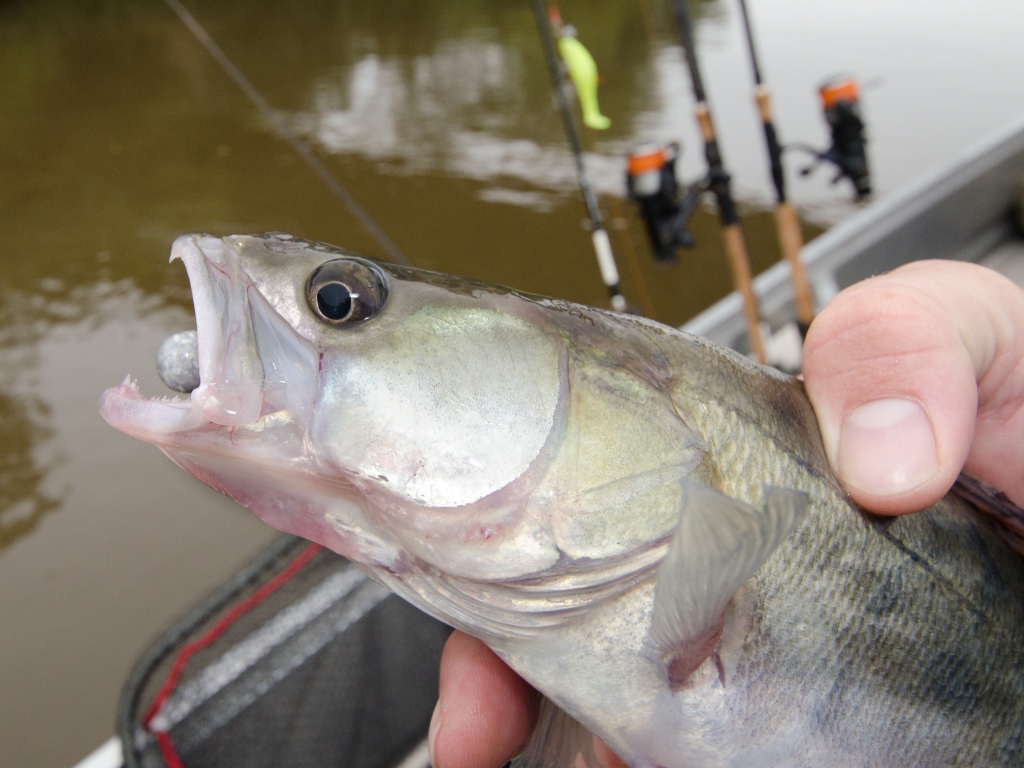 It was quite a snaggy spot we were fishing I think I'd lost about 10 jigs that day, so I was quite sure that Paul was only fishing with them as he didn't want to lose his best lures!
However, once again I had to learn the lesson not to take the Mickey, as Paul pulled a string of fish out on his lettuce- leaf lure.
I was determined not to borrow one after what I had said, but after the third fish I am ashamed to say I broke, gave in, and put on a rubber crawfish lure, but in a zander- friendly brown, as I didn't want to sink any lower and put the same salad lure on.
Two jigs latter and I was bent double, but straight into a snag, not a fish, in truth I felt I deserved that, for sinking so low! After retackling again, I put on a "proper" lure a Lunker City V-tail in glitter, and had a fish straight away- all of 1lb of it, which made me smug again, but that was it for the day, as it got dark they switched off.
The only other trip was a quick visit to Rutalnd, which coincided with yet more hot weather, but the zander were still obliging, the pike not so, and after spending the best part of the day in one of the arms, it was quite a relief to finally get some bites, albeit from manky Rutland zander! Roll on next month when hopefully it will be cooler and the serious predator fishing will begin.