Summer 2022 Blog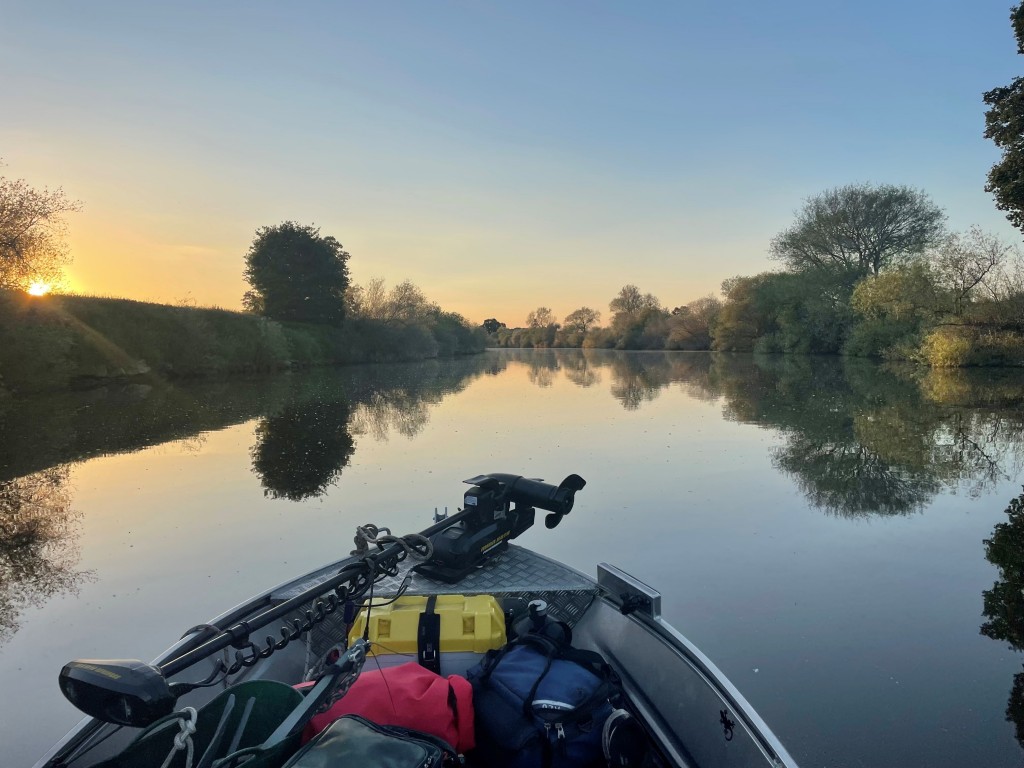 As the new river season was getting close, I felt a renewed enthusiasm for Zander fishing setting in. Probably because I caught a couple of good one's last year I was chomping at the bit to go. The week before the season started the river looked "cock on". The temperature was 16 degrees and there were fish everywhere, salmon were crashing around, bream were rolling. Something was chasing small fish in the margins it looked great.
Then, bang, heat-wave, the two days prior to the season opening saw the temperature rise, with June the 16th looking to be near 30 degrees! I needed to change my plans. In these conditions the river starts to drop, and the flow goes, and in my experience the fishing in the day is a waste of time. So, I planned to do the night instead.
I quite like night fishing from my boat anyway, and at least it would be cooler. Even if the water temperature was a scorching 18.5 degrees, I was confident I would get a few, if I could find some flow lines that the fish liked. I wasn't going to mess about with baits, it was going to be lures only, as really you only have a short period of "night" at this time of year, especially at the start of the season when you can't cast out until midnight.
At night in warm weather, when lure fishing for zander you have to adapt to where the fish actually are. They are not tight on the bottom like they can be in the day time, they are more likely to be up in the water column, usually mid-water and above. This is because they are actively feeding and hunting, in most instances, Bleak, which you can often see in large shoals on the surface with a head torch in some areas.
It is important to know this as its quite easy to fall into the trap of fishing too close to the bottom, effectively fishing under the fish where they have difficulty seeing the lure.
I have caught quite lot of fish in similar conditions on crank baits, which isn't a lure I find that effective usually, but in the right situations they can be a killer lure and those situations are mid-water Zander fishing at night.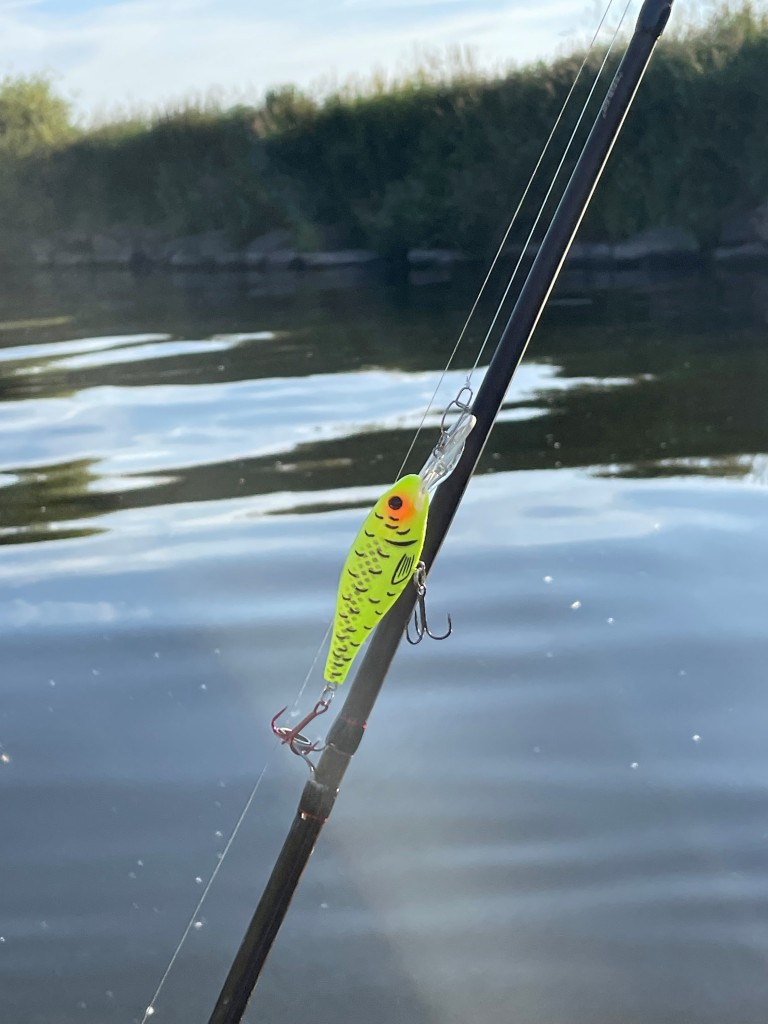 Circumstances and tide times meant I couldn't go to my first choice of venue. I wasn't put off though and just in twilight saw me putting the boat on to a very shallow river and gently motoring to where I wanted to start come midnight. The river was eerily still, and it always feels like your out of place at this time of day. I passed a few keen Barbel anglers on the way and gave them a cheery wave as I went past. Its good to see more anglers on rivers, over the last couple of years I've hardly seen anyone out!
When I got to the fist spot I wacked the anchor out and set about sorting the boat out and setting the gear up that hadn't been used for several months. I'd got a new head torch with a wide beam red light so not to spoil my night vision and I must say its brilliant. I will do a review later. I had also put some extra electronics on the boat that I spent a bit a time fiddling with. A cup of tea in the jet boil and some food, and it was nearly casting in time.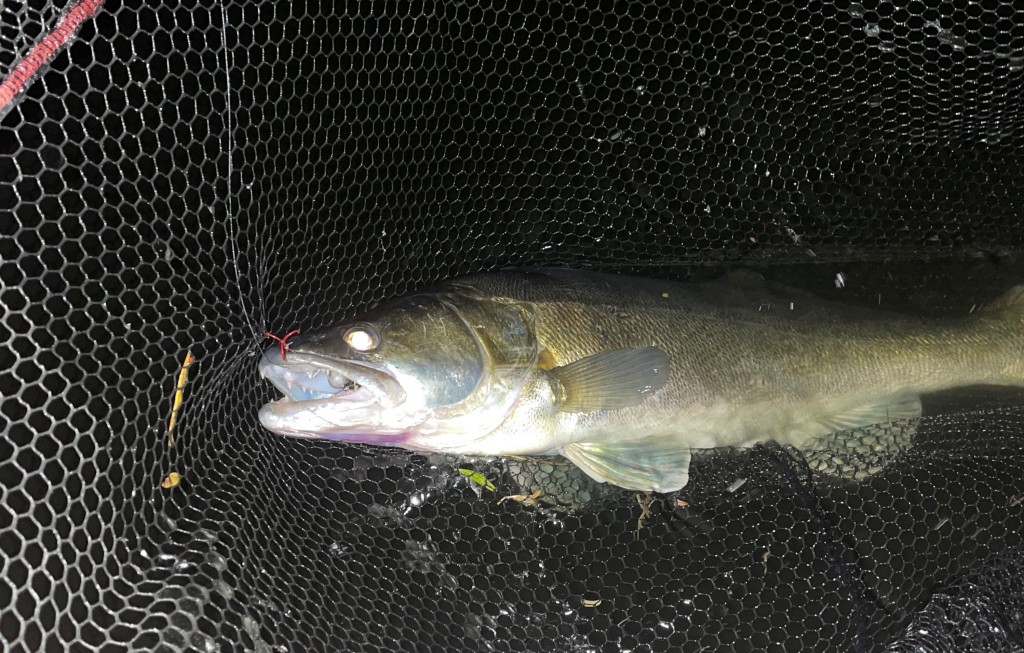 Where I was it was pitch black, proper dark, there was a nice fast pace on the water and the finder showed some lumps passing by. First cast I had a 8lber, second cast I had another 8lber thigs were looking good! I was quite surprised really, but sometimes you get lucky! A couple more casts and I drifted down the river to the next area and managed to pull a couple more smaller ones out.
All the fish were caught around mid-water on the drop. Westin 12cm Shadteez was doing the damage tonight. Due to the low flow conditions I only needed 10g of jig head to fish them efficiently. There are two colours I like for zander in clear conditions, and even though its dark and you wouldn't think that the fish would take much notice, they do. Its noticeable that if there are several fish there and you catch a few, it will go dead, swap colour even at night and you can pick up a couple more if they are up for it.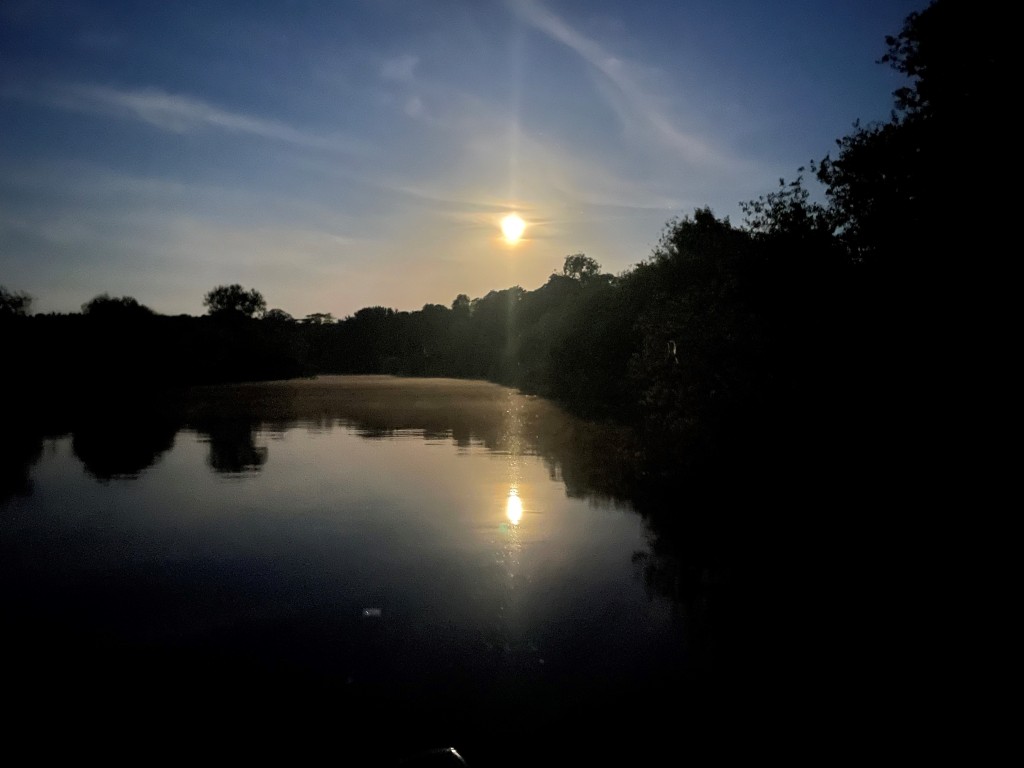 After exhausting the second spot, I moved to the next area and fluked out a 14lber! It was clear that the fish were feeding well so I carried on and fished most of the night, I packed up at around 3am, as the moon had come up about ½ hour before and absolutely put the fish off the feed. Sometimes this happens, or it can turn them on. Personally, I think they switch feeding methods, as I've caught loads of good zander on a full moon on dead baits. But not lures for some reason. Maybe they go harder on the bottom? Its not something I've truly figured out yet.
I got my head down for a couple of hours, getting back up cold and covered in dew at 5am, as I wanted to cover the morning period which can be awesome in hot conditions. This is especially true if the fish have been feeding hard at night. I think what happens is the fish are still active when the sun comes up and then move to their daytime lay up locations and you have a small window of opportunity to hijack them before they get there and turn off again.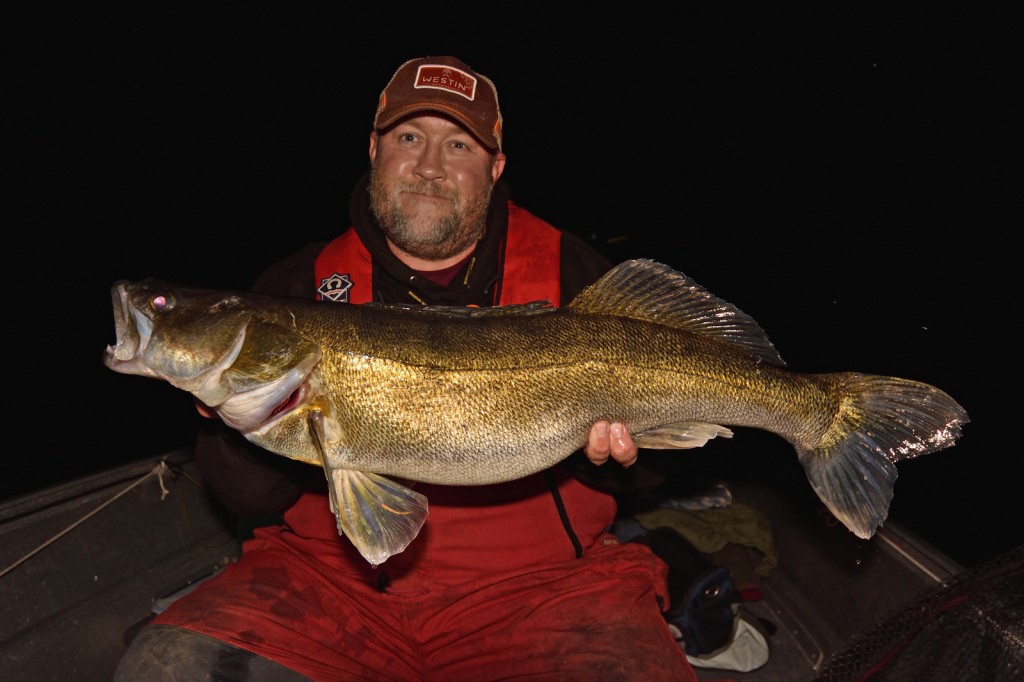 I've had some good fish really early on at a couple of shallow water locations so I moved the boat to where I thought the fish might pass through and had a good couple of hours before latching on to another big fish, this one was easily a couple of pounds bigger than the one I had had the night before, it certainly looked more filled out in the water, but I just couldn't get it in the net. Every time I thought it was ready it saw the net and dived off again, then the hook pulled. Gutted. It was about 8.30 am now and that was it I fished for another half an hour, but the fish had gone off the feed.
I moored up under the shade of a tree and set the bed chair up and had a couple of hours kip before heading back to the slipway. I passed a few boats who were fishing as I headed back but most were struggling in the heat, which goes to show you need to be there at the right time in these conditions.