Return to the Triangle!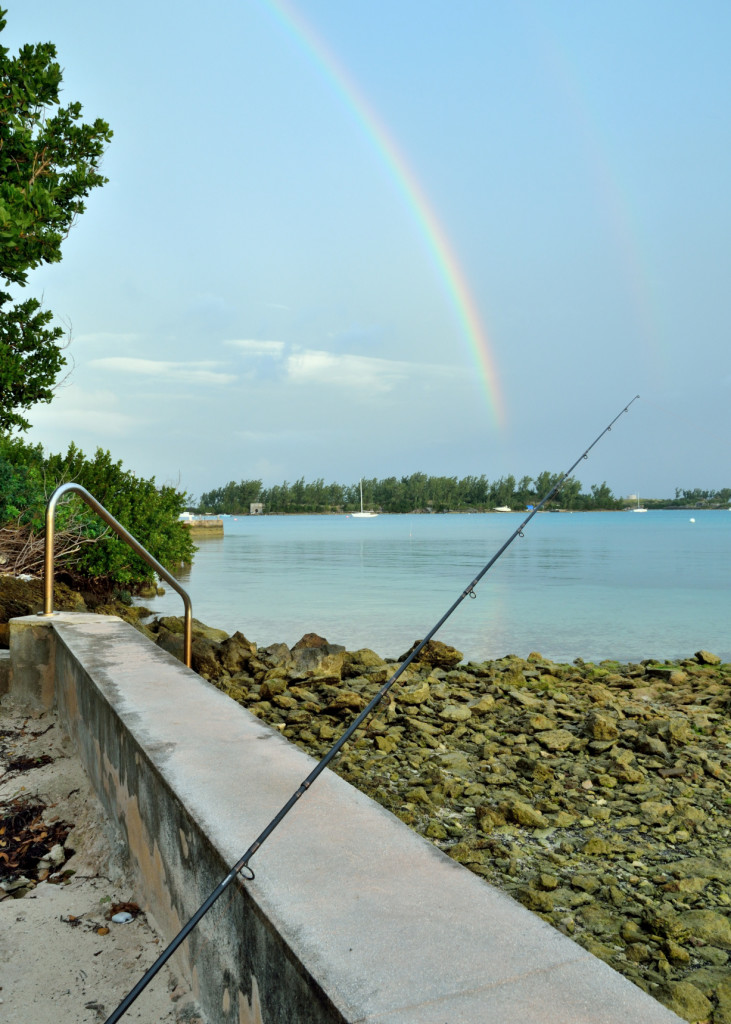 For one reason or another there has been a bit of a stagnation in the blogging front. The main reason for no blog over the summer is that it has been simply far too hot to go out fishing for predators during our mini heat wave. With the exception of a bit of catfishing, or rather trying to catch some on one of the big rivers, I haven't done that much fishing. However, with the predator season fast approaching all that is going to change, I have a few targets this year and have my eye on a couple of new waters, so it will quite exiting, and I can't wait for the temperatures to drop so I can get my lure rods into action again.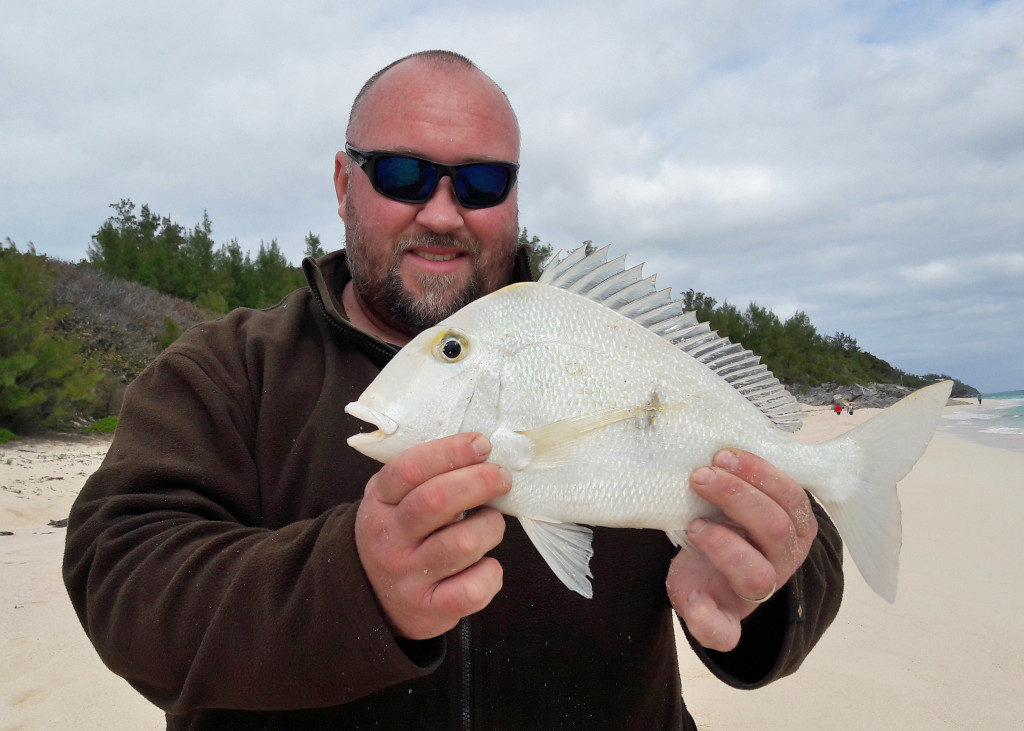 Back in the winter I had the opportunity to head back to the lovely island of Bermuda for a couple of weeks. Unfortunately, due to the time of year the weather was a bit unpredictable, and although it was quite warm (for a hardy Brit) it was fairly windy for most of the trip – meaning that I was unable to get out on one of the big fishing boats. However not all was lost, as there is such good beach fishing around the island that it didn't really matter.
I took a 10 ft travel rod, with a bait-runner reel loaded with 30lb braid, and box of bits and a small bag of 3oz grip leads, and away I went. On most of Bermuda's beaches there isn't much tide run so you don't need heavy leads, but you do need enough lead to whack the bait out and provide self-hooking, as most of the sea fish out there hit the bait on the move, and will pull the hooks in as they move off. For rings I just use a simple single- hook pulley rig, using 40lb mono and 20 – 30lb trace.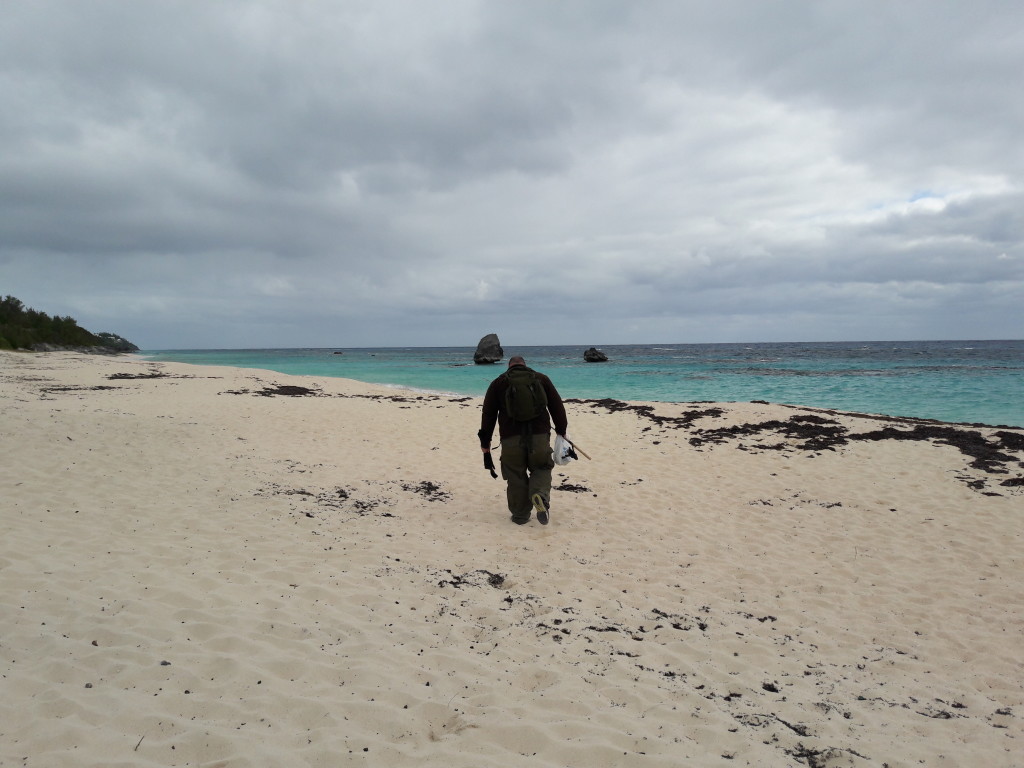 Baits can be bought from most local petrol stations and you can generally get squid, which catches everywhere, sardines and fry. Fry is a block of small fish frozen together, they are usually used for blue- water fishing where they are thrown in as chum to attract tuna, however they are very good for beach fishing, and a bag will last all week!
Fish can be caught in most areas of Bermuda, but my favourite beaches are on the south side of the Island, and they are almost deserted for most of the time. In fact I have never seen another angler there. I suppose that, with the exclusion of holiday makers, if you can afford to live in Bermuda you have your own boat, and don't mess about catching tiddlers from the shore!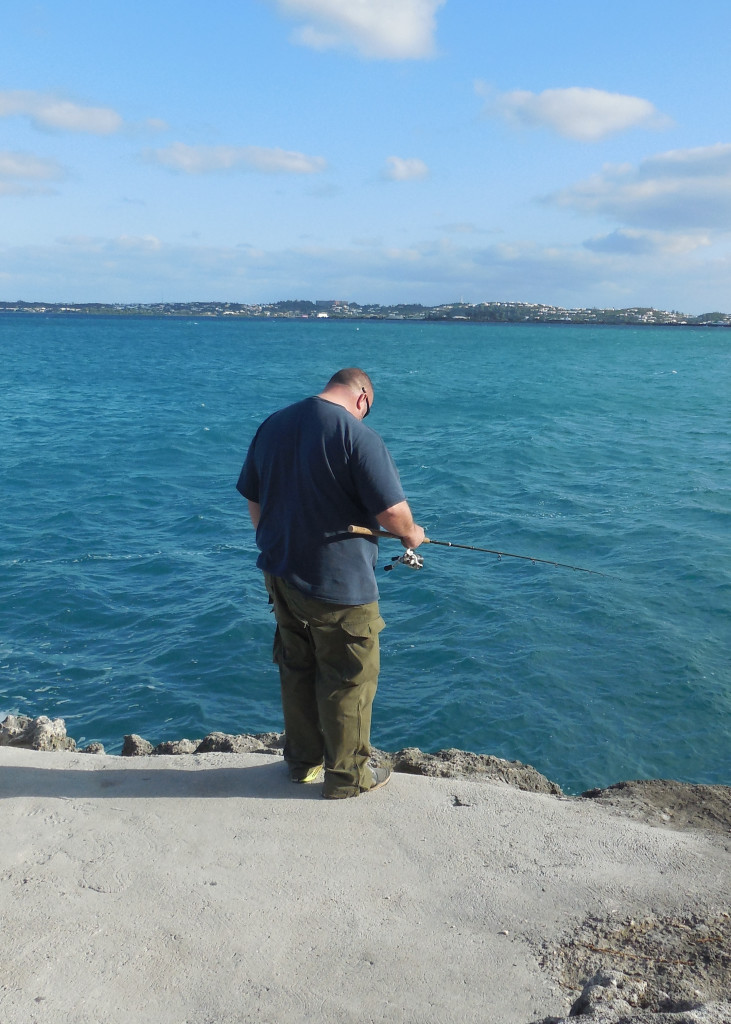 I did take a smaller drop- shot rod with me, mainly to try and catch some bait around the reefs, and it worked well, and it was great fun catching small Jacks on the light tackle, but it was invaluable in catching one really excellent bait- Needle fish! They are like a smaller version of garfish, and with the head cut off are like a really oily snake, which I wish we could get over here – as I image they would be an exceptional pike bait.
The trick with catching needle fish is to not be too quick on the strike – as they pick the bait up in their long beak first, and then rush off with it out of the way of the shoal, and then swallow it, you can only hook them when the bait is in their true mouth so it's important to let them turn with the bait like this. Putting in regular handfuls of fry into the water soon gets them flocking in, when fishing off rock marks or jetties, and it can often be a bite a chuck – which is an easy way to get a bag full of bait.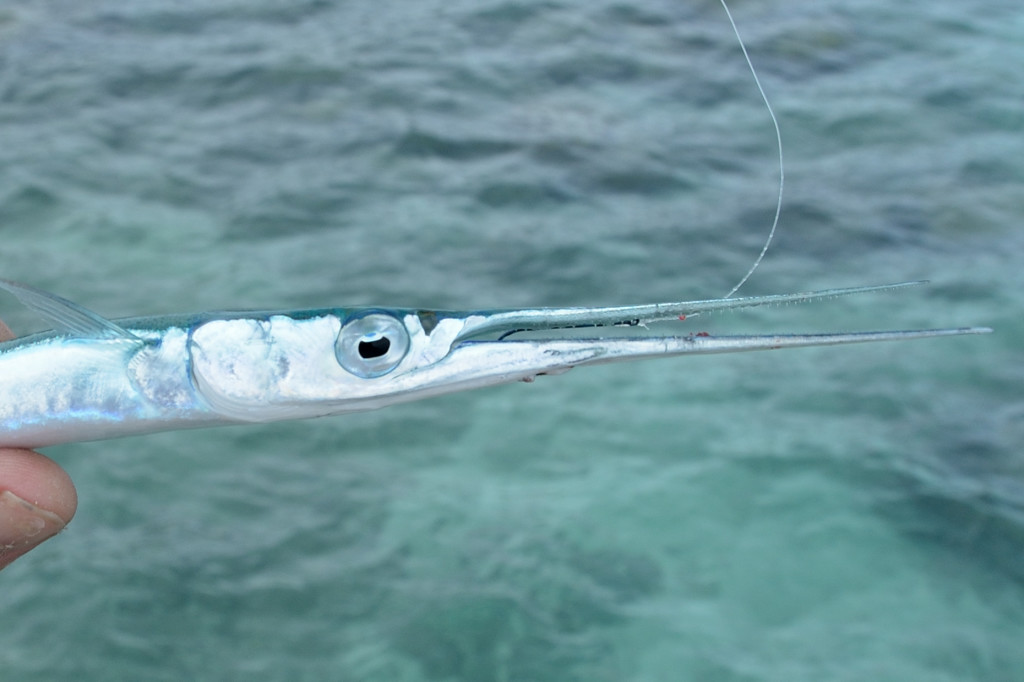 On most beaches, when using small strips of squid you can usually expect to catch bream of various sizes, they seem endemic to most areas of broken ground, and give great rod- bending bites. You will find other reef fish around these areas as well, and wrasse- type fish are fairly easy to catch also, prawns being the best bait for these fish.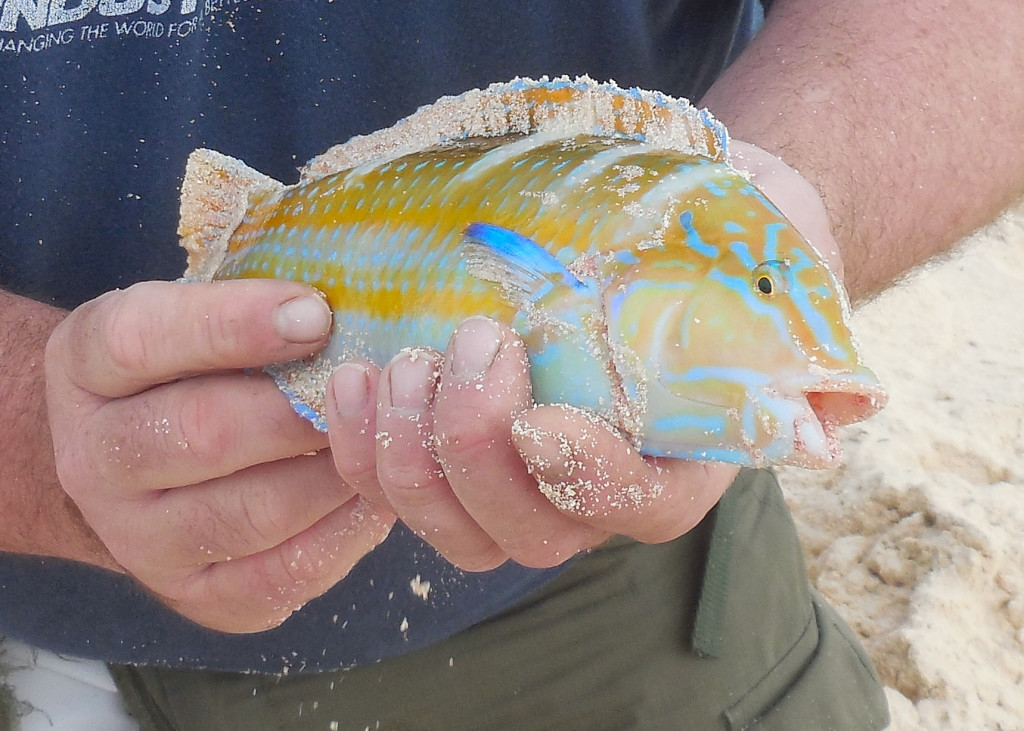 If you want to catch something bigger, then the needle fish are the way to go, I top and tail them and fish them on a two hook pennel rig, again using the pulley-rig as the main trace body, on these you can catch a variety of different species. In most cases it's a case of casting out, and sticking the rod butt into the sand (you don't need a beach rest here) and waiting for it to be pulled over – as some weird hard- fighting reef fish powers off with the bait.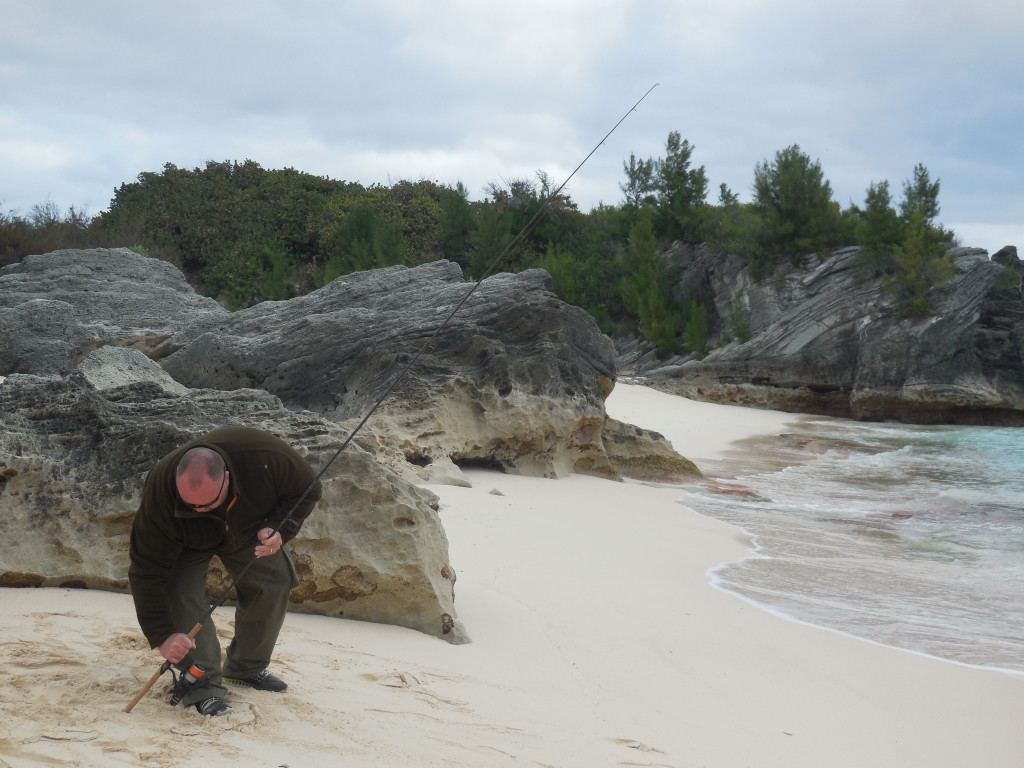 I generally put a bit of bait elastic around the bait to hold it in place, for casting more than anything else. You don't seem to have the same problem with crabs and shrimps tearing the bait off as you do in England, but the smaller reef fish will tear the bait to bits if you leave it out too long without a couple of wraps. If you are getting lots of trouble with the smaller reef fish there are two options, one move somewhere else, or two use smaller hooks. Most of the reef fish have quite small mouths and big hooks simply don't go in, and they just tare the bait from them.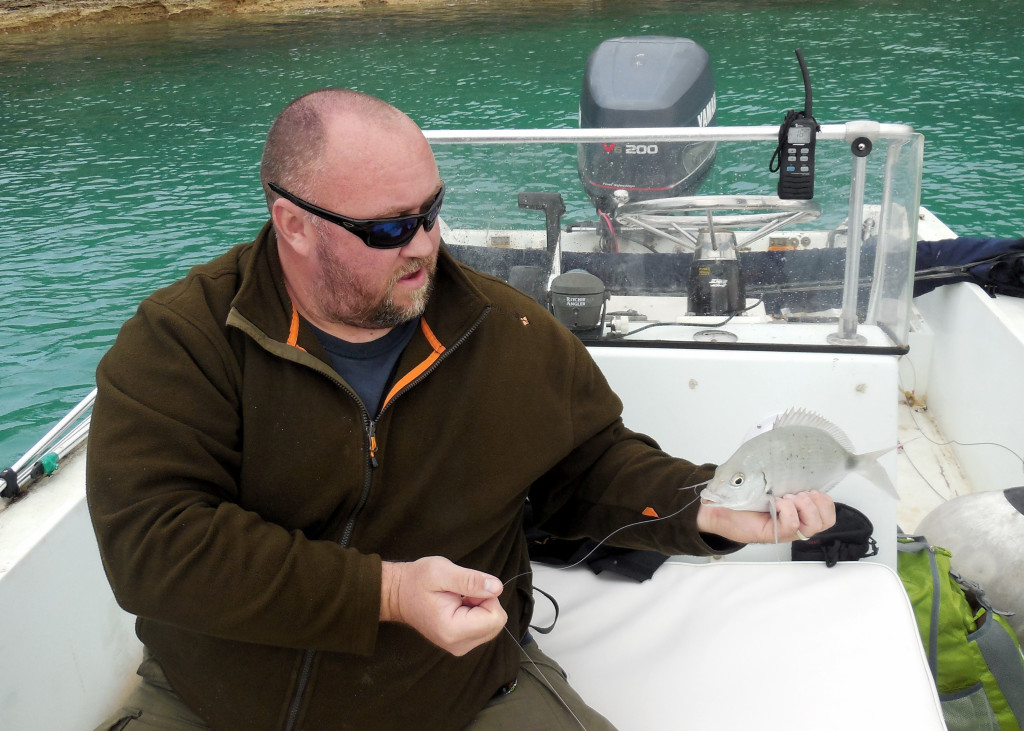 Though I couldn't get out for any of the blue -water fish, I did manage to sneak a half day on one of my friend's boats out in Bermuda Sound, which is usually quite sheltered, and even in a good chop you can usually find some shelter against an island or a leeward bank. For this type of fishing I use the same tackle but just cast up-tide, and let the grip pull in and wait for the fish to pull the weight out and slack line me. Again most of the fish I caught were small Bream, but I did have some fun with small yellow- tail jacks on the drop- shot rod. It was like perch fishing back home, with 20 or 30 fish following the hooked fish in and trying to eat the drop shot weight!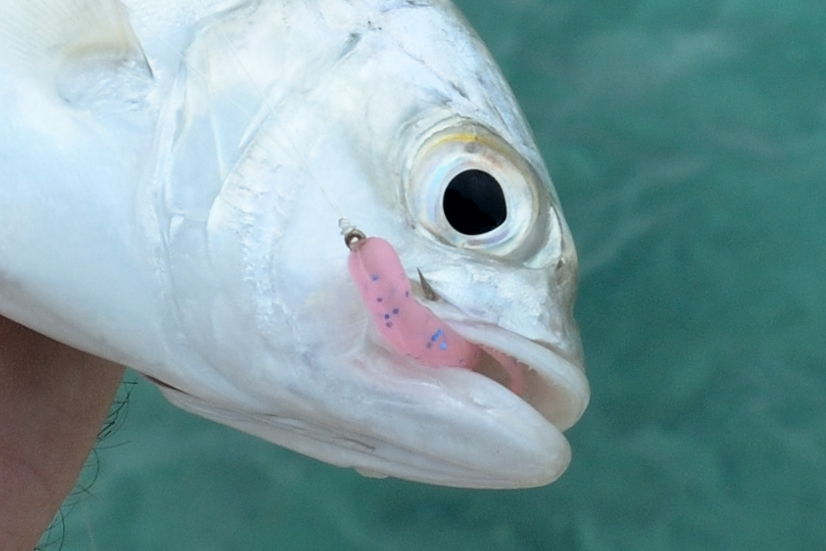 Fishing is fun in Bermuda, and it's not what most visitors go there for, which makes it easy. I'm sure if I took my "proper" beach gear and fished at night I would get a better class of fish, but, alas, there is only so much you can bring on the plane with you, and at night we were mainly in the fully inclusive bars filling up on Rum Swizzles!