October 2013 Blog
October 2013 Blog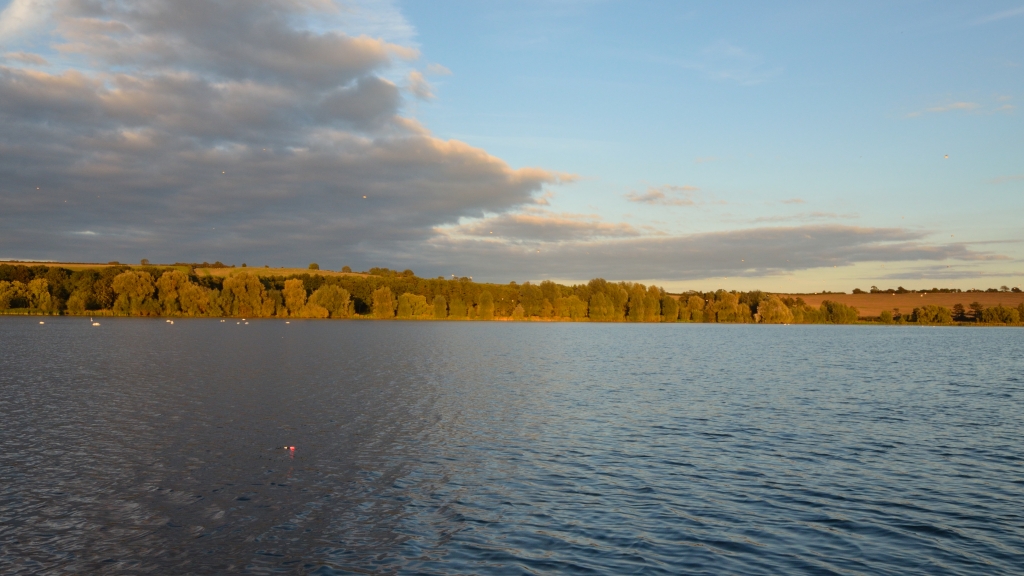 October brought me back down to earth with a rather unnecessary bump, after the fantastic fishing I experienced while I was in Bermuda. It was a series of unfortunate choices that made the month hard going.
So it was back on to the reservoir scene to hopefully bag a few good pike. The first place to open was Eyebrook, and it was with buckets full of enthusiasm that saw Paul Garner and myself rock up to the fishery on the third day it opened. Apparently the "Great and the Good" that had fished it on the first two days hadn't done very much, and they were all fishing down at the far end, where there was a noticeable weed line. But this didn't bother us, we were going to chuck lures and concentrate on the deep water.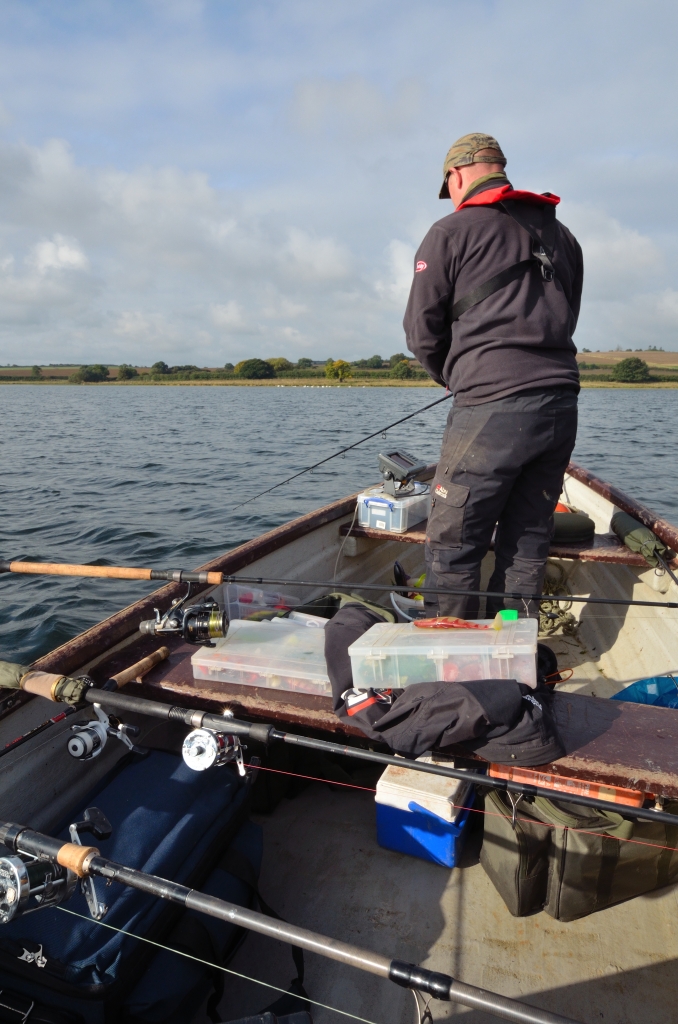 Unfortunate choice number. 1 – as we didn't get a single hit in the deep water areas.
I found this a bit strange, as on all the other reservoirs the pike had moved into the deep waters early this year. A couple of twenties came out that day, all down on the weed line.
As it turned out, the "weed-line" in a couple of the bays were not as thick as they first looked, and when I went over them with the fish finder, one showed there was 15ft of water under the weed canopy, so it was immensely fishable if you could find a hole in it. Obviously this wouldn't be lure territory, but I was sure that a deadbait fished in one of these underwater glades would get a pick- up, and it worked, with only about 30 mins to go on the last day, one of my floats zoomed under the water. This coincided with a large brown trout also jumping out right in the middle of the weed hole! Bugger! I wound down and struck expecting to be connected to the trout, but 5 mins later I was happy to be grinning to the camera, with my first Eyebrook pike that took a liking to a smelt.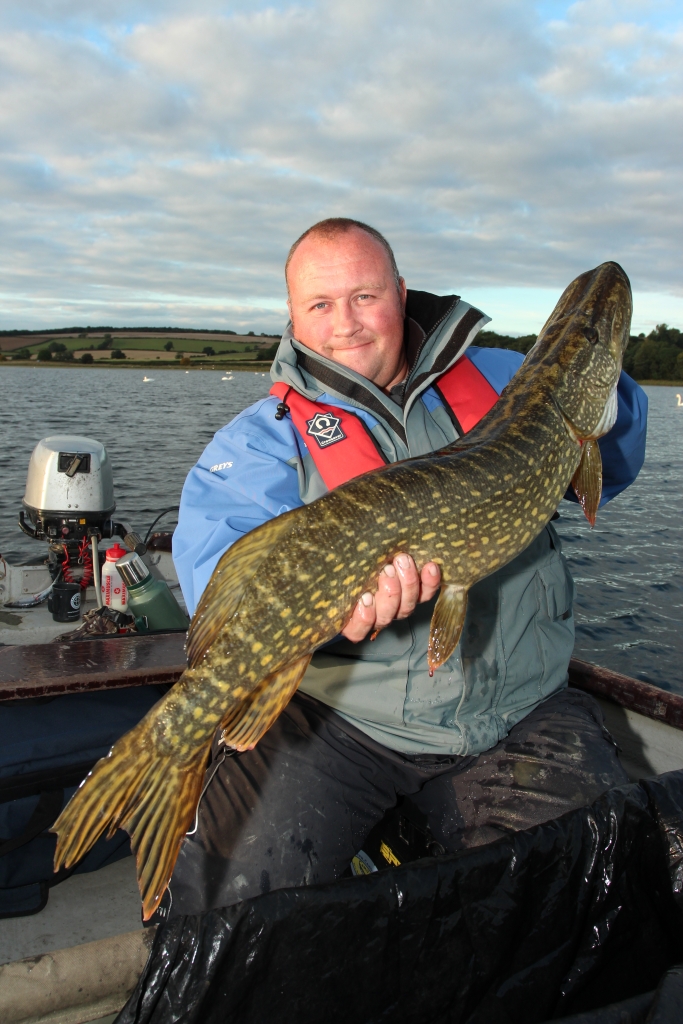 Eyebrook is a lovely place, the rangers are welcoming and I'm sure it will produce a big pike, it's done 28's to fly anglers in the past. It's just a shame it's not open a little later in the year when the weed has died back- as I'm sure that this would make the fish move about a bit more and head into areas they should be in!
I'll be back next year for another crack at it, and if the pike fishing is rubbish, I'd like to try for some of the perch that it was throwing up! I certainly found some interesting spots to drop shot on!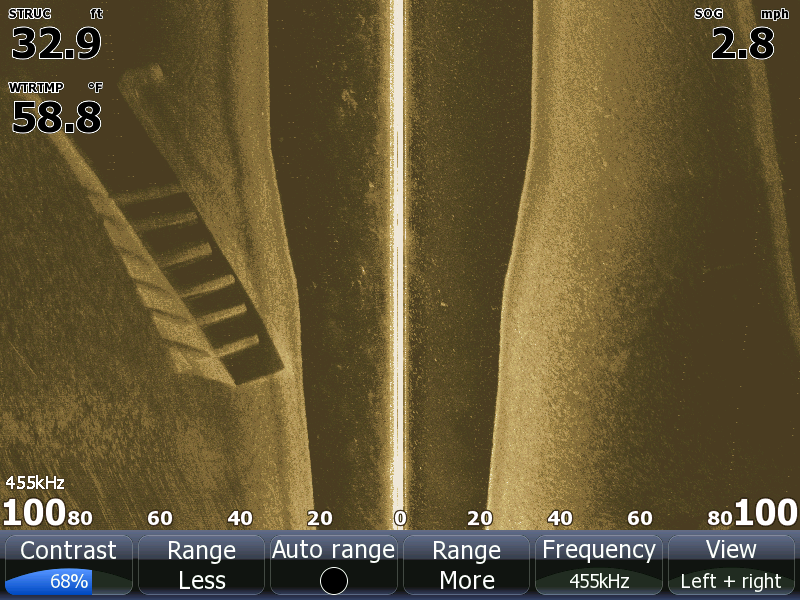 Unfortunate choice number. 2, was to happen on Chew. Now I have a love / hate relationship with Chew, and it's not a 50/50 split at the moment.
Chew is without doubt the water to fish if you want to catch a very big fish, as 30+ fish come out each day! So if you want one, you have to fish it! But, it's also quickly becoming my bogey water! Ravensthorpe better watch out!
If you have lots of friends or acquaintances who fish the place you can get the heads up on where to fish the next day. On the first day most people fished down at Stratford's, where you would expect the fish to be on the first day of the trial, this is where they always are at this time of year! Wrong! Chew's fish never abide by the rules, and all the fish came out from the deep water in front of the lodge! 
On the second day, a few more fish came out from the deep water, some big ones too.
So on the third day, which was my first ticket, myself and "The Fletch" were the first boat out from the jetty, and went screaming straight to a drop-off in the deep water full of anticipation. All the other boats, when they eventually came out, scattered all over the shop. There were loads of bait fish in the deep water, but after fishing there all day all we had was a jack each!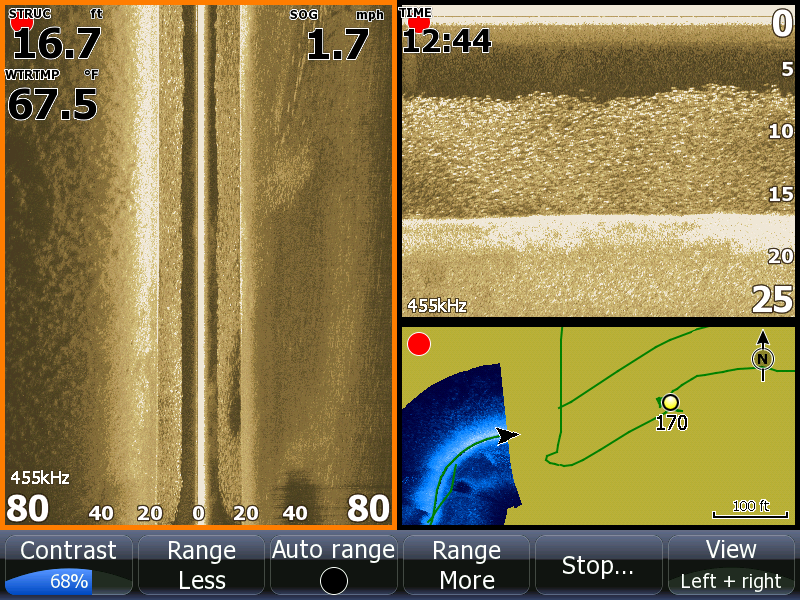 Back on Chew again, a day later, the fish had been coming out from the Nunnery area / Herons bay. Why all the fish in the lake would suddenly move there is a mystery, but if you were not one of the boats in that area then you might as well have stayed in the lodge all day, your catch rate would have been the same.
Unfortunate choice number 3, Paul and I made the decision not to fish in the crowed of boats (there were 18 of them blockading Herons bay), and decided to fish a couple of other spots that had produced at this time of year for us in the past. Obviously this was the wrong choice, as all we had was one jack, while three of the eighteen boats in Herons had a good day. I did feel sorry for Eric Edwards, who had a boat drop anchor in front of him, within casting range, and had to sit and watch while they caught two twenties! But that is Chew!
The most exciting event that happened to me was while there was when we were caught in a mini typhoon, it really tipped down for about 20 mins, just as we were going to move swims. But we bravely stuck it out hiding under our umbrellas, while the wind got more and more ferocious, it was all going well and we were laughing at all the other poor chaps out there without them. We texted Eric  to see if his waterproofs were holding up to the onslaught, and got a rather rude message back stating that they were tough Northerners in his boat and it was only a passing shower. Which made me laugh, as I glanced across, out through the white water, to see them bailing their boat out! I shouldn't have laughed though, as at that moment my umbrella collapsed under the strain and was flapping around stuck to my face, and I had to sit it out like that while the wind abated!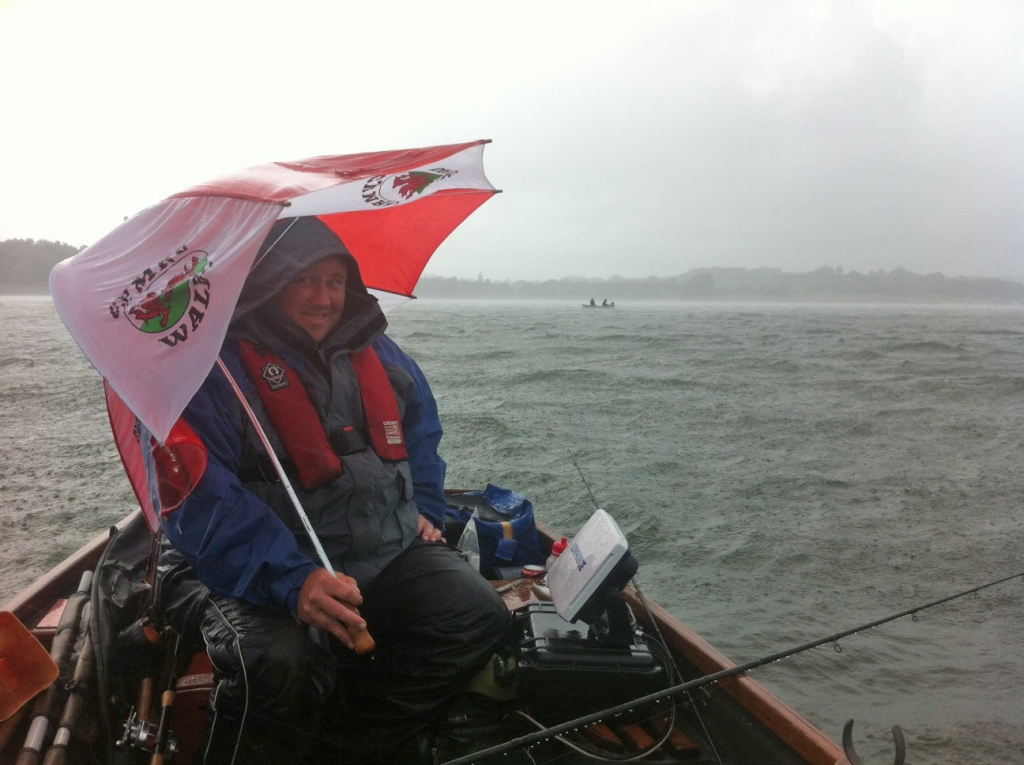 The next trip back to Chew was to coincide with some very windy weather, and we were worried about if the boats were going to be let out our not. Luckily they let us out, and for the first time since I've been going to Chew I was lucky enough to be there when the fish really turned on! It was amazing really, for some reason, be it the wind, light levels, the moon phase, Sagittarius being in Aries – whatever weird theory you subscribe to, between 11am and 2pm nearly every boat caught fish! Big fish as well. There were three thirties out to the three boats around ours. Lewis Baldwin had a brace of 25's, Alan Buckingham had two good twenties, Paul had a 22 and a 24lber which did a cat's cradle around the anchor rope, which is another story -that culminated in Paul having to keep tension on the line while I pulled the 10kg mud weight out and had to yo-yo it around in the wind to try and untangle it! Fortunately the pike behaved itself and just sat under the boat while all the drama was kicking off!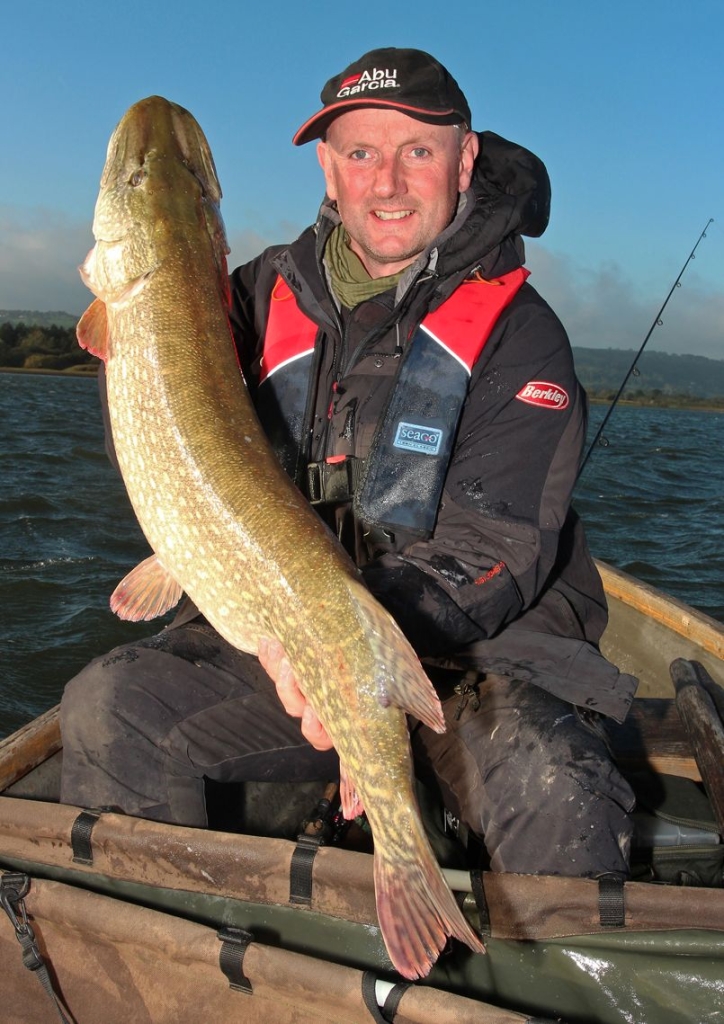 Me? How did I get on during this fabulous feeding spell?….Well …..
I spectacularly blanked!
But even though I blanked, I really enjoyed that day, to see everyone catching fish was amazing and just showed how little we know about pike. A similar phenomenon happened a few years ago on the infamous "Turkey shoot day" when loads of big fish came out.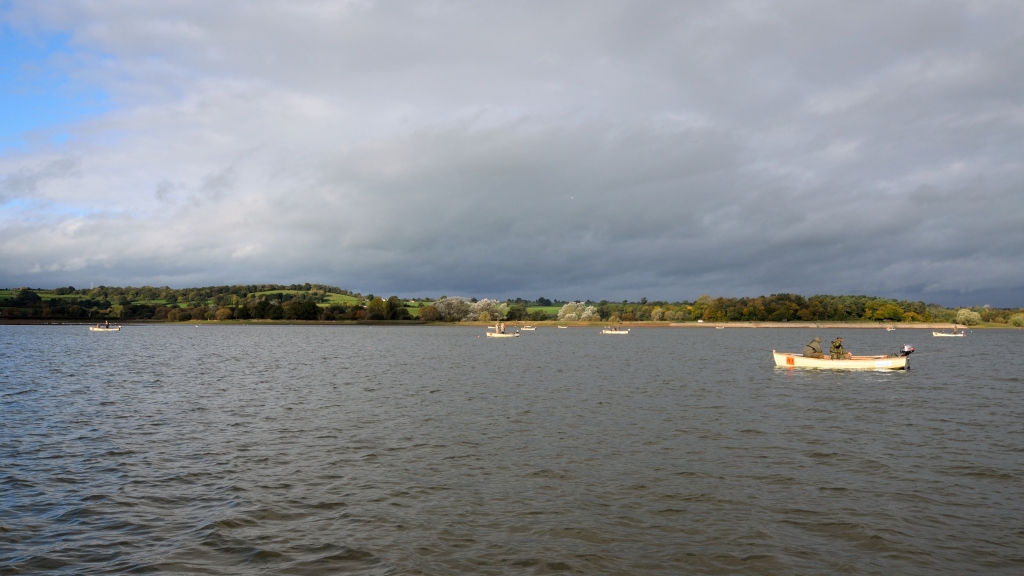 My excitement for the place is back! Next time there will be no unfortunate choices! I can't wait for the November trials!
Articles this Month
Anglers Mail – 1st Oct – Answers