A late – late season Blog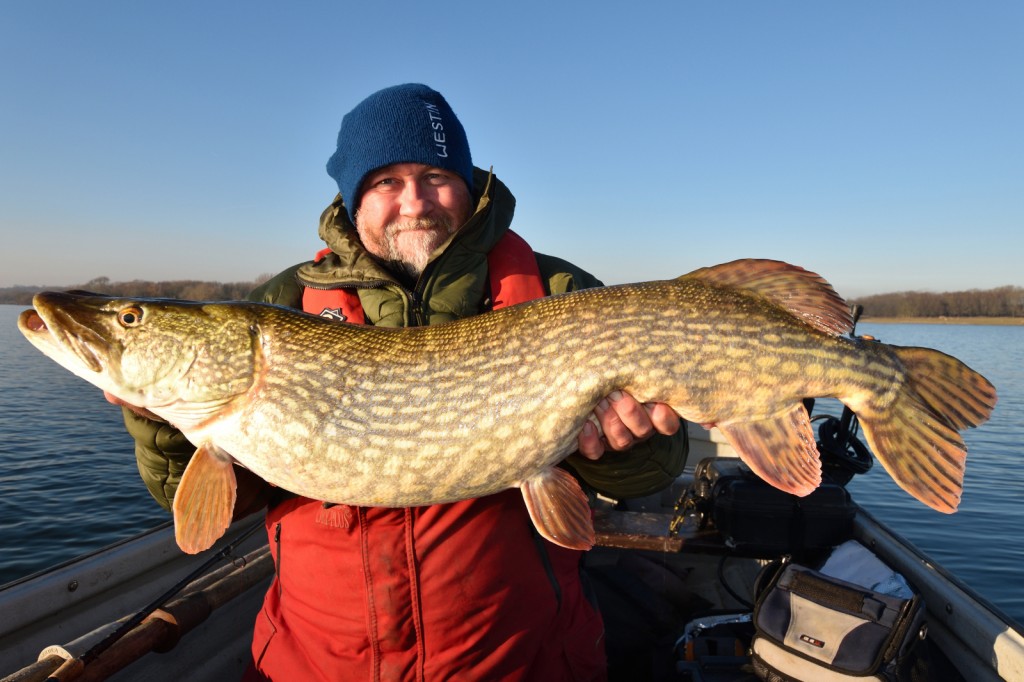 Well, I don't know what happened, but this Blog didn't post when it was supposed to, so it's a bit late, hence the title. So where were we last time? I was looking forward to some good "back of the season" piking when the weather settled a bit, alas if only it was that easy.
January was fairly settled weather wise, it was cold though, and it seemed that most of the month was occupied by high pressure and northerly winds which isn't the best thing for pike fishing at this time of year (or any time of the year to be honest). I always put a bit of time in during January as usually on a couple of the waters I fish it's a reliable month – or maybe I should say it had been in the past.
This year it was tough going using my usual tactics. I think it was simply a funny year, and the fish hadn't moved into the locations where I would usually find them, why this was I don't know, personally I think it was a multitude of factors, ranging from a different stocking policy to a warm summer and low water levels. In previous years I would be quite confident of catching a couple every time I went out during this time period, but this year after 5 blanks, I seriously needed to re-assess what I was doing.
To be fair, very little was coming out on any water anywhere, and the last week in January was looming on what looked to be a fairly rubbish month fishing wise. Not seeing many active pike anywhere (using the sonar), I descended to pick a nice drop off in deep water and sit and wait with baits out. This isn't my favourite tactic, but fish get caught this way every year, albeit not in any great numbers, but sometimes someone is lucky and picks up a good one.
I had a good supply of Baitbox Smelts still left over from chew in the autumn and I also had some Blueys and Mackerel, so I had most bases covered. I like to fish a mixture of baits because sometimes for whatever reason the pike do seem to have a favourite. This year it turned out to be Bluey, as I'd been anchored (well spot locked on the electric to be precise) for about an hour and the clicker on the multiplier gave a short sharp burst then stopped. I quickly picked the rod up and looked out to see the float sliding along the surface at a fast pace, so I wound down and bent into what was surprisingly not a trout!
After a couple of good thumps and I was winding in a heavy weight to the boat. The water temperature was only 5 degrees which explains why the pike didn't fight that much, but I'll take the easy ones after a tough couple of days. In the net she coughed up a couple of Smelt which was interesting as I'd caught it on a Bluey, and not had a sniff on a Smelt! Of more interest to me was where had the Smelts come from? I had been the only boat on the water for a couple of days, so it had obviously been sat there digesting them from a previous angler's casts offs or left overs. On the scales she went just over 22lbs, nice and my first twenty of the year which is always a relief.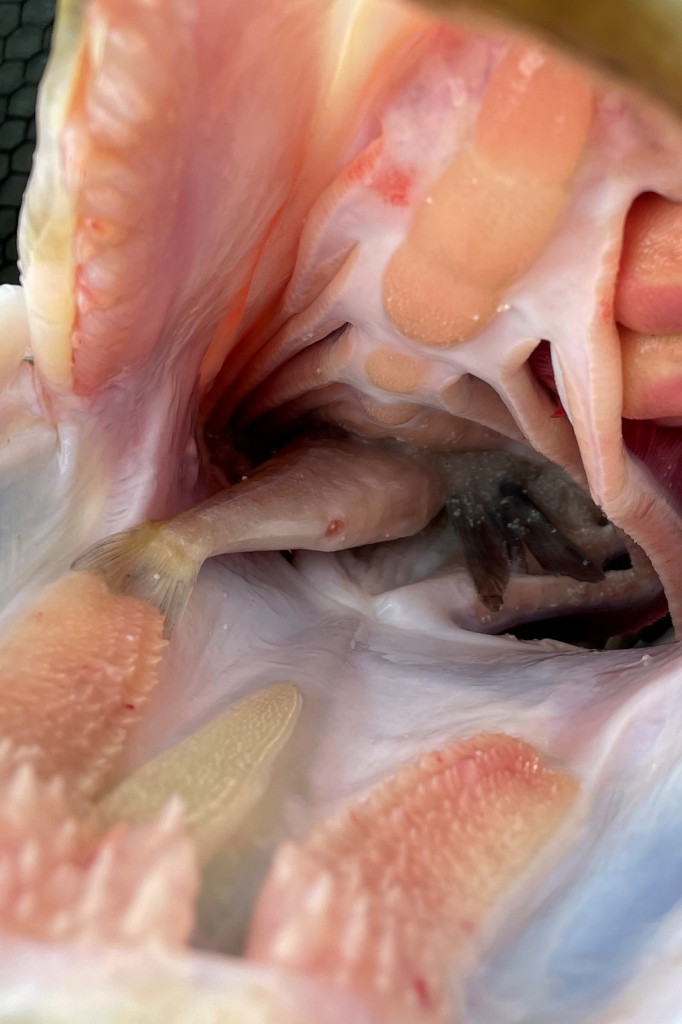 I really wasn't expecting anything else as its usually one fish and that's it at this time of year, but I rebaited with a fresh bluey and sat back down in the bottom of the boat to wait out the rest of the day. About 20 mins later the same rod was away again! This time the fish stayed deep and decided to head up wind and under the boat which was a pain. Eventually I had to net it on the other side of the boat to where I had originally hooked it, which meant a bit of weaving between the other rod and the engines. But I got it in the net eventually, this one was slightly fatter at just over 24lbs. Alas that was the last take of the day, not bad considering though.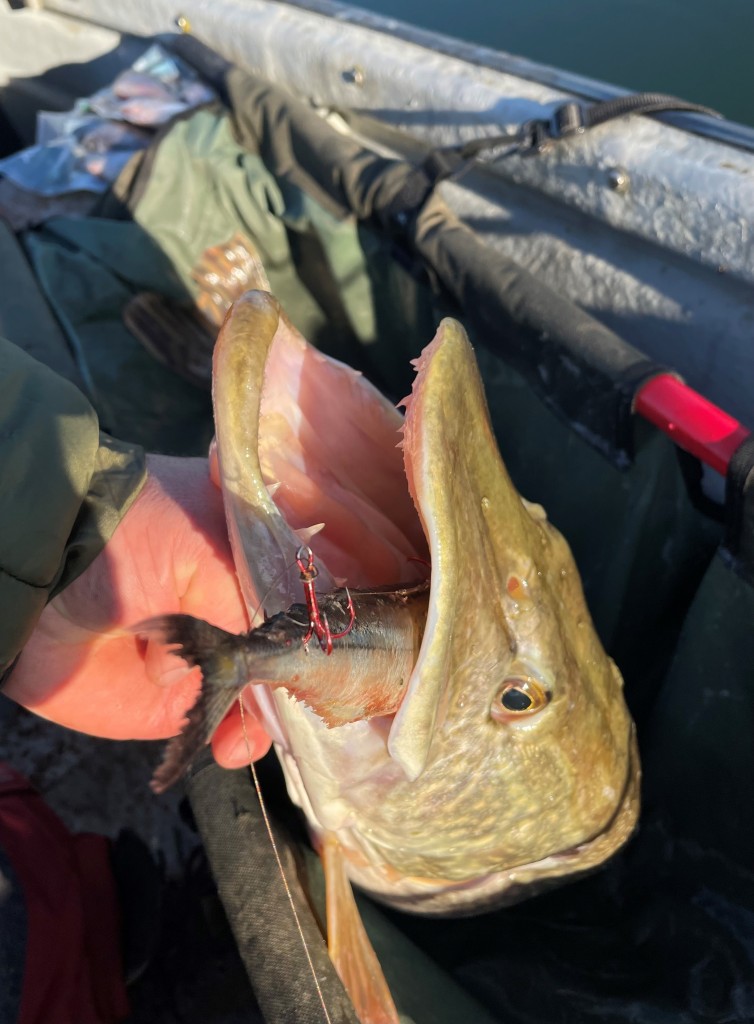 The interesting thing is that I thought I saw a couple of fish on the bottom where I had anchored up, which is the reason I stopped there, but to be honest I wasn't 100% sure, it was just a couple of slightly greyer spots on the side imager, but when the fish are tight to the bottom, they are hard to see. So maybe there were just two fish there all the time and they just decided to feed at that specific time? Or maybe it was too blobs of clay and I have been reading too much into it!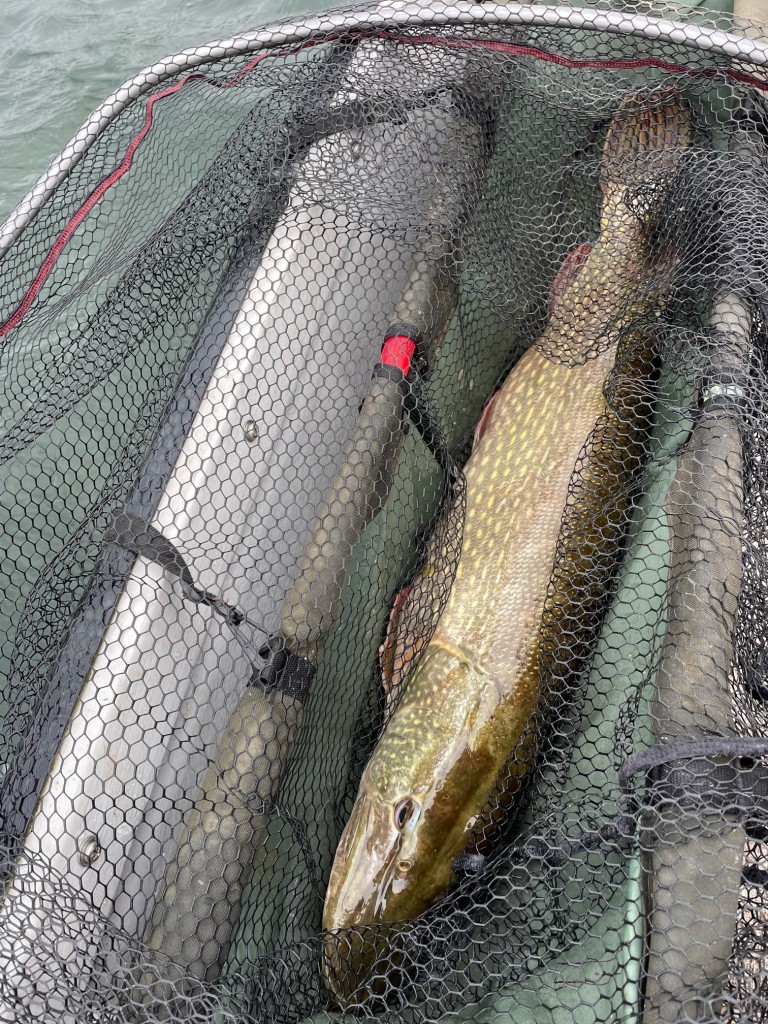 Obviously, before I packed up I marked the spot for the next day and went straight back to it the following day, this time I didn't see anything on the imager at all, but I wasn't that phased about it. I still anchored up as maybe a fish would come trough at the same time, stranger things have happened before. Not today though, as apart from one dropped run which was most likely an annoying trout, the floats stayed motionless, which was very disappointing after the action yesterday, but it did give me time to make a load of fresh rigs up!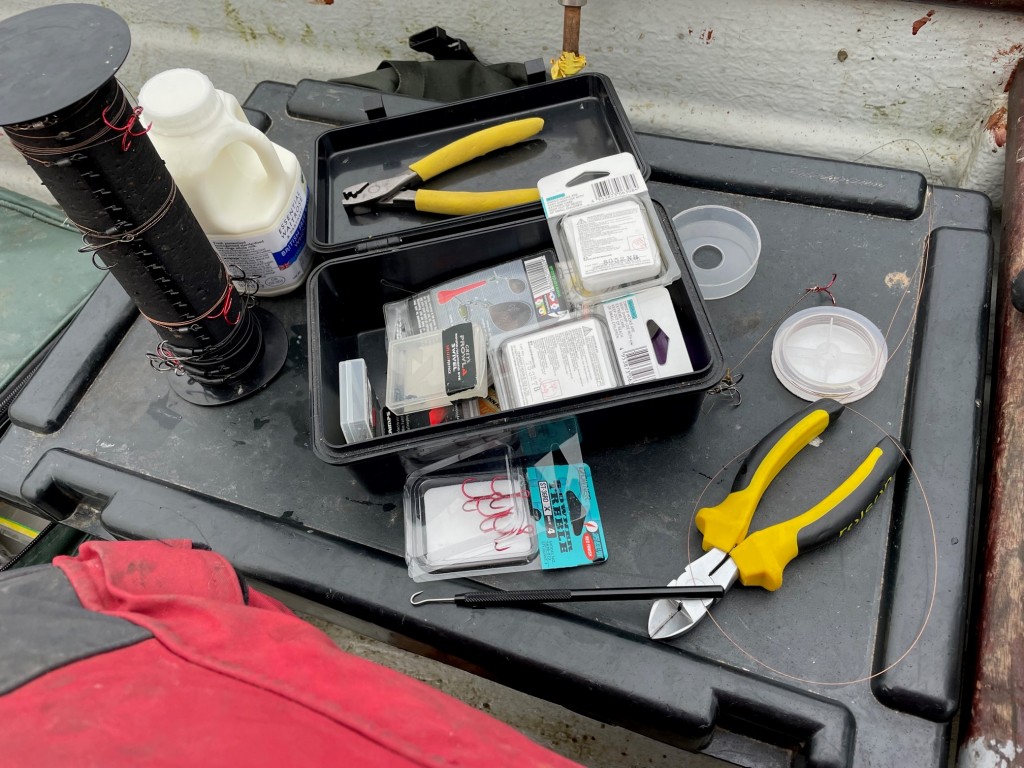 The following day was to be my last, and it was a colder day by far, with quite a stiff northly wind, which I was keen to get out of the way off. I went back to the spot I had been previously fishing, but after a good 30 mins looking around on the sounder, and getting battered by the wind, I had convinced myself that the area was devoid of fish. So, I wandered off to find somewhere a bit more sheltered and hopefully find some fish. I had only gone about 500 yards along the same ridge line when I saw a group of fish on the finder. These however weren't pike they were far too small, maybe bigger perch if I was to guess. A bit further along and it was a barren desert again, like most big waters are!
With very little to go on I just had a hunch that as there were some perch in residence maybe a pike would come in later, at least where they were it was out of the wind, well kind of, I still would have to huddle down in the back of the boat to keep warm. So, I moved back there and soon I had two baits out in the depths, one on smelt (because one of the fish from a couple of days ago had coughed up a couple of them) the other one was on the reliable Bluey. Or in this case an un-reliable Bluey as almost as soon as I had sat down and started to pour my tea out, the Abu Reel on the smelt rod gave a couple of clicks as the braid tightened up and the float slid into the waves. Standing up I wound down and pulled into another good fish, this one was a lot angrier at being hooked and put up quite a good account of itself, but I soon got it in the net. This one was a nice long lovely, marked pike, on the scales another 24lber, a great start for the day, and unfortunately it turned out to be the last fish of the day as well.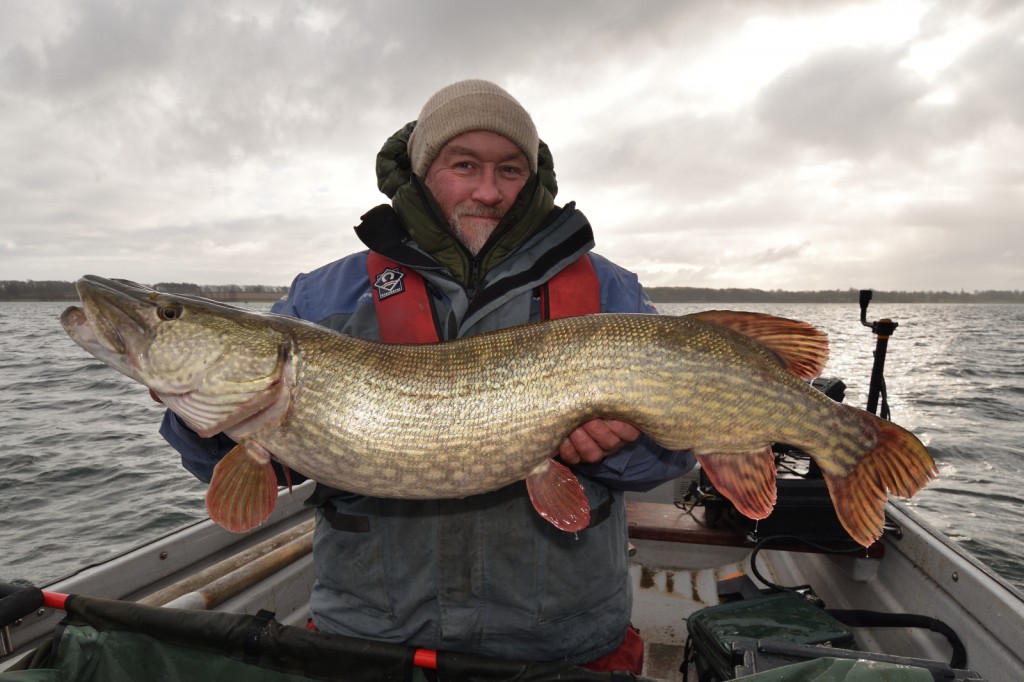 I stayed in the same spot, maybe I should have moved after that fish. I probably should have, looking back I think that there simply weren't may fish around, but when I landed a bait near one, it investigated it. So maybe a more mobile approach was needed, but alas that was to be my last day on the water, so I never got to try anything else, but I will remember it for next winter.